CLEVELAND — On the second day of the Republican National Convention, there were flashes of hostility between protest groups and Trump supporters — but there was no violence or mass arrests.
A scuffle broke out at Public Square on Tuesday afternoon during a shouting match between supporters of conspiracy theorist and radio host Alex Jones and protesters opposed to Donald Trump.
Cleveland Police Chief Calvin Williams and other officers broke apart the groups, and then reinforcements swarmed the square.
"Chief Williams is very hands on," said police spokeswoman Sgt. Jennifer Ciaccia.
Hundreds of officers swarmed the square, including cops with tear gas and officers on bikes. The atmosphere was tense but calm was quickly restored.
One of the protest groups massed in the square, the Revolutionary Communist Party, left the square for a police brutality march. With police on bikes riding alongside, they took to the roadway and walked about a half mile before preparing to disperse.
Meanwhile, a small group of young people, some in masks, gathered in the square and then broke off to take to the streets. A cat-and-mouse game with police ensued before the episode died down.
Despite the sometimes tense atmosphere and the overwhelming police presence, there were no arrests on Tuesday; there have been only five arrests since the RNC began.
Throughout the day, there were flashes of hostility between protesters, but no violence.
In the morning, activists from the antiwar organization Code Pink got in the face of Arizona Sheriff Joe Arpaio as he walked to the Quicken Loans Arena.
"Shame on Sheriff Arpaio," a group of about a dozen women — all wearing hot pink — shouted as the nation's most famous sheriff made his way through the crowd, flanked by Indiana State Police troopers.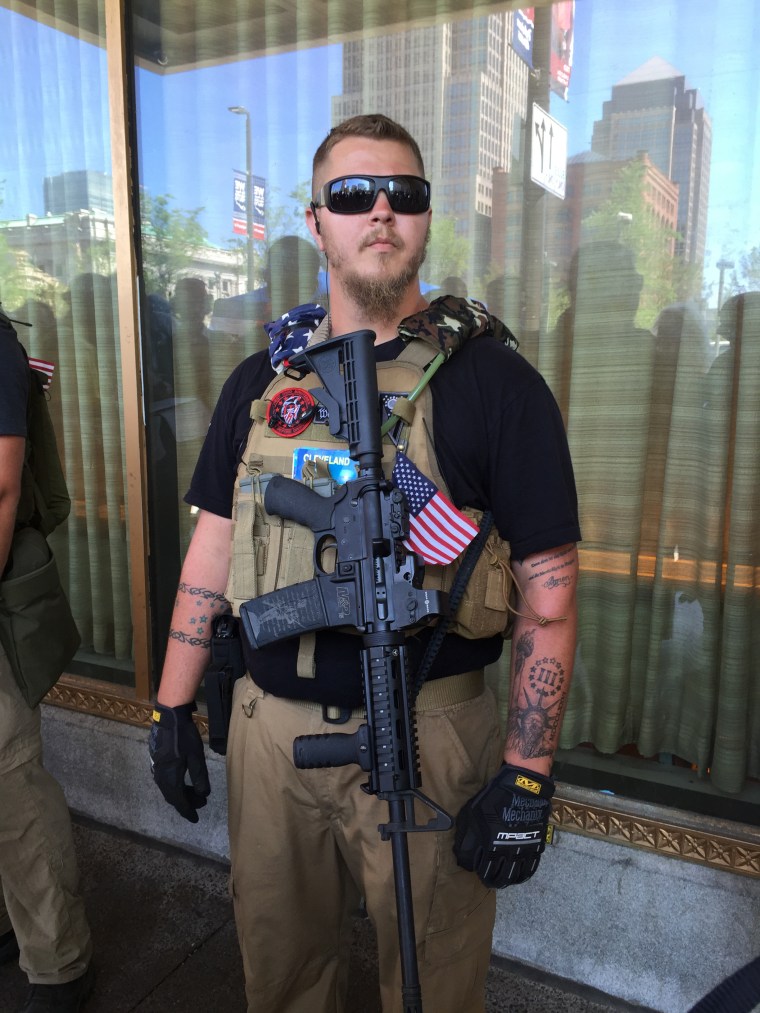 Moments earlier, two supporters of Donald Trump began shouting at participants in a news conference about police brutality sponsored by RevCom.
One of the hecklers, dressed in biker gear, yelled over the crowd: "You want to destroy it? Go through me first!"
Trevor Lees, 23, of the West Ohio Minutemen, a "constitutional militia," joined a half-dozen members of his group across from Public Square, taking advantage of Ohio's open carry provision to display his Smith and Wesson M&P15 rifle. "We're here to make sure the police know they have some support," he said.
Related: First Read — Day One Debacle for Team Trump
A cluster of 10 anarchist-styled protesters walked into Public Square at midday, dragging an American flag on the ground. A Trump supporter insisted they pick up the flag and a heated argument broke out before officers from Indiana — here for convention duty — intervened and broke it up.
Across the street, officers watched at a distance as a very agitated man wearing a T-shirt protesting the 2014 police shooting death of Tamir Rice yelled. At one point, the man, Stevedore Crawford Jr., walked quickly toward the officer, who stepped side, apparently to avoid confrontation. Crawford eventually moved on with a child carrying three water guns — which are banned in the event zone — in tow.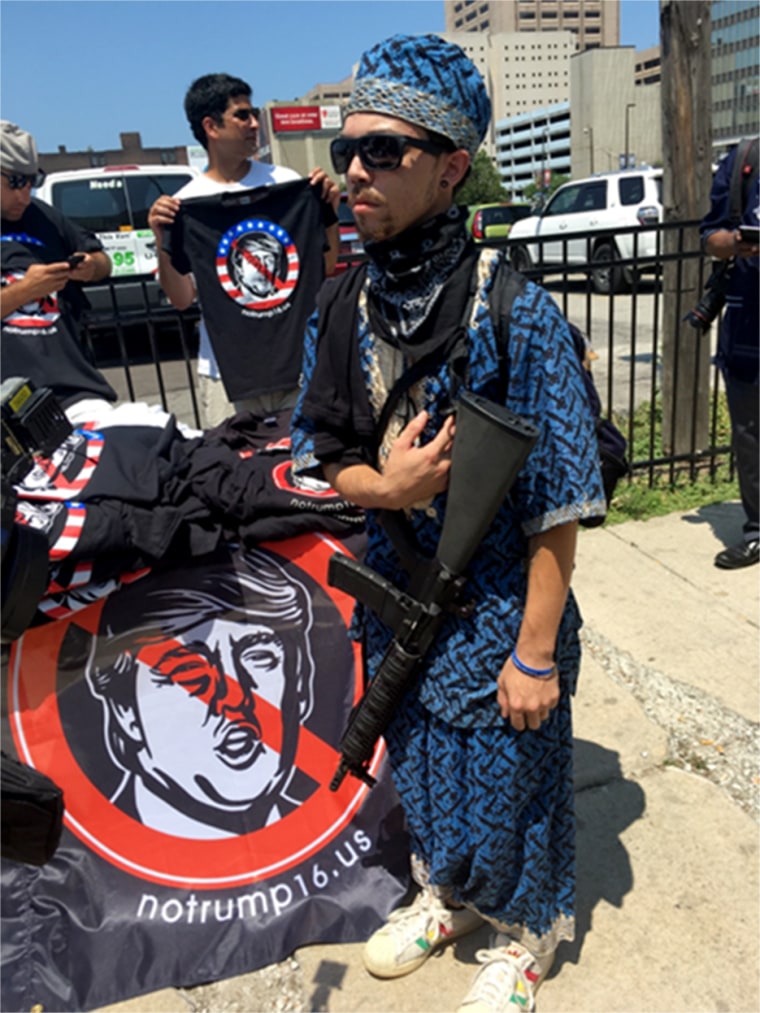 Two anti-Trump protesters carrying rifles also walked through Public Square. Ohio's open-carry provisions means firearms can be displayed anywhere in Cleveland except for the small security zone around the convention hall, which is under the control of the Secret Service.
There have been only a handful of major protests since Sunday; the largest had about 500 marchers. There have been no serious clashes between rival protesters or with police, who have given the demonstrators a wide berth — even when they are marching in roadways without a permit.
Chief Williams said his officers have been responding to reports of small groups dressed in all black, wearing masks. Cops stopped some of them and confiscated gas masks and slingshots, which are prohibited in the event zone.
"Officers are right there on it all night long. I tried to talk to them. They looked at me and walked away," Williams said at a Tuesday morning briefing.
"If you have a cause where you need to hide your face, you probably need a different cause," he added. "If those folks want to have their little march, we'll help you do that. If you want to cover your face during that march, maybe you need to find something else to do."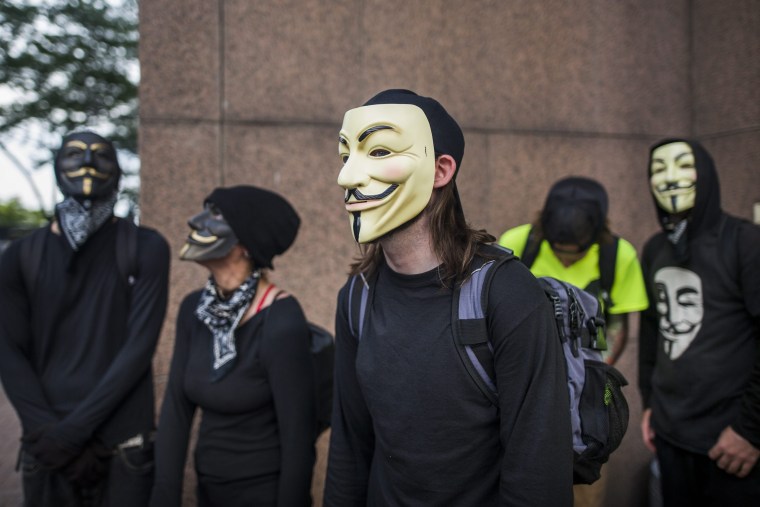 Three people were arrested early Tuesday for climbing flag poles at the Rock and Roll Hall of Fame and hanging a banner. So far, there's been no need for the 1,000 spots cleared out in local jails and overflow sites in anticipation of mass arrests.
The Cleveland chapter of Black Lives Matter is not organizing any protests during the Republican National Convention, an organizer told NBC News.
"We felt like we didn't have the resources to protect the amount of people that might come out," said Alana Belle, one of a half-dozen core members of the chapter.
"We're sitting out the RNC as an organization. Some people are participating in events as individuals."
Belle said she believes protest turnout has been modest because of concern that Ohio's open-carry provision would bring large numbers of armed men into the streets. Only a handful of people openly displaying guns have been seen at events in downtown Cleveland.