LAS VEGAS, Nevada — If politics is a bloodsport, Marco Rubio has been gaining an advantage over Ted Cruz by cutting to wound.
Over the past month, Rubio and his advisers have kept up a steady drumbeat of attacks singularly focused on painting Cruz as dishonest, deceptive and willing to do anything to win an election.
Their efforts — compounded by Donald Trump picking up the narrative after the Iowa caucuses, and hammering it home over the past week — have contributed to Cruz's sinking approval ratings and diminishing support. The attacks even led, indirectly, to the firing Monday of a top Cruz staffer.
A number of voters in Nevada said Tuesday that the tactics from the Cruz campaign had turned them off of the Texas senator.
"The sleazy attacks from Cruz's campaign pushed me over the edge, and so I now have full support behind Marco Rubio," said Ruthie Thompson, a realtor in Reno who said she switched her support from Cruz to Rubio in the last week.
"Cruz's campaign attack on Rubio on [the issue of] life was the nail in the coffin for me," Thompson said at a Rubio rally on Monday. "They attacked his record on Planned Parenthood, and Marco has a sterling record on life."
It's a perception that's as much a product of strategic hype from the Rubio campaign as it is the Cruz campaign's blunders. Evidence of the efficacy of team Rubio's messaging machine came Monday when, in a surprise move, Cruz announced he had asked for the resignation of his communications director, Rick Tyler.
Eyeing an opening, Rubio hours earlier had demanded some "accountability" from Cruz over his campaign having "repeatedly done things that they have to apologize for." He specifically attacked Cruz's campaign over a video erroneously purporting to show Rubio denigrating the Bible that was initially circulated by Tyler on social media — before he deleted the post.
Tyler told NBC News shortly after deleting his post that he made a mistake in sharing the video without talking to anyone in the room, and he apologized publicly to Rubio and his campaign. But on Monday, Rubio called the latest video part of a "very disturbing pattern of deceptive campaigning or flat-out just lying."
"Who's going to be fired when Ted Cruz is president?" he asked.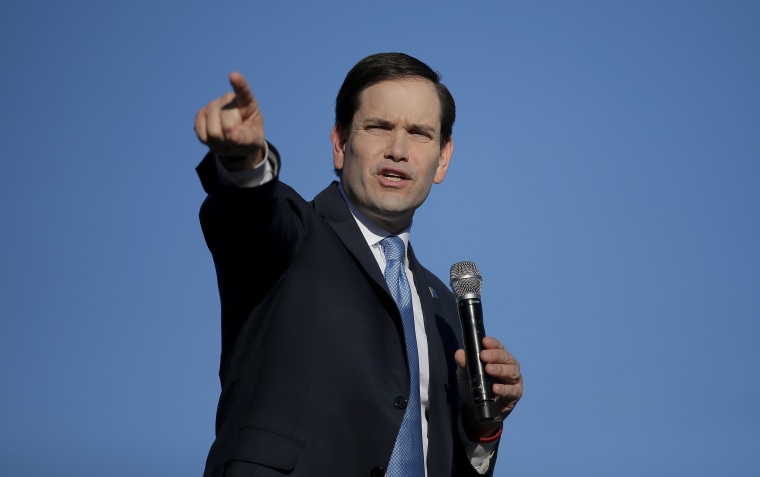 Cruz's campaign insisted the firing had nothing to do with Rubio's comments and everything to do with running a positive campaign.
"I had made clear in this campaign that we will conduct this campaign with the very highest standards of integrity," he said. "If other candidates choose to go into the gutter, we will not do the same."
Rubio also insists that he's running a positive campaign, telling reporters he hasn't spent campaign money on negative ads and that he wants to campaign with "dignity." As he made his closing pitch in South Carolina, and as he's barnstormed Nevada and a handful of Super Tuesday states, that's been true — he's focused on a more positive message of uniting the party and expanding the GOP tent.
But Rubio spent the first half of last week ratcheting up his rhetoric against the Texas senator, repeatedly calling him a "liar" on the debate stage and on Tuesday accusing him of a "pattern" of "making stuff up" that raises questions about his character. He also targeted him by name on the stump, calling Cruz "weak on national security" in a state where that very issue is paramount in the minds of voters.
And even after Rubio himself turned off those attacks, Rubio's aides kept up the heat on Cruz off the stage. Todd Harris, one of Rubio's top advisers, summoned reporters for an impromptu briefing to highlight a little-known site created by the Cruz campaign that featured a poorly-photoshopped image of a smiling Rubio shaking President Obama's hand.
Visibly angry, Harris brandished printouts of the website and told reporters they were the latest example of "how phony and how deceitful" the Cruz campaign had become.
It's not a new argument from the Rubio campaign — he and his aides have been arguing since the run-up to the Iowa caucuses that Cruz will "say or do anything to get elected." But it's gotten increasingly more aggressive, and Rubio's advisers say the message was just beginning to resonate with voters.
"You have to keep talking about that for a long time until it actually starts trickling down to voters," Harris said.
The tact was enough to give Rubio a slight edge over Cruz in the South Carolina primary, where he finished second by a slim margin.
And as Cruz's opponents continue to pummel him — Rubio told reporters late Monday night that Cruz is "responsible for the culture" of his campaign, and Trump said at a rally that "there's something wrong with this guy" — it could be enough to weigh Cruz down in Nevada and beyond.
Ray Frye, a Sparks, Nevada, resident at the Rubio rally in Reno Monday, said he was initially "very Cruz" and "in Iowa, I gave him benefit of the doubt that he maybe didn't know."
"But then it kept getting dirtier and dirtier and piling up," he said.
Frye said he was turned off by the tactics.
"He's just kind of fighting dirty. It's not the time or place in our country," Frye lamented.