PITTSBURGH — Vice President Joe Biden told supporters Monday he wasn't the one to ask about his potential presidential bid.
"You got to talk to my wife!" he said in response to a call encouraging him to run from the crowd at a Labor Day parade in Pittsburgh on Monday.
"I've got to talk to my wife about that," he told steelworkers who erupted into chants of "Run, Joe Run!"
But it was clear the possibility was on the Biden's mind as he spoke at the United Steelworkers' headquarters in downtown Pittsburgh.
His brief remarks to a crowd of about 200 union workers and their families offered the vague outlines of what could become a Biden presidential pitch: a progressive slate of policies focused on the middle class, accented by an authentic — if unvarnished — folksy charm.
Related: Biden Gives Union Faithful Red Meat — But No New 2016 Clues
"In D.C., I'm known as 'Middle Class Joe,' and they say it in D.C. not like a compliment," he said. "It's like I'm unsophisticated."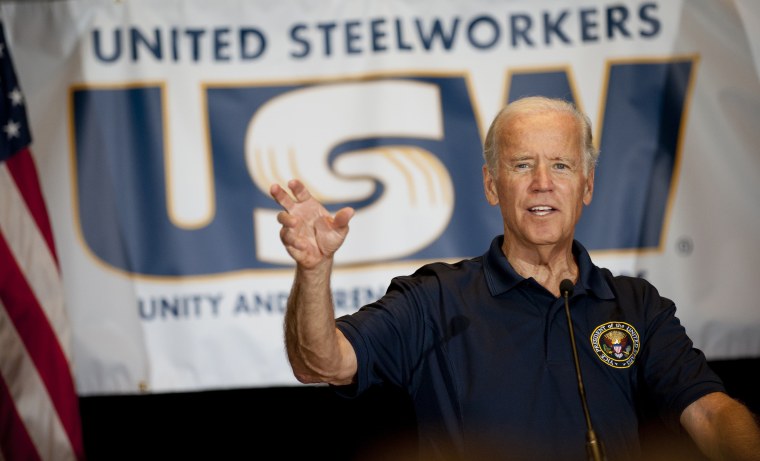 His populist tone went hand in hand with the policies and problems he outlined in his speech. Biden hammered companies for putting profits into stock buybacks and warned that company leaders "don't look out for you."
While he expressed optimism that "American companies are coming back" to the U.S., he emphasized the need for higher wages and said infrastructure investment and better access to education — paid for by tax reform that would lean heavily on the wealthy — were needed to ensure that Americans were receiving those higher wages and prepared for the returning jobs.
Biden said last week that he "will not hesitate" to run, but only if he and his family "have the emotional energy."
Related: Biden Says Family Will Decide Whether He Runs for President
"Can my family undertake an arduous commitment they would be proud to undertake under ordinary circumstances?" he said in an address at an Atlanta synagogue.
And in the clearest sign of where he'd position himself in the presidential race if he ran, Biden said Monday that Sen. Bernie Sanders of Vermont — the underdog Democratic presidential contender who's ridden a wave of progressive enthusiasm to national prominence since jumping in — is doing a "helluva job."