MOSCOW — Vladimir Putin's government accused Barack Obama of "Russophobia" on Wednesday after he criticized Donald Trump for cozying up to Moscow.
Obama said Tuesday that Trump sees Putin as a "role model" — someone who "invades smaller countries, jails his opponents, controls the press and drives his economy into a long recession."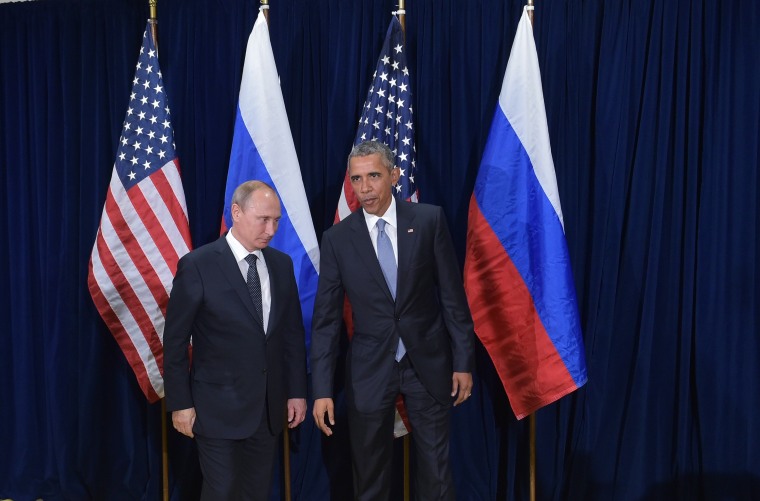 Kremlin spokesman Dmitry Peskov dismissed Obama's remarks as "electoral-style rhetoric," Russia's state-run news agency TASS reported.
"Sadly, we see the continuation of this blatant Russophobia. All we can do is express our regrets in this regard," Peskov said, according to TASS. "Let's put it this way: Such statements will hardly help the shy and very fragile attempts at building at least some mutual trust [between the U.S. and Russia]."
Peskov also noted that Obama does not use the same "rhetoric" when meeting Russian officials.
During his campaign, Trump has spoken favorably about the Russian president, a leader whose relationship with the White House has deteriorated in recent years over several foreign policy flash-points.
The Republican nominee told the Commander-in-Chief forum earlier this month that "if he says great things about me, I'm going to say great things about him." (In the remark's Trump was referring to, Putin actually used a Russian word that means "colorful" or "strong personality" rather than "brilliant.")
Trump also commended Putin's "very strong control over a country" and praised his high approval ratings. Russia is classed as an "authoritarian regime" and ranked 132nd out of 167 countries in the Economist Intelligence Unit's Democracy Index.
Speaking at a rally for Hillary Clinton in Philadelphia on Tuesday, Obama spoke about Trump's remarks, noting that, "well, yes, Saddam Hussein had a 90 percent poll rating," referring to the former dictator's iron grip on Iraq.
"If you control the media and you've taken away everybody's civil liberties, and you jail dissidents, that's what happens," Obama said. "I don't go around saying [Putin's] my role model. Can you imagine Ronald Reagan idolizing somebody like that?"