SOUTH BRONX, New York — Dalia Viera-Gonzalez could not control her grin as Democratic presidential candidate Bernie Sanders concluded an electric speech in her New York City neighborhood.
"I'm so happy that he came here because I live two blocks away!" the City College of New York student told NBC News.
"I've never seen anything like that before," she added.
The Vermont senator treated his first major rally in New York City of 2016 as a homecoming of sorts. Sanders was born in the city and grew up in Brooklyn.
"I am very proud that I was born here in New York City!" Sanders said to uproarious cheers from the 10,500 people estimated by Sanders' event managers to have gathered in Saint Mary's Park.
Around 8,000 additional people watched the candidate's remarks on a big screen on a nearby baseball field-turned overflow space.
The enthusiastic crowd was diverse and eclectic. Local artists brought puppets and dolls bearing resemblance to the 74-year-old self proclaimed democratic socialist. Young students sat on blankets and huddled together as the night got cooler. The smell of marijuana wafted over parts of the crowd.
"The Bronx is burning for Bernie Sanders!" said Alex Coss, a passionate Sanders fan of Puerto Rican descent who proudly sported a blue "Unidos con Bernie" sticker.
"The Bronx needs somebody to bring some hope … when you get someone like Bernie Sanders coming to the Bronx, you know it brings hope," Coss said.
Sanders made an effort to localize his stump speech for the audience in the largely Latino and African American South Bronx as the contentious April 19 New York primary between him and former Secretary of State Hillary Clinton approaches.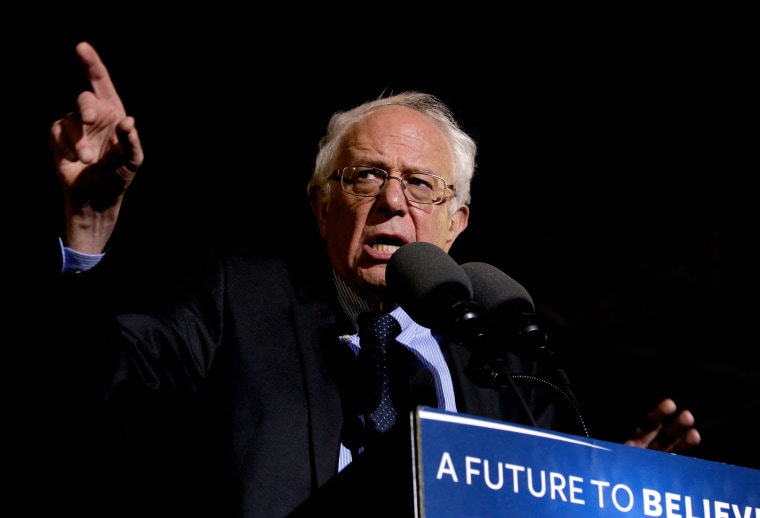 Sanders explained that instead of investing money in places like Iraq through wars, as president he would "invest in the South Bronx."
The presidential hopeful also said he wanted "every kid in the South Bronx" to be able to get quality pubic education and college education, noting that he himself went to public school in Brooklyn.
Sanders did not go after Republican front-runner and New Yorker Donald Trump as he normally does in his campaign speeches, though he did not hold back on his Democratic primary opponent.
"Secretary Clinton, then-U.S. Senator from New York … she voted for the war in Iraq!" Sanders said to boos from the crowd.
Sanders line against Clinton was mild, however, compared with the blistering attack from Sanders surrogate and well-known actress and singer Rosario Dawson, who spoke before the senator took the stage.
Dawson first scolded Clinton for arguing that Sanders had not taken Trump's controversial remarks on abortion "seriously" enough.
"Shame on you Hillary," she said.
Dawson also ventured where the official campaign rarely goes by bringing up Clinton's ongoing email imbroglio.
"Well, yes, she is under FBI investigation, thank you" remarked the star, smiling while saying that Clinton is "about to be interviewed."
But during a campaign season where other campaign rallies have become heated, and in some cases violent, Viera-Gonzalez for one was simply glad to be at an embracing event that paid attention to her hometown.
"Everybody gathered here peacefully, it was wonderful, everyone was so nice," she said, "it really does bring hope and unity to the Bronx."