CEDAR FALLS, Iowa — Wisconsin Gov. Scott Walker has tried to ignore Donald Trump's bluster by leaning on the old "Reagan commandment" that discourages attacks against fellow Republicans. That ended Sunday after the tycoon's comments about Sen. John McCain's military record.
In an exclusive and wide-ranging interview with NBC News, Walker had a message for Trump and the real-estate mogul's supporters.
"At a minimum, he needs to apologize," Walker said. "I think more people need to push him. Not just candidates or elected officials, I think more people across America including some of those who, maybe up until now, have been supporters of him."
At the Family Leadership Summit on Saturday, Trump said McCain is "not a war hero because he was captured. I like people that weren't captured." Under fire, Trump later acknowledged that McCain's sacrifice was heroic.
Walker was careful not to mention Trump by name but said his insulting rant against McCain went too far, "when it came to personal attack like this against the military, an American hero, I'm gonna call it like I see it."
Instead of an apology, Trump has shown only more defiance. He refused Sunday to take back his slam against McCain's service as a prisoner of war in Vietnam.
Walker said he was not avoiding conflict with Trump to avoid becoming one of his targets. "No, from my standpoint, I just stayed out of it," he said. "We don't want to be a circular firing squad."
The Wisconsin governor is a rarity in presidential politics when it comes to resume. He didn't finish college. Instead, a job offer came during his senior year.
"Unlike some of my friends who were a year or two older than me, they had degrees but they didn't have jobs," Walker said.
He had considered going back to finish school but life's responsibilities intervened. "Next thing you know, all your time and your money is spent on your family," he said.
Walker said his career success despite the lack of a college degree makes him qualified to speak to and for much of the country who choose to do an associate degree or an apprenticeship instead of the traditional four year bachelor's degree.
"I'm not unlike about two-thirds of America who're in a very similar circumstance," he said.
However, Walker wasn't keen for his sons Matt and Alex, a junior and senior in college, to follow in his footsteps. "I think college is great for my sons. It's right for the careers they want to pursue," he said. "They know, not just from my standpoint, but from their mother. She wants them to finish just like I do."
Wisconsin's first family may be on the same page about finishing college, but they do not agree about the right for same-sex couples to marry.
Walker disagrees with the recent U.S. Supreme Court decision that marriage is a Constitutional right for same-sex couples. His sons support gay marriage.
He said his sons' positions won't change his own mind. "I've had this position for more than two decades. I believe that marriage is between one man and one woman," he said. Walker added the family's public disagreement reveals that "we're very transparent."
He said: "Both my sons' generation has different views than some folks do, but that doesn't change who I am or what I believe in."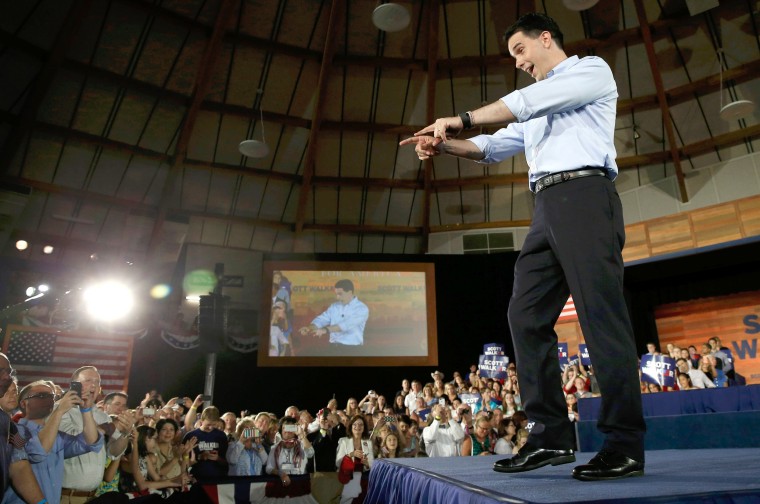 Walker's 22-year marriage to wife Tonette brings another personal dimension to the GOP race for the White House that is seldom seen in presidential-level politics. Walker, at age 47, is 12 years younger than his wife.
Asked whether he has ever felt judged by society's double-standard on marital age differences, Walker replied: "No, Tonette was a widow before we married. In some ways, I think it actually makes her tough for the job." Walker described her life experiences as a political asset. Her first husband lost a battle with a terminal illness at almost the same time her brother died of bone marrow cancer. Her mother also died from brain cancer and her father from lung disease, he said.
"She's dealt with some pretty tough things in her life. And I think looking ahead, when people ask, 'Is she up to the challenge?' Boy, I think anybody who's gone through that personally is more than prepared for anything crazy that could be thrown on his plate."