Joe Arpaio, the Arizona sheriff who has made national headlines for crackdowns on undocumented immigrants, has taken Bernie Sanders' wife Jane on an unexpected tour of his infamous "tent city" jail.
Arpaio, who has been branded "America's Toughest Sheriff" and who endorsed Donald Trump, turned up as the would-be FLOTUS made a visit to the makeshift extension to the Maricopa County jail.
Sanders intended to view conditions at the site through the fence, ahead of Bernie's planned rally Tuesday in Phoenix, but Arpaio showed up and invited her entourage inside.
She later tweeted that he "had no answers" to her questions about conditions at the facility.
"He admitted that the temperature in the tents were up to 130 degrees in the summer. He told me he took all meat out of the prisoner's meals," she wrote.
"What I saw and heard firsthand today by visiting with the families and seeing tent city was very disturbing," she added in a news release. "Sheriff Arpaio did not even attempt to explain or excuse his inhumane treatment of people of color — not that he could."
Arpaio created the facility 20 years ago using Army surplus tents in order to address overcrowding in jails, saying it saves tax dollars at the expense of comforts usually afforded to the inmates.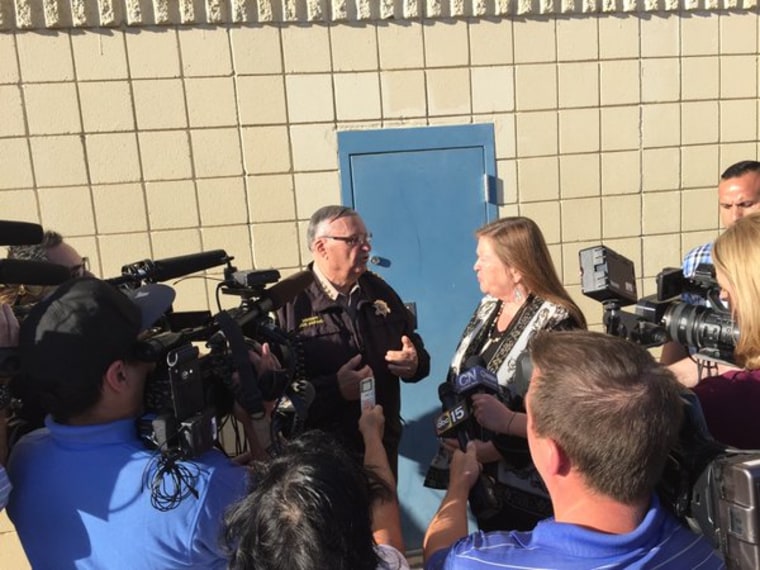 He later tweeted that he invited Sanders inside to defend his tent policy, adding that he was "now waiting" for a visit from Hillary Clinton.
The American Civil Liberties Union calls conditions at the tent facility "inhumane."
Arpaio's nationally-famous crackdown on undocumented immigrants working illegally ended in 2014 when his office was found to have racially profiled Latinos in traffic stops.