While Election Day 2016 is still two months away, voting began Friday in North Carolina. The rise of early and absentee voting nationwide has changed the way American elections are conducted. This type of voting occurred in small numbers a couple of decades ago, but it has risen dramatically over the past decade.
In the 2012 election, more than a third of the overall vote was cast before Election Day and that percentage was considerably higher in key battleground states like Florida and North Carolina. But does early voting matter?
In terms of who wins, early voting makes a difference. In the past couple of presidential elections, the Democratic Party has benefited the most from early and absentee voting.
Below is the percentage of early/absentee voting in states in 2012 where it is available. The data was provided by TargetSmart and independently analyzed by the NBC News Data Analytics Lab.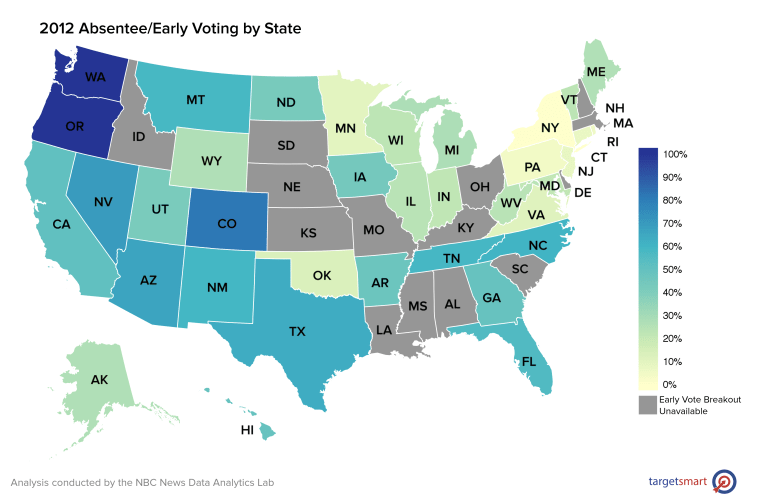 President Obama and the Democratic Party built a formidable get-out-the-vote operation in the 2008 election and continued perfecting this into 2012. According to NBC News Exit Polls from 2012, Obama beat Mitt Romney by 7 points among voters who cast ballots before Election Day. Among Election Day voters, he beat Romney by just a single percentage point—49 percent to 48 percent. Obama secured a 2012 victory in part due to the early lead he banked before Election Day.
This year, mail-in absentee voting begins in North Carolina on September 9. Morethan six in 10 voters who cast ballots in the 2008 and 2012 presidential election in North Carolina did so before Election Day either via in-person early voting or absentee voting, according to our analysis.

In 2008, NBC Exit Polls showed that Obama lost the Election Day vote but still managed to beat Republican candidate John McCain in North Carolina.
In 2012 in North Carolina -- where Obama lost to Romney by 2 points -- 61 percent of voters cast ballots before Election Day. Obama was slightly more competitive with Romney among these early voters. According to NBC News Exit Polls, Romney beat Obama by 2 points among early voters but expanded his margin to 3 points among Election Day voters. Though close, this data suggest that slight changes in the number of early voters could meaningfully affect whether North Carolina swings red or blue.
Though majorities of white, Black and Hispanic voters cast early ballots, nearly three-quarters (72 percent) of African American voters cast ballots before Election Day in 2012. A much smaller majority of white voters cast ballots early (57 percent). Among Hispanic voters—who have been increasing as a voting bloc in North Carolina in the last two presidential races—52 percent voted early.

On August 31, the Supreme Court deadlocked on a decision to reinstate a strict new voter ID law in the state. The law—introduced by Republicans in 2013— attempted to reduce the period of early voting from 17 days to 10 and eliminate a popular pre-registration program for high-school students. The appeals court that initially struck down the law found that it targeted African-Americans "with surgical precision." The analysis above supports the court's finding.
Aside from racial differences between early voters and Election Day voters, there is also a gender bias in early voting. In 2012, 62 percent of women who voted did so before Election Day. Among men, 59 percent voted early.

Though early voting calendars and eligibility laws differ by state, recent efforts to promote voter turnout have seen early voting windows expanding in several states as well as an increase in no-excuse absentee voting.
It is unsurprising, then, that Clinton will work to adopt a similar strategy by striving to capture the support of early voters in North Carolina and other key battleground states this year—especially when she leads the Republican candidate by a sizable margin in recent national polls. If the pro-Democrat pattern seen in 2012 holds this year, Clinton hopes to secure a sizable cushion in early votes that will allow her to win the general election after same-day votes are cast.
The analysis was conducted by the NBC News Data Analytics Lab. For full details on analysis and methodology, please click here.