DUBUQUE, IOWA -- It's a Tuesday night in August, and 50 Democrats are chowing down on sweet corn and chili in a labor union hall in Dubuque, Iowa.
The scene shows more than just the simple joys of summer. UAW Local 94, where county Democrats are holding their August chili dog cookout, is also where Joe Biden spent his last day as a presidential candidate in 2008. And, more than any other city in the early caucus state, this old union rivertown could be the cornerstone of another Biden campaign if the vice president makes a late bid for the White House.
"It's very much small town, blue-collar workers. And Joe Biden has that story," said Nicholas Hockenberry, 27.
"I really strongly believe he's the best choice, and until he says he won't run, I won't support anyone else," said Katy Wethal, 38, a Dubuque Democrat and nurse practitioner. "The American people need his authenticity. The American people are so hungry for a person who cares and understands them."
Half of the population here is Catholic, like Biden. Locals call it the "State of Dubuque" because of its Democratic roots and an economy not heavily dependent on agriculture like the rest of the state. Just five percent of Dubuquers work in agriculture, while a quarter are employed in manufacturing, construction and warehousing.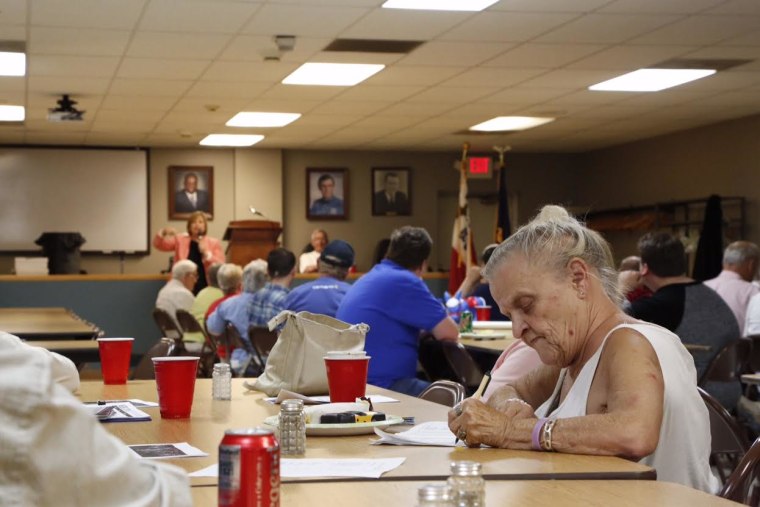 The vice president was unsuccessful in both of his previous White House runs, garnering just one percent support in the state in 2008 and leaving the race before the Iowa caucuses in 1987.
But loyalists call Biden an "honorary Dubuquer."
He has frequently visited the city -- for campaigns and vacation -- over the last three decades, including a water park vacation with his family last summer. And the Bidens developed close friendships with several locals, including the assistant city manager Teri Goodmann and her husband, John Goodmann.
The Draft Biden effort announced Friday that Teri Goodmann will serve as its co-chair in Iowa.
"We've known Vice President Biden and his family over the past 30 years," she told NBC News. "We know the family. We know the quality of his character. We know his qualifications for the job, and we would support him if he chooses to run. And we understand the Iowa caucuses."
The Goodmanns' daughter, Ellen, will serve as state director for Draft Biden in Iowa. She was the regional director for Biden's 2007 campaign.
"The foundation is strong. [Biden has] been building it for years," the younger Goodmann said. "It's authentic. And he has relationships with people who really, really support him, should he choose to run."
Franz Becker, a freshman at Loras College, had helped on the Draft Biden campaign in Iowa earlier this year but stopped after "it looked like he wasn't running at all." Instead, he signed a pledge card for the Clinton campaign.
"I like Hillary all right. I told myself at the beginning that this is the right choice, everyone will be backing her, and I should get on. But I haven't been that energetic towards her anymore," Becker said.
"I stopped volunteering these last few weeks for her, hoping that Biden gets in more than anything. I'll be backing Joe all the way if he gets in."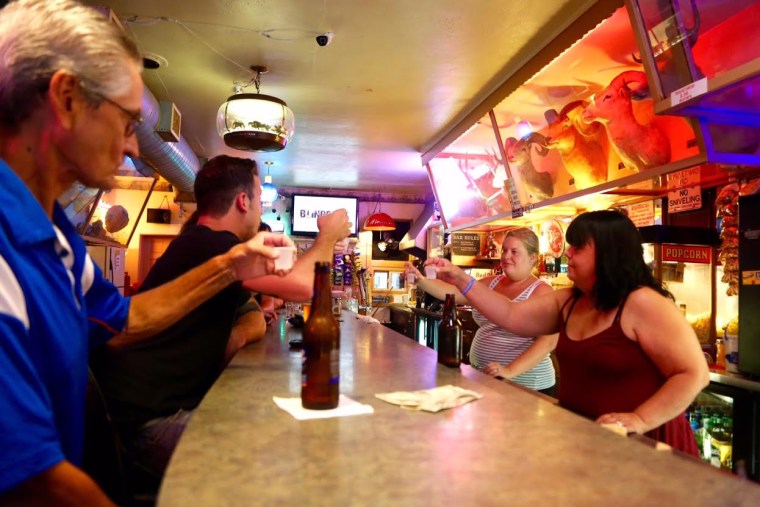 True blue
No matter who the Democratic nominee is in 2016, true blue Dubuque will be friendly territory for them.
Democrats in Dubuque County hold an advantage of nearly 10,000 registered voters over Republicans. The county supported Democrats by double digits in the last five presidential elections, and in the last three decades, the community has sent only two Republican members to its statehouse.
"In the 1950s, Dubuque was only one of two counties in the state to go blue," longtime Iowa Attorney General Tom Miller, a Dubuquer himself, explains. "It's a rich and interesting history of being Democratic--yes, in part, because of its very Catholic community and labor roots."
Despite eagerness for a Biden run among many, the other Democratic candidates are not without their own backers. (The attorney general, for one, is supporting Hillary Clinton.)
Sandy Hockenberry, 57, an employee of the University of Dubuque, is the mother of Nicholas Hockenberry--and represents what may be a divided Democratic caucus in February even among family. Both mother and son caucused and volunteered for Obama in 2008 but are now split between Clinton and Biden.
"Even if [Biden] did enter the race and even though we love him here, he's never done it [in previous attempts]. I stand foremost by the party and the issues are very, very important to me. I love Bernie [Sanders]. I love Joe. But I want the candidate that is going to win," the elder Hockenberry said, saying she will caucus for Clinton.
Biden would have to overcome months of ground efforts by the other campaigns. Both Clinton and Bernie Sanders have campaign offices and field organizers in the city.
"The [Clinton] campaign has worked deliberately--already in Dubuque, intense door knocking campaigns. They're doing everything it takes to engage," Carrie Tedor, 48, a partner at a Dubuque marketing firm, told NBC News. Tedor hosted Clinton and 80 guests at her house in May.
"I know [Biden] has some very strong supporters--I personally think he's had his time," she said. "His time has come and gone. But he's a nice, likeable guy. If you've met one person who has walked with Joe in the Dubuque parade, you've met 2,000."
An economic argument
Other Democrats expect Sanders to make a strong ploy for the city, too.
"We have to figure out how we stop losing jobs as a result of our disastrous trade policies," Sanders emphatically said to a Dubuque crowd in mid-August.
The Vermont senator's message could resonate here. Dubuque is an old manufacturing, union town that suffered in the last 30 years from the loss and movement overseas of manufacturing jobs. Unemployment hit 25 percent in the mid-1980s and took decades to recover.
John Deere used to be the city's largest employer with over 8,000 making their paycheck from the company in the 1980s.
"Probably half the workforce in Dubuque County depended upon a paycheck from John Deere," Walter Pregler, former mayor and current chairman of the Dubuque Democrats, said.
Now Deere employs just around 2,500, moving plant operations to China, India, Brazil and Mexico.
The town has also seen job losses at Dubuque Packing Co., a prominent meatpacking business, and scientific laboratory manufacturing plant Howard Fisher, which laid off its 350 employees several years ago and sent its Dubuque operations to China, Germany and the United Kingdom.
In recent years, the economy and employment opportunities have bounced back. Health care and education jobs helped increase employment.
Sanders argues he is the candidate looking out after workers, voting against previous U.S. trade agreements like NAFTA. And in providing contrast with Clinton and Biden, Sanders says he would fight to end the pending Trans-Pacific Partnership.
One of Sanders' supporters in Dubuque: William Jefferson Simpson.
William Jefferson Simpson, or Will, was born one month after Bill Clinton's inauguration in 1993 and named in ode to the newly-minted president.
"Even though I got the name, I still don't plan on [voting Clinton]," said Simpson, 22, a veteran of the war in Afghanistan.
"I like [Sanders'] opinion that we don't need to be out fighting all these wars. He's been against it this entire time. And he hasn't changed his opinion on it."
Nor is Simpson's father, the man behind the naming, backing the candidacy of President Clinton's wife. Instead, he's waiting for "Uncle Joe" to jump into the race.
"I just think she's not as relatable, I think, to people as the vice president is," Greg Simpson, 46, a nurse, said. "I think to win, we need a candidate who can speak to people across the spectrum, and--through no fault of her own--there's a large sector that just has a negative opinion of her."
Yet, while lines attempt to be drawn in the Democratic race, most Dubuquers are still non-committal--and intend to be for quite some time.
Iowa Senate President Pam Johnson, a Dubuquer, sat at one of the UAW hall's long tables next to Ray Wilson, 70, a retired English professor from Loras College, and across from Terry Stewart, also 70, a retired firefighter and former chair of the county Democrats.
It's a hodgepodge group working through both their local politics of chili dogs and raffles but also the terrific responsibility of being the first to have a say in nominating potentially the next president.
"They take it slowly for the Iowa caucus," Johnson said. "They want to meet the candidates."
The likes of Clinton, Sanders and Biden aren't new to the political scene. Yet this is Dubuque -- a place that will thoroughly vet its Democrats.