COLUMBIA, S.C. — Walk into the Palmetto State Armory, one of South Carolina's largest gun ranges, and you'll find a big sign paying homage to Justice Antonin Scalia, "Champion of the Second Amendment." You'll also find a lot of Democrats.
The Armory is a one-stop weapons center — guns are manufactured, sold and available for practice — and it attracts a diverse crowd.
"You have a lot more women, African Americans, Asian Americans — the multicultural aspect of it has become so much more of an everyday occurrence," said the store's marketing officer, Adam Ruonala. "It really is encouraging to see from our industry."
Ruonala agreed to let an MSNBC reporter approach any customers in the store this week, and a good number said they were planning to vote in South Carolina's Democratic primary on Saturday.
"I can come here freely and shoot my guns, practice and do what I want to do, and arm myself — protect myself and my family," said Melida Peltier, a black woman who says gun rights are important to her vote.
Peltier said she voted absentee in the Democratic primary and "chose someone who helped me keep my guns."
Hillary Clinton and Bernie Sanders have been courting African-American voters in the state. African-American Democrats outnumbered white Democrats 55 percent to 43 percent in the 2008 presidential primary, a according to exit polls.
Joshua, a young black man buying ammunition in the store, said he supports Hillary Clinton and trusts her approach to gun regulation.
"She has a clear idea basically," he said. "Have some set of rules, but don't take away guns from people who deserve it."
That approach — protect gun rights, but screen gun buyers — is popular across party lines in South Carolina, although national gun groups like the National Rifle Association strenuously oppose enhanced background checks.
A recent poll in the state, which has a household gun ownership rate of 45% but was also rocked by the Charleston church shooting, found 9 out of 10 Democrats support background checks for all gun sales.
The support among Republicans was just as high.
Clinton has been running ads touting her support for "tougher gun laws," and she's criticized Sanders on the trail for his voting record on the issue.
She's also hammered Sanders — a frequent critic of corporate power — for voting to give gun companies special immunity from lawsuits by victims of gun violence. He has now reversed that position.
At the shooting range, Democrats who were passionate about weapons for self-defense said they also backed some limits on guns designed for war.
Deborah Hammond, a middle aged white woman, said guns were "definitely" important to her vote in the Democratic primary. She says gun rights are currently "in danger."
"I feel like that we should have the right to bear arms," she said, "I plan on carrying the 380 in my purse, because this world's getting worse and worse every day."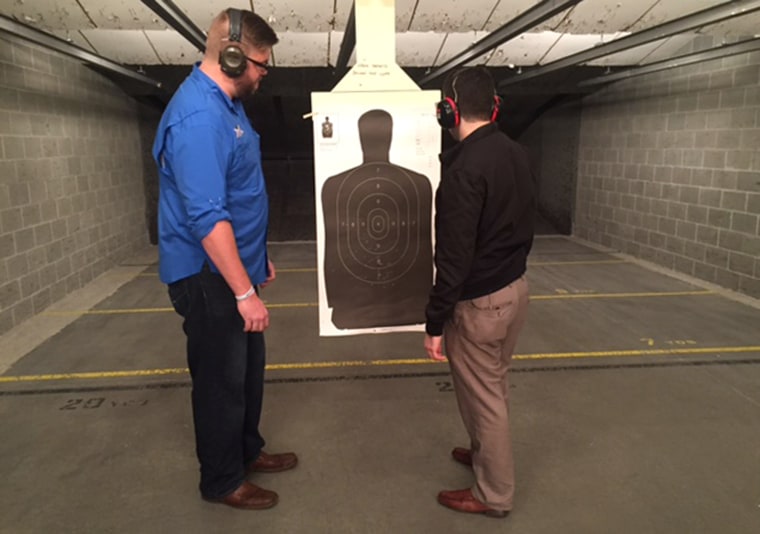 Yet that sentiment did not extend to opposing limits on all firearms.
"I think everybody that's buying these big, high-powered rifles nowadays," she said, "what do you need that for? Unless you're going to war."
Hammond was citing AR-15s, first developed for the Army, which are manufactured at the Palmetto State Armory. "I feel like that can be controlled a little bit more," she continued.
Hammond said she is actually leaning towards Bernie Sanders, but she said she's concerned that he used to oppose the kind of moderate gun control she supports, like the Brady Bill.
"Can we trust him not to go back that way, once he's elected?," she asked
South Carolina may offer a template for the balance Democratic candidates want to strike throughout 2016.
The primary calendar includes many more states with high gun ownership rates, and a general election where the Supreme Court and Constitutional issues loom large.
Yet for many Democratic voters and some Republicans, loving and using guns does not preclude supporting gun regulations. To build support for melding those goals, however, candidates may first have to prove they truly cherish the Second Amendment.