MOUNT PLEASANT, S.C. — Donald Trump on Monday night dug in his heels on his latest controversial statements — this time a proposal to shut down Muslim immigration to the United States indefinitely.
The ban would include tourists and those trying to enter the country on visas — and even Muslim American citizens caught on the wrong side of the border.
The proposal, which Trump described as "very salient, very important, and probably not politically correct" was released a few hours prior to the rally, which was held on the USS Yorktown and honored the anniversary of Pearl Harbor.
Trump read aloud from this statement and editorialized as he went. The first sentence — "Donald J. Trump is calling for a total and complete shutdown of Muslims entering the United States until our country's representatives can figure out what is going on" — brought many in the crowd to their feet amid a chorus of cheers and hoots. The statement, Trump said, was released in response to President Obama's address to the nation Sunday night — an address that Trump called an example of "gross incompetence."
Trump's initial press release also stated: "Without looking at the various polling data, it is obvious to anybody the hatred is beyond comprehension. Where this hatred comes from and why we will have to determine. Until we are able to determine and understand this problem and the dangerous threat it poses, our country cannot be the victims of horrendous attacks by people that believe only in Jihad, and have no sense of reason or respect for human life."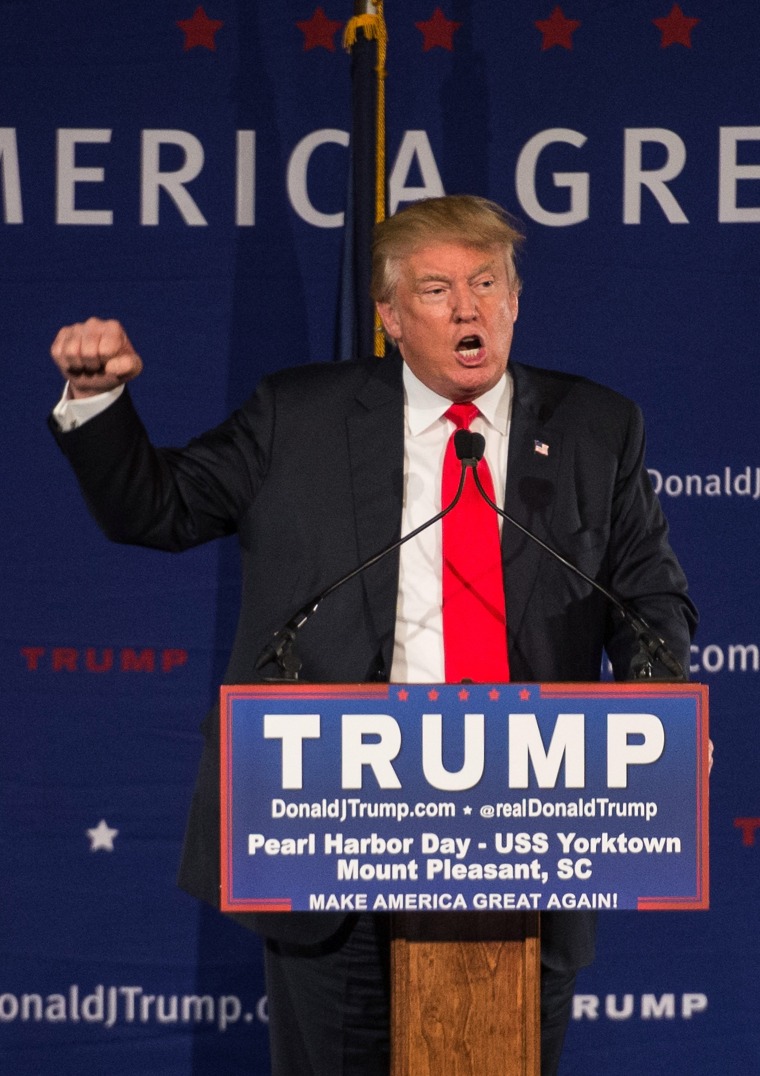 When asked if this ban applied to Muslim American citizens living abroad, Trump campaign spokesperson Hope Hicks told The Hill: "Mr. Trump says 'everyone'."
At the rally, Trump further bolstered his plan by saying that even Muslim "friends" of his supported it.
"I have friends that are Muslims," he said. "They're great people but they know we have a problem."
Then Trump went on to accuse Muslims — in general — of wanting to "change your religion." He based the claim on a survey that found "25 percent of those polled agreed that violence against Americans here in the United States is justified ... as part of the global jihad."
When Trump mentioned Sharia law, boos emanated from the crowd.
The poll Trump cited was conducted by a far-right "think tank" founded by Frank Gaffney Jr., who is identified by the Southern Poverty Law Center as a "anti-Muslim extremist."
Citing the San Bernardino shooting that left 14 people dead, Trump called out those who didn't report the shooters sooner.
"I watched the next door neighbor saying 'oh well we didn't report them because we didn't want to racially profile' or 'we didn't want to profile'," Trump said. "Give me a break."
Urging the crowd to do more in their own neighborhoods, Trump promised to protect them from the consequences of racial profiling. "When we see violations, you have to report those violations and quickly. Don't worry about profiling," he told the few thousand person crowd. "I promise I will defend you from profiling."
Related: Candidates Come Out Against Trump Anti-Muslim Plan
While the majority of those in attendance at the rally supported Trump's plan, even those not immediately thrilled about the idea admitted that something should be done — and that it didn't sway their support of New York businessman.
Gayle Winrow, 47, described her reaction to the plan as "mixed emotions" but that she's "in agreement with it initially." She told NBC News that she doesn't believe in tarring Muslims as a whole for something only a small percentage of them do, but that this plan is a good start until we can "see what's going on and figure out a targeted plan to figure it out."
Winrow is "almost there" in declaring her support for Trump, but is still considering Rubio and Carson, she said. Upon hearing that those candidates didn't endorse Trump's anti-Muslim plan, she said it made her more likely to vote for Trump.
"I don't hear a better alternative and I don't understand why they'd just shut that down when it makes sense. It just makes common sense."