President-elect Donald Trump Wednesday officially announced that he has selected his former campaign finance chief Steven Mnuchin to be his nominee for Treasury secretary and investor Wilbur Ross as his pick to head the Commerce Department.
"Steve Mnuchin is a world-class financier, banker and businessman, and has played a key role in developing our plan to build a dynamic, booming economy that will create millions of jobs," Trump said in a statement announcing the picks. "His expertise and pro-growth ideas make him the ideal candidate to serve as Secretary of the Treasury."
Of Ross, the president-elect said, "Wilbur Ross is a champion of American manufacturing and knows how to help companies succeed. Most importantly, he is one of the greatest negotiators I have ever met, and that comes from me, the author of The Art of the Deal. Together, we will take on the special interests and stand up for American jobs."
The selections will add two billionaire businessmen to a Cabinet that has thus far been largely filled out by Washington lawmakers and political insiders.
On Tuesday, Trump announced plans to nominate Georgia Republican Rep. Tom Price as head of Health and Human Services, and Elaine Chao, who headed the Labor Department under President George W. Bush, as transportation secretary.
In contrast, Mnuchin and Ross, though active in political fundraising, have no government experience.
Mnuchin spent 17 years at Goldman Sachs, ultimately rising to partner before leaving to start his own hedge fund and launching a production company that bankrolled Hollywood hits like "Avatar" and "American Sniper." At the time a relatively unknown banker, Mnuchin became Trump's finance chairman in May and helped the real estate mogul raise millions for his campaign.
Related: Elaine Chao to Be Named Trump's Transportation Secretary
As Treasury secretary, Mnuchin would oversee the nation's financial regulations, monetary and tax policy. Mnuchin kept a low profile during the campaign and his own policy views are unclear, though Trump pledged on the campaign trail to repeal the Dodd-Frank financial reform act and cut the corporate tax rate.
During confirmation hearings, Mnuchin could face questions over his role in running a bank that reportedly foreclosed on tens of thousands of homeowners in California following the housing crisis.
Both Mnuchin and Ross are longtime Democratic donors, but they each came out early in support of Trump during this election cycle. The president-elect recently called Ross "my friend for a long time."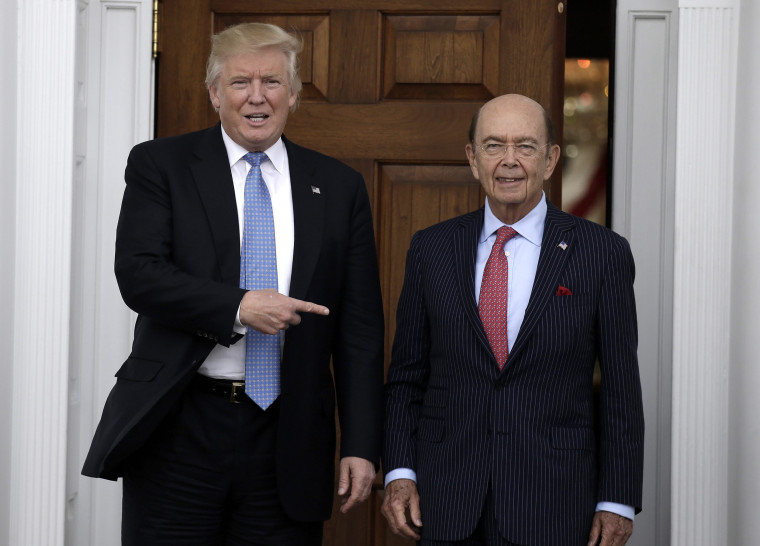 The Commerce secretary typically serves as the government's liaison to the business world and oversees a vast bureaucracy, including the Census Bureau, the Patent Office and implementation of the nation's trade laws.
That may explain in part why Trump is expected to select Ross for the role — like the president-elect, Ross has been an outspoken critic of free trade agreements, telling CNBC earlier this year that they're harmful to average Americans.
"I think there's a big difference between the impact of trade agreements on corporate America and the impact on Mr. and Mrs. America," he said. "Corporate America has adjusted to them by investing lots of capital offshore. ... What we're doing is we're exporting jobs and importing products, instead of exporting products and keeping jobs."
Ross also fits the profile that Trump previously said he wants in his administration: A business leader, Ross made billions restructuring failed companies and was known particularly for his work in the coal and steel companies — two industries that Trump promised to revive on the campaign trail.
But that work could pose challenges for him in a confirmation hearing as well: Ross was implicated in the 2006 Sago mine disaster in Sago, West Virginia, that resulted in the deaths of a dozen miners due in part to overlooked safety concerns. The mine was owned by a subsidiary of one of Ross' companies, and he acknowledged at the time having been aware of potential safety issues in the mine.