Hillary Clinton had a strong night Tuesday, beating Bernie Sanders in seven of the nine Super Tuesday contests where NBC News Exit Polls were conducted and a winner has been declared. Clinton's advantage was sealed by exceptionally strong support from blacks, Hispanics, women and voters over the age of 30.
Still, despite Clinton's impressive advance toward the Democratic nomination, she has shown weaknesses with key groups of voters that she will need to win the presidency in November if she is the nominee.
White Men Have Stuck With Sanders
Although Clinton has done exceptionally well with non-white voters, her support from white men has been weaker throughout the Democratic primaries. Among all Democratic primary voters in Super Tuesday contests Tuesday, the NBC News Exit Poll shows Sanders getting 55 percent of the vote among white men.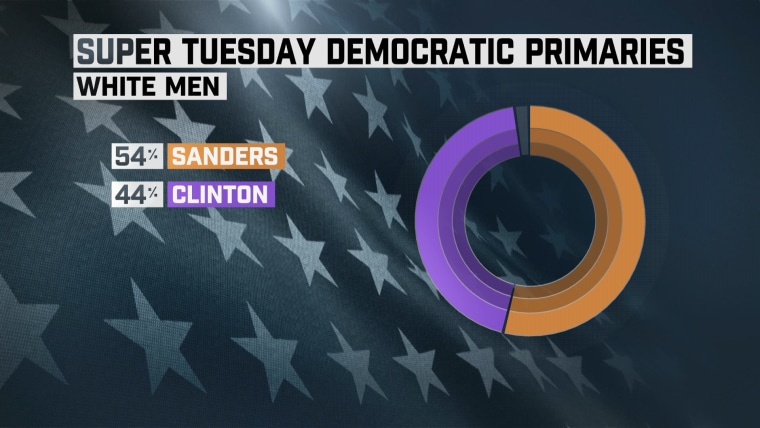 Young Voters Continue to Rally for Sanders
In the four Democratic caucuses and primary races leading up to Super Tuesday, Clinton failed to engage the votes of those 17 to 29 years of age, with Sanders grabbing eight in 10 of their votes in Iowa, New Hampshire and Nevada, and then 54 percent in South Carolina.
In nine of the Super Tuesday contests, Sanders has retained strength among voters under 30, garnering 62 percent of their votes overall. Clinton did significantly better than Sanders, however, with voters over the age of 30.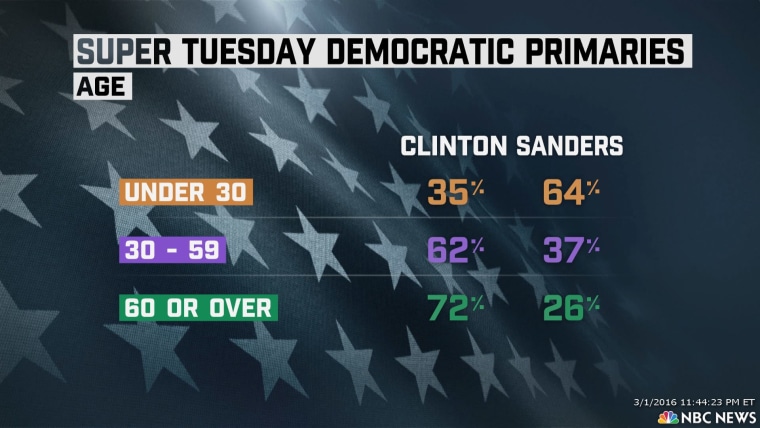 Voters Placing Top Value on an Honest and Trustworthy Nominee Elude Clinto
Since the first contest in Iowa, Democratic voters have been divided over which candidate qualities matter most. About three in 10 say the right experience is most important. Among these voters, nine in 10 voted for Clinton.Yet Clinton continues to suffer among the roughly one-quarter of voters who prioritize having an honest and trustworthy candidate; seven in 10 of those voters went for Sanders (70 percent).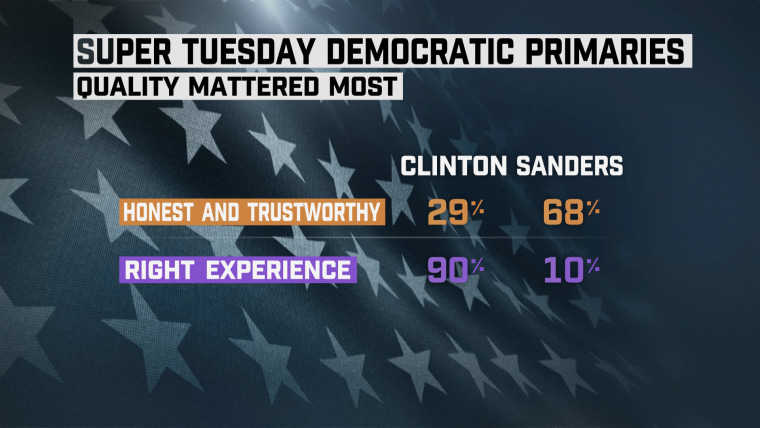 This article has been updated with final polling data.