Republican presidential candidates Ben Carson and Carly Fiorina have wooed away a major GOP donor from Jeb Bush, as the former Florida governor struggles to pick up traction in the primary race.
A spokesman for T. Boone Pickens, told NBC News that the energy billionaire and hedge-funder has instructed his staff to look into how he can offer some backing to Carson, which could mean a donation to one of the groups supporting Carson or a fundraiser.
"He will provide some financial support for him," the spokesman, Jay Rosser, said. "He likes Dr. Carson."
The two met a few months ago in Dallas to discuss energy policy, and again ran into each other just this week at a television studio in New York City.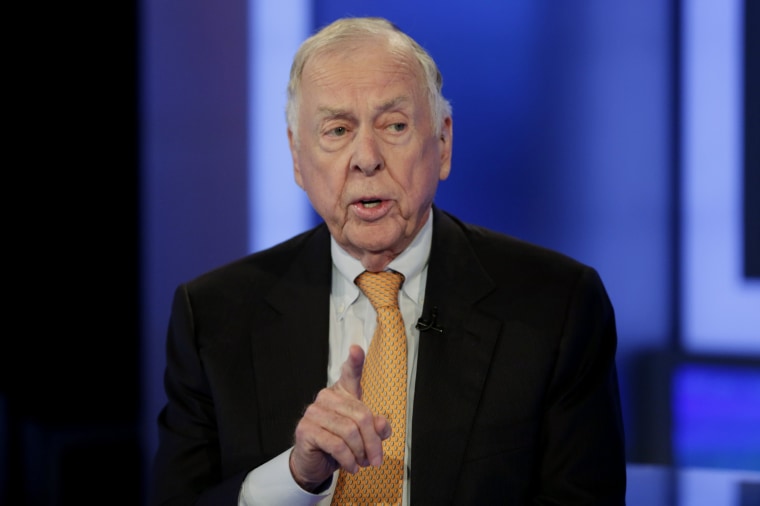 In September, Pickens hosted a fundraiser for Fiorina in Dallas.
It's good news for Carson, as it suggests the ultimate outsider candidate is starting to build some establishment credibility. Though Carson raised more in the third quarter than any other GOP candidate so far, most of his contributions came from small-dollar grassroots contributions, and until now he had yet to draw the support of any major GOP financiers. Pickens' backing may hint that that trend's about to change.
But it's bad news for Bush, whom Pickens bet on early with a well-publicized $100,000 contribution before the candidate even officially launched his bid.
Now, stuck stubbornly in the middle of the pack in most national polling, Bush has recently seen a rash of media reports outlining complaints and frustrations from donors who believe he needs to reconfigure his campaign.
Pickens' spokesman said the decision to back two other candidates doesn't "necessarily" mean he's abandoning Bush.
"He still believes in him. He thinks ultimately [Jeb's] got a great great chance to win it," Rosser said. But he pointed to comments Pickens made on CNN just before the last GOP debate: "It's kind of like [Jeb's] running in molasses."
"I want to pick up the pace," Pickens said at the time.