FAYETTEVILLE, N.C. — After an afternoon of controversial and suggestive comments left open to interpretation, Donald Trump gave his attack line about Hillary Clinton and the Second Amendment another go.
And this time he was a little more careful with his words.
Queuing up his comments in the same way he did hours earlier, Trump said Clinton "basically wants to take your safety away. She wants to take your guns away and by the way, if she appoints Supreme Court justices, meaning if she gets the option to appoint, meaning a very sad day in this country because if she became president she would do a terrible job, this would be four more years of Obama and we don't want four more years of Obama."
Those comments marked a somewhat clarified version of ones that spurred outrage hours earlier, when Trump said: "Hillary wants to abolish, essentially abolish the Second Amendment. By the way, and if she gets to pick, if she gets to pick her judges, nothing you can do, folks," Trump said earlier in Wilmington. "Although the Second Amendment people, maybe there is, I don't know."
Despite the fact that Hillary Clinton has never said or indicated that she wants to "abolish the Second Amendment" the last part of the statement garnered the most attention, with many seeing it as a call for violence against the Democratic candidate.
Carrying Trump's water on those earlier comments, was former New York Mayor Rudy Giuliani, who accused the media of misinterpretation
Giuliani, who was also with Trump at his rally in Wilmington, interpreted Trump as telling supporters "You have the power to vote against her. You have the power, you have the power to campaign against her. You have the power to speak against her. You know why? Because you're Americans!"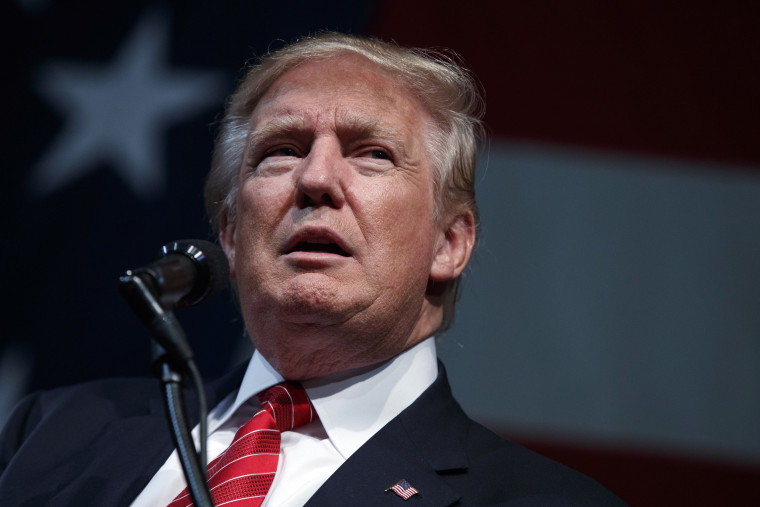 In Fayetteville, when Giuliani spoke of the alleged misinterpretation — "that what he meant by that was that they would kill her" — the second North Carolina crowd of the day was largely silent.
"Now, okay, now, to buy that, you have to be corrupt," Giuliani told the crowd. "Because if you said that to me, I would say to you, 'Are you out of your mind?' I saw it, I heard it, I know what it meant."
Trump, upon joining Giuliani on stage and then taking the mic from him, was pleased by his long-time friend's defense. So much so that he previewed he would like to "take" Giuliani — along with advisor and former rival Chris Christie and Lt. Gen. Michael Flynn — with him, somewhere, if he wins the election.
"We're gonna be taking him and Chris Christie and Gen. Flynn and my great sheriff," Trump said. It's unclear, however, where Trump hopes to take these men.
Appearing on Fox News Tuesday evening, Trump told anchor Sean Hannity that he simply meant gun-rights supporters would take political action. "And there can be no other interpretation," Trump said. "I mean, give me a break."
The GOP nominee also spoke about reports that first bubbled up last week questioning his wife's immigration status when she first arrived in the United States.
"Can you believe that?" Trump asked, as he weighed in on the controversy for the first time. "No, no, no."
He then intimated that there would be a news conference in the coming weeks when his wife would confront these issues.
But first, he said, he advised her to 'let it simmer."
The Trump campaign did not immediately respond to a request for confirmation, or specifics, about the potential press event.