Want to know what the NBC News Embeds saw? Follow their daily journey to the inside of the 2016 presidential campaign here:
No gift for 'The Donald'?
DES MOINES, Iowa – Hillary Clinton said Monday night that she didn't get Donald Trump a gift when she attended his wedding in 2005. When asked during the Iowa Brown and Black Forum if the then-New York senator got Trump anything for his Florida nuptials, she answered, "nothing, nothing."
But Clinton aides did later point out the candidate has sent Trump a gift before -- a copy of her book "Hard Choices." The Democratic front-runner shipped hardcovers to all the Republican hopefuls back in October after some of them criticized her record in a debate.
On the trail, Clinton loves to say she never got a thank you note from any of them.
She's received several questions about her attendance at Trump's wedding over the last few months and, in an interview with Jimmy Kimmel last year, quipped that her presence was enough of a gift for Trump.
Clinton did, however, give the billionaire this parting gift at the forum, saying, "anybody can win! Who would have thought Donald Trump would be leading in national polls?"
NBC News reached out to the Trump campaign for comment on the wedding gift but received no response.
-- Monica Alba covering the Clinton campaign in Iowa.
Freezing temperatures and stuffed elephant greet Jeb Bush in Iowa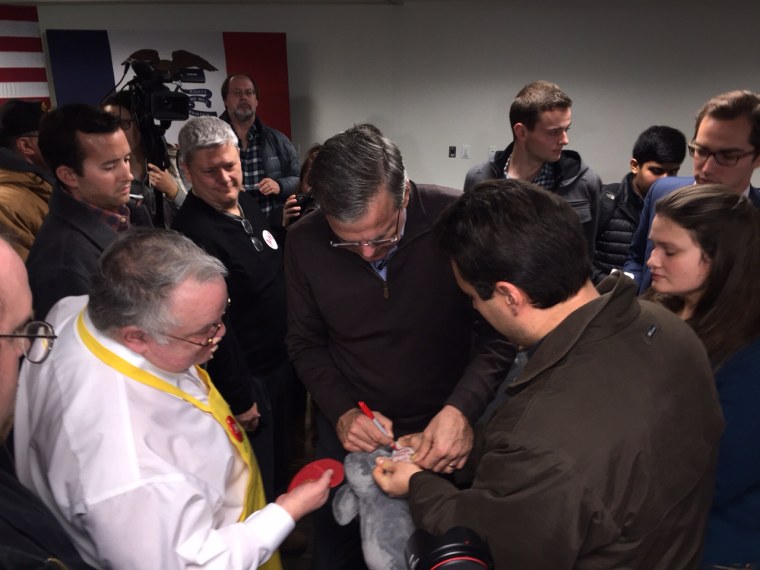 CORALVILLE, Iowa -- Former Florida governor Jeb Bush returned to Iowa on Tuesday to be greeted by temperatures that hovered near zero degrees.
"This morning when we drove over here from the hotel, the thermometer in the car said 'two,'" Bush said in beginning his remarks here. "Just to remind you, I'm from Miami, I was looking for a second digit that had a number that was higher than six on the left hand side of the two."
Bush greeted voters after his first of three town hall events in the state, and one man presented the governor with a plush elephant to autograph and write a message on.
Bush signed one ear of the elephant and wrote on the other that "life is a gift from God." The governor frequently ends his speeches with that line and tells audiences it's the motivation for his candidacy.
The owner of the elephant, who declined to give his name, said he is collecting autographed stuffed animals -- elephants for Republicans and donkeys for Democrats -- from all of the candidates as a way to remember the 2016 race. He said the collection is part of a room in his house that he has dedicated to moments from the election.
The man said some candidates, like Donald Trump, have signed an elephant but declined to write a message like Bush did.
-- Jordan Frasier is covering the Bush campaign in Iowa.
Everyone's invited on Baby Charlotte's Bus
Concord, N.H. -- Chelsea Clinton hit the campaign trail for the first time Thursday, and in addition to touting her mother's education proposals, she gave some insight into the presidential candidate as a grandmother.
Hillary and Bill Clinton love to read and sing to their granddaughter, Charlotte, Chelsea Clinton said. In fact, the big family activity is singing "Wheels on the Bus" to Charlotte— who is seemingly passionate about the idea of inclusion.
"Everyone we know gets on the bus, every animal gets on the bus, yes cows can even get on the bus," Chelsea told a group at a roundtable event here.
She also said one of the greatest gifts has been watching how interested and engaged her parents are in every aspect of Charlotte's life.
"Watching just the care and attention and how much joy they get out of the everyday moments of helping her eat dinner or feed her a bottle or putting her to bed has just been such a gift and I hadn't anticipated that gift. So I think that has made it all the more precious," Chelsea shared.
Chelsea is expecting her second child later this year.
-- Shaquille Brewster is covering Chelsea Clinton in New Hampshire
Trump's latest Twitter battle is with a former Romney aide
CEDAR FALLS, Iowa -- Fresh off his battle with Samuel L. Jackson, Donald Trump on Tuesday reignited a simmering feud with a top strategist for Mitt Romney's 2012 presidential campaign, Stuart Stevens.
The two have previously traded barbs over Trump's electability and Stevens' record of winning elections, but Stevens and Trump campaign manager Corey Lewandowski again sparred over the issue at the start of the year.
On January 7, Lewandowski tweeted about Stevens as a "failed 'strategist' who can't find any clients criticizes winning #TeamTrump. Stop complaining & try winning!"
Stevens quote-tweeted his counter-punch, saying: "Corey, let's compare winning records. Here's link to our website. Strategicpartnersmedia.com. Yours?"
Trump picked up the mantle a few days later, re-tweeting Lewandowski's original tweet about Stevens and following it up with a message of his own:
Stevens responded a few hours later, pointing out the apparent typo in Trump's tweet: "Advise? Will see how far your current job application goes."
Trump spent time in New Hampshire yesterday and will be in Cedar Falls, Iowa this evening for a rally.
Stevens is not affiliated with a presidential campaign this cycle and Lewandowski did not respond immediately to NBC News' request for further comment on the feud.
-- Ali Vitali is covering the Trump campaign in Iowa
An Iowa caucuses story
WATERLOO, Iowa -- Jake Blitsch is an enthusiastic Hillary Clinton supporter, just like he was ahead of the 2008 caucuses – until something happened.
As Blitsch tells it, then-Sen. Barack Obama came up to him personally, singled him out as someone politically engaged, and asked to speak with him. Obama then asked him to caucus for him.
"He put the commit to caucus card right in my hand and looked me in the eye," said Blitsch gleefully, "and I caved."
Blitsch, a Vietnam veteran and former school board member, went on to caucus for Obama, and the freshman senator pulled off a huge upset by defeating Clinton soundly in the caucuses, and then for the Democratic nomination. Obama beat Clinton in Fayette County, where Blitsch lives, by over ten points, though John Edwards ended up winning the county as a whole.
But for now, Blitsch remains all in for Hillary, without a doubt. When asked if anyone will get him to cave this time he looked up, gestured to his pin and simply said, "No way."
-- Daniel Freeman covering the Iowa caucuses