Nearly $100 million has been spent on general-election TV advertisements in the presidential race since the primary season ended, but Donald Trump's campaign still hasn't spent a single cent on one of them.
This lack of advertising is all more striking given Trump's deficit in the polls -- as well as the recent influx of campaign contributions he's reportedly raked in.
Hillary Clinton's presidential campaign has now spent $52 million on ads, and pro-Clinton outside groups have chipped in an additional $39 million, according to ad-spending data from Advertising Analytics. (That's the new name of the company NBC News partners with on this data.)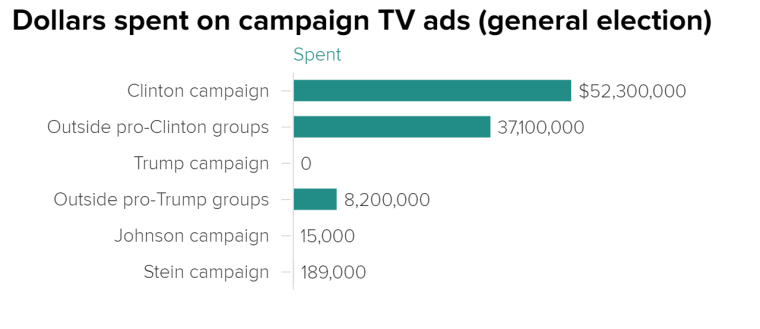 By comparison, the Trump campaign itself has spent $0, with pro-Trump outside groups adding $8 million over the airwaves.
In total, that's $91 million for Team Clinton, versus $8 million for Team Trump.
What's more, the Trump campaign ($0) is also being outspent on ads by Libertarian Party nominee Gary Johnson ($15,000) and the Green Party's Jill Stein ($189,000).
Total Team Clinton: $91.1 million
Clinton campaign: $52.3 million
Priorities USA Action: $37.1 million
Vote Vets: $1.1 million
Women Vote!: $616,000
Total Team Trump: $8.2 million
Trump campaign: $0
Rebuilding America Now: $5 million
NRA Victory Fund: $3.2 million
SOURCE: Advertising Analytics