Texas Sen. Ted Cruz, who was Donald Trump's chief rival during the tumultuous Republican presidential primary, said Thursday he has accepted Trump's offer to speak at the Republican convention but stopped short of making an endorsement.
"We had a positive and productive meeting this morning with Donald Trump. Donald asked me to speak at the Republican convention, and I told him I'd be happy to do so," Cruz told reporters in Washington.
It marks a notable shift for Trump, who said just weeks ago his former rivals who haven't endorsed him wouldn't be invited to speak at the convention.
That doesn't mean an endorsement's impending — Cruz said "there was no discussion of any endorsement" during their meeting. The Texas senator has been a prominent holdout on supporting Trump since exiting the GOP primary, but his reluctance is unsurprising in the context of the nasty battle that unfolded between the two candidates as the campaign wore on.
Trump at one point retweeted a meme featuring an unflattering picture of Cruz's wife and threatened to "spill the beans" on her. At another moment in the campaign, Trump floated a conspiracy theory popular on online forums that Cruz's father appeared at the scene of John F. Kennedy's assassination.
Cruz lambasted Trump as a "narcissist," a "bully" and "utterly amoral" in response.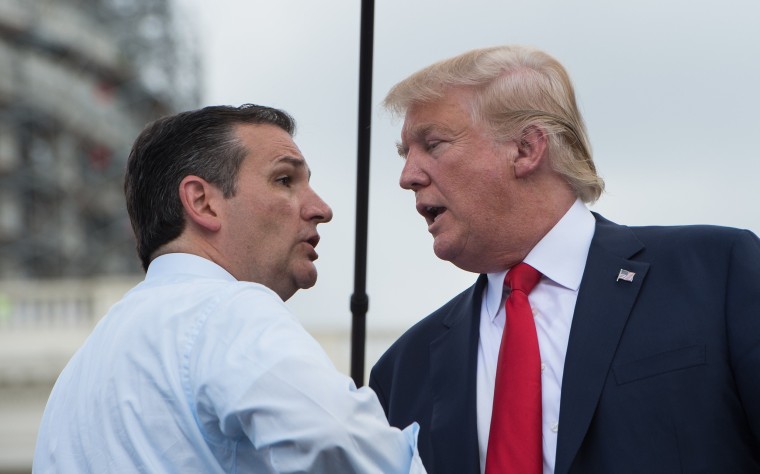 But the chance to speak at the convention — and the profile boost it'll give Cruz, who is widely believed to be planning another White House bid in the near future — appeared to be enough to overcome the bad blood between the two.
Their huddle followed a wider meeting with Trump and a handful of Republican senators on Capitol Hill Thursday, which sources inside the room said became at times testy. Trump at one point got in a tense exchange with Arizona Sen. Jeff Flake, who's been critical of the candidate's comments on Hispanics. The tension on display in the room underscored the rift within the GOP that still remains less than two weeks out from the Republican National Convention.
Cruz's speech could go a long way towards easing some of that tension and helping heal that rift, as many of his supporters remain deeply skeptical of Trump. When asked what he would address with his remarks, Cruz hinted he'd focus largely on President Obama and presumptive Democratic nominee Hillary Clinton.
"I'm gonna urge Americans to get back to the Constitution, to change the path we're on. Eight failed years of the Obama-Clinton economy. Eight failed years of a presidency disregarding the Constitution and Bill of Rights. Eight failed years of a commander in chief not protecting America and keeping us safe from radical Islamic terrorism. It's time for that to end, and so I'm going to do my very best to point to the policies and principles that we should be unifying behind and that give a better direction to this country going forward," he said.