Ted Cruz supporters took nearly all of Iowa's 12 national delegate slots up for grabs on Saturday, capping off a huge day for the campaign.
Each of Iowa's four congressional districts voted to send three delegates to the convention in Cleveland, and all but one of those 12 delegates committed to backing Cruz on a second ballot if the race comes down to a contested national convention in July.
"We smoked them," said Matt Schultz, Cruz's campaign chair in the state. "[Cruz activists] showed up. It wasn't rocket science. It was calling and making sure people were there."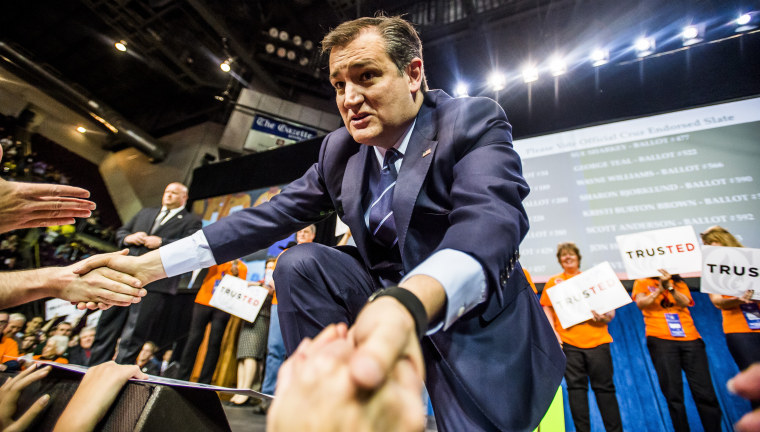 Compared to the well-organized operation put in place by the Cruz campaign, Donald Trump's approach to Iowa appeared haphazard: including at one point proposing the sister of a rival campaign's director for the slate.
However, Trump's campaign denied the day's outcome in Iowa amounted to a loss.
"It was definitely obvious Ted's camp thought they'd come in and clean up and sweep the whole slate of delegates, so I consider it a Trump victory for the Trump campaign," said Tana Goertz, who led Trump's efforts in the state. "We were just happy the full slate wasn't filled with all Cruz people."
Nine of the 11 Cruz delegates were part of the proposed slates put forward by the Cruz campaign. The two others — including former Rubio supporter Wes Enos — told the voting bodies they would also support Cruz in a second ballot.
Related: Cruz Sweeps Colorado's Delegate Fight
Lone holdout Mariannette Miller-Meeks — from the 1st congressional district — told her party meeting that she had yet to settle on a candidate, according to several individuals familiar with Saturday's results.
The Trump team may find more solace in the eight-person nominating committee selected on Saturday. The committee is tasked with nominating 15 at-large national delegates to be voted on at the state's May 21 GOP convention.
Five of the eight selected to make these nominations are Cruz supporters — though none of the other three are full-throated Trump endorsers.
One of those three, Kevin Hall, won a nominating committee position out of the 3rd congressional district after having caucused for Ben Carson on Feb. 1. He affirmed his commitment to picking a "balanced" slate of at-large delegates.
"I want the delegation slate to represent the Iowa caucus," Hall said. "Cruz won so he deserves more delegates than any other candidate would get. But frankly, Donald Trump deserves to have some delegates on the slate."