JOHNSTON, Iowa — Ted Cruz offered an impassioned defense of gun rights in the wake of the San Bernardino terrorist attack on Friday, telling a crowd at an Iowa gun range, "you don't stop bad guys by taking away our guns, you stop bad guys by using our guns."
Cruz criticized the media for focusing on gun control in the wake of the shootings, telling his supporters: "Folks in the media ask on behalf of Democrats, 'isn't it insensitive to do a Second Amendment rally after the shooting.' I really don't view our job as being sensitive to Islamic terrorists."
Cruz also linked California's gun laws to the location of the attack, suggesting strict restrictions prevented Americans from defending themselves against terrorists. He pointed to Tennessee, where he said armed Marines would greet any terrorists attacking recruiting stations — a reference to those who stood outside a recruiting station with guns after an attack.
"You know California has among the strictest gun control laws in the country. The Brady Center gives five states an A- for being the very toughest in taking away the constitutional rights of its citizens," Cruz said. "And yet what do all the Democrats say? 'These great gun control laws — we need more of them.'"
The event, during which Cruz unveiled a coalition of Second Amendment supporters, had been scheduled before Wednesday's attack, and Cruz aides say protecting gun owners' rights is even more important in the wake of the shooting than it had been before.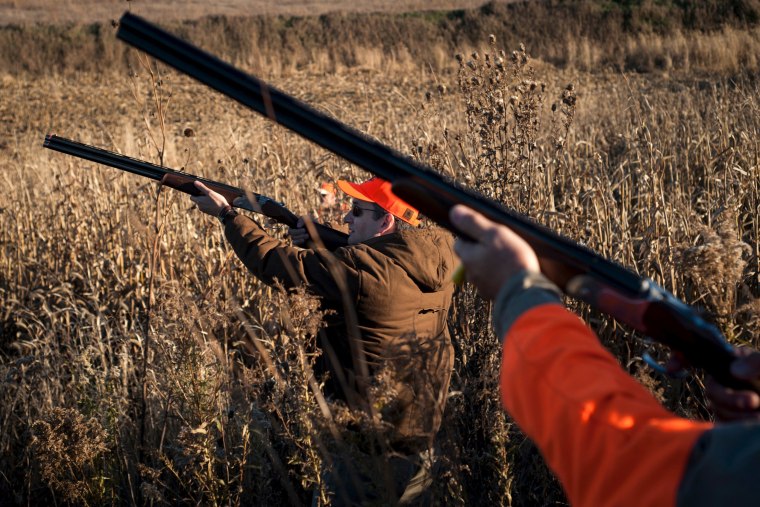 "The Second Amendment is about something very fundamental," Cruz said. "It's about the God-given right of every single one of us to protect our home, our families and our lives."
Cruz went on to question the how intelligence gathering by the federal government failed to stop the shooters in San Bernardino.
"Let me ask a question. Why on earth did the Obama administration not know about this ahead of time and stop this before they carried out this terror attack?" Cruz asked. Earlier he called the administration "utterly ineffective at targeting the bad guys."
Asked by reporters prior to the event what specific actions he would take to avoid other American citizens from replicating the attack, Cruz focused on the U.S. mission overseas.
"The specifics are targeting radical Islamic terrorism across the globe. Let's begin with ISIS," he said. "An attack like this is directly connected to ISIS."
Keith Leslie, 53, a Cruz supporter who drove a few blocks down the road to the range, described the senator as "fired up" at the event in front of about 100 people.
"I think people are waking up that we're in danger, and there's a lot of those people who are here that mean to do us harm," Leslie said. "And we need to have someone who is going to stand up to them and let people stand on their own and not be a sitting duck in a shooting gallery."
"We can't allow people to use this tragedy as an excuse to take away law abiding citizens' right to defend themselves, and that's what Democrats are trying to do," Cruz spokesman Rick Tyler said Friday ahead of the event.
Tyler also said California's gun laws — some of the toughest in the nation — made the state an easy target for terror.
"Of course they would pick a place that people are unarmed and can't defend themselves," Tyler said. "This is a terrorist attack, and when people are unarmed, they are sitting ducks. I'm not predicting that it would have come out if people were armed, but at least someone might have had a chance."
San Bernardino County, where the shooting occurred, does issue concealed carry weapons permits to residents who pass a screening process.
Cruz himself labeled the shooting a terrorist attack in a speech Thursday at the Republican Jewish Coalition meeting in Washington. "This is yet another manifestation of terrorism, radical Islamic terrorism here at home," he said.
At Friday's event, Cruz announced the campaign has signed up more than 24,000 gun rights supporters nationwide, about 1,000 of whom are from early primary states, Tyler said. The coalition will be co-chaired by the head of Gun Owners for America, a pro-gun group that's sometimes pressed for fewer gun restrictions than even the National Rifle Association might have been willing to accept.