HERSHEY, Pa. — Ted Cruz declared definitively on Wednesday that the fight for the Republican presidential nomination is "definitely headed to Cleveland," where, he said, "the people are going to prevail."
"Nobody's getting 1237 [delegates] – Donald knows that. We're headed to a contested convention," Cruz told NBC News while shaking hands after his rally here in a state with 71 delegates up for grabs in next Tuesday's primary.
"The reason why he has so many of his media surrogates repeating the mantra that the race has got to be over now is because he knows he cannot earn a majority of the delegates in Cleveland," Cruz continued, calling Trump "a fringe and marginal candidate."
Cruz exited New York's primary without winning a single delegate, nearly mathematically vanishing his ability to win the nomination before the convention – a standard he often used last month to indirectly suggest John Kasich and, then, Marco Rubio should leave the race.
Donald Trump tweeted on Wednesday morning: "Ted Cruz is mathematically out of winning the race. Now all he can do is be a spoiler, never a nice thing to do."
But Trump – in order for him to win outright and avoid heading to a contested convention -- would still have to win 57 percent of the remaining delegates.
The Cruz campaign is now turning its attention to Pennsylvania, where 54 unbound delegates are in play next Tuesday.
A top Cruz campaign aide, while acknowledging the narrative is unfavorable to Cruz in the northeast, said it's "highly likely" Cruz will pull at least 30 delegates out of Pennsylvania.
"Donald and the media want to convince everyone that Pennsylvania is a suburb of Manhattan," said Cruz, adding: "That's their telling -- Manhattan has spoken and Pennsylvania will quietly file into obedience."
The crowd defiantly jeered before Cruz finished his thought: "You know what, I've got a lot more faith in the people of Pennsylvania."
While addressing the crowd, Cruz reframed the race and the role of Pennsylvania's delegates, exclaiming he'll "take 'em" next week.
A campaign aide told NBC News it does not anticipate beating Trump in the popular vote in the state, meaning Cruz would lose out on its 17 at-large delegates, which go to the victor. Polls currently show Cruz losing by around 20 percentage points.
But each of the state's 18 congressional districts will elect three delegates to the national convention. The Cruz campaign is pushing a slate of Cruz-loyalists for 26 of the 54 unbound slots up for the taking. It says others eligible on the ballot to become delegates, particularly longtime state activists able to win on their name alone, have committed to Cruz as well. Cruz has personally met with several of the potential delegates.
At Cruz's Hershey rally, the campaign passed out a flier telling people to "please vote for the delegates in your congressional district that are pledged to support [Cruz] at the convention."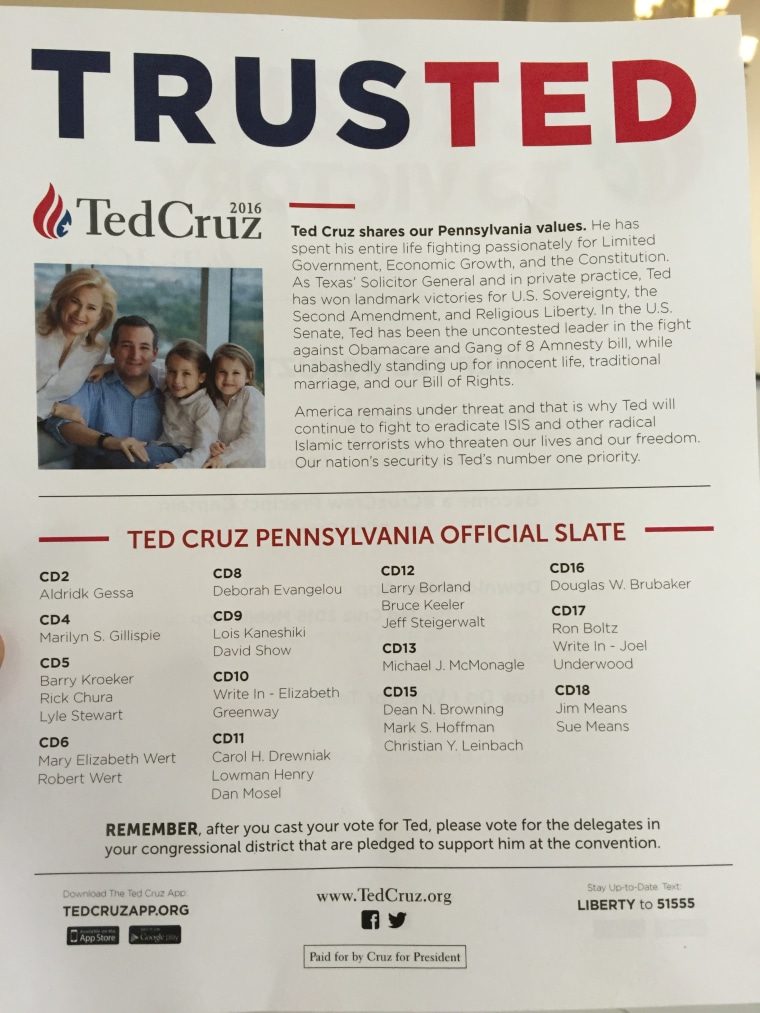 Those delegates will be able to vote for whichever candidate they desire at the national convention in Cleveland, but the Cruz campaign says it recruited these specific individuals this winter to run as delegates after they pledged to vote for Cruz on the convention floor.
The campaign is now looking to target particular congressional districts where it sees itself as having the most viable opportunities to coalesce its supporters around its pre-designated slate of delegates.
"As you look at Erie, central Pennsylvania, look at the districts in southwestern Pennsylvania, you're going to see a lot of Senator Cruz in those areas over the next few days," said Lowman Henry, the state chair for Cruz, who compared the politics of the state to Wisconsin, where Cruz won big two weeks ago.
Patti McCorkle, a mother who attended Cruz's rally at Hershey's antique car museum, defended the state's delegate system, adding she hoped "it'll work out in this day and age to give us a Ted Cruz presidency."
And citing the Constitution, she noted: "Ted Cruz is for strong states' rights – as per the Constitution – and the states get to choose how their delegates are going to be chosen and how they're going to use those delegates."