PHOENIX — Democratic vice presidential nominee Tim Kaine made history Thursday as he delivered what was called the first speech completely in Spanish by a candidate at an organized campaign rally during a presidential election.
"Latinos will have a very important voice in this election and the option is crystal clear," the senator from Virginia said in Spanish to a crowd of roughly 360 people gathered at the Phoenix rally, which was punctuated by a mariachi band and signs like "Bienvenidos a Arizona."
"By 2050, communities of color will constitute the majority of our population. So of course Latinos will help shape the future of America because you folks are the future of the United States," he said.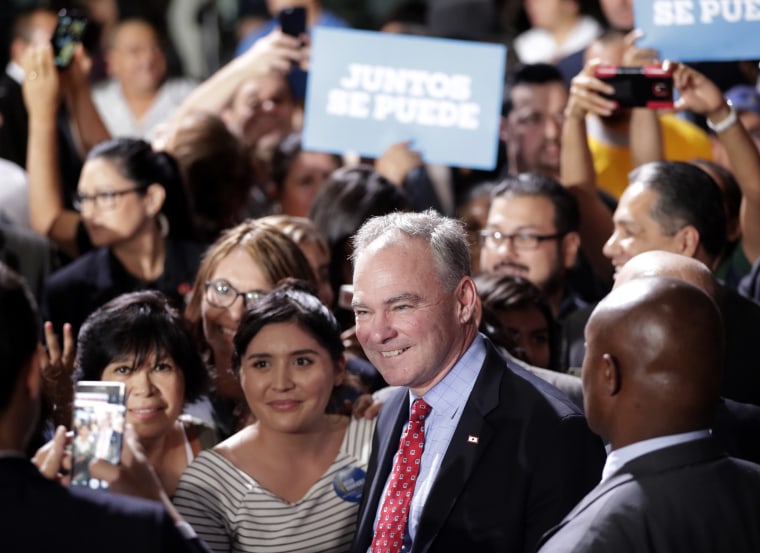 Kaine delivered a reminder to his audience "that the Hispanic community has been part of our country since the Spanish arrived in St. Augustine in 1565. That was well before the British landed in North America, 42 years before the British arrived in Jamestown, Virginia. Spanish was the first European language spoken in this country."
Three years ago, Kaine was the first senator to deliver a speech on the Senate floor fully in Spanish while he pushed for passage of the Senate's immigration reform bill.
"Since we were debating a bill about immigration, explaining it in Spanish just made sense," Kaine recalled on Thursday, "especially since it's the language of more than 40 million people in this country who are the people whom this matter concerns the most."
Related: Polls: Trump Ahead in Arizona and Texas, but Deadlocked in Georgia
The senator also took square aim at Republican nominee Donald Trump, calling him "someone who thinks that reaching out to the Latino community means tweeting a picture of a taco bowl."
The crowd responded strongly with boos when Kaine called out "one of Trump's main supporters, Sheriff Joe Arpaio."
"Do you know of him?" Kaine continued. "Joe Arpaio is facing criminal charges for his discrimination against Latinos and for persecuting undocumented immigrants…he said that Trump will be receiving many Hispanic votes. Do you all think he's right?"
"No!" yelled the crowd.
"Recently former governor Jan Brewer said she wasn't worried that her candidate Donald Trump will win Arizona, because, and I quote, 'Latinos 'don't get out and vote.'" Kaine said. "This is the same former governor who approved the discriminatory bill SB1070 that promoted racial discrimination. Do you think she's right? No."
Kaine went on to mention Trump's remarks at the start of the presidential campaign calling some Mexican immigrants "drug dealers, rapists, and murderers."
"He is a clown," Kaine said of Trump.
Related: What Do Latinos Think of Clinton's VP Pick Tim Kaine?
The decision to make the speech in Arizona comes as the Clinton campaign works to turn the state blue after decades of voting for Republicans. Hillary Clinton was here Wednesday, and a number of other surrogates have made trips as well.
"We are very encouraged by what we are seeing in Arizona," Kaine's spokeswoman Karen Finney told reporters aboard the senator's plane Thursday afternoon. "We're making a very serious play for Arizona. And as part of that, we thought it was important, given that 40 million families speak Spanish in this country, we thought that it was important, the senator thought it was important that we make our case in Spanish."
"No other person on a presidential ticket in the United States has given a full campaign speech in Spanish," she added. "So it's unprecedented and historic."
"There are a lot of things in this election that have been unprecedented and historic. We're sort of proud that this is a positive," Finney said.