LAS VEGAS — In offices located at each end of the Las Vegas valley sit two political groups working against one another in a contest that could determine the direction of the nation's political future for at least the next two years.
The two visions for that future could hardly be more different but they share the same challenge in their drive to capture a friendly majority in the U.S. Senate: Fighting apathy created by two extremely unpopular presidential candidates. The focus here is the race between Republican Rep. Joe Heck and Democrat Catherine Cortez Masto who are competing to replace long-time Sen. Harry Reid.
At the southern end of Las Vegas, are the offices of Americans for Prosperity, the well-funded group of conservative activists. Here, staff and volunteers converge around catered chicken wings in a converted garage decorated with framed copies of the Bill of Rights, the Declaration of Independence and the Constitution. A folding table is stacked with processed snacks and several boxes of Dunkin' Donuts, leading the groups spokesperson Levi Russell to quip that nothing could be more American than the Constitution and Pop-Tarts.
About two dozen people mingle around folding tables and chairs, carrying mini iPads and wearing headsets and calling their target constituency: persuadable voters and those who are ideologically aligned with them but don't vote often.
Meanwhile, 40 minutes across town, in North Las Vegas, a liberal coalition of groups under the umbrella of For Our Future, is getting ready for the days' grassroots political mobilization effort. Their offices are bigger and busier than AFP offices, and the vibe feels more like a young upstart. Volunteers and staff at one table are texting voters to remind them that early voting in Nevada begins on Saturday. A circle of about 20 people in folding chairs are rehearsing their scripts before they take it in for a quick cheer, something more likely seen on the basketball court.
For Our Future's target voter: the Obama coalition. They are trying to reach women, Millennials, and minority Democrats who have voted in only two of the last four elections.
While the two groups are ideologically opposite, their goals are the same: turn out their supporters and win on November 8.
Americans for Prosperity, which is backed by Charles and David Koch, has been building its field operation for years, now boasting staff and offices in 35 states. Central to their campaign is opposition to Obamacare. But the group has made a major shift this election. For the first time it is supporting candidates, too.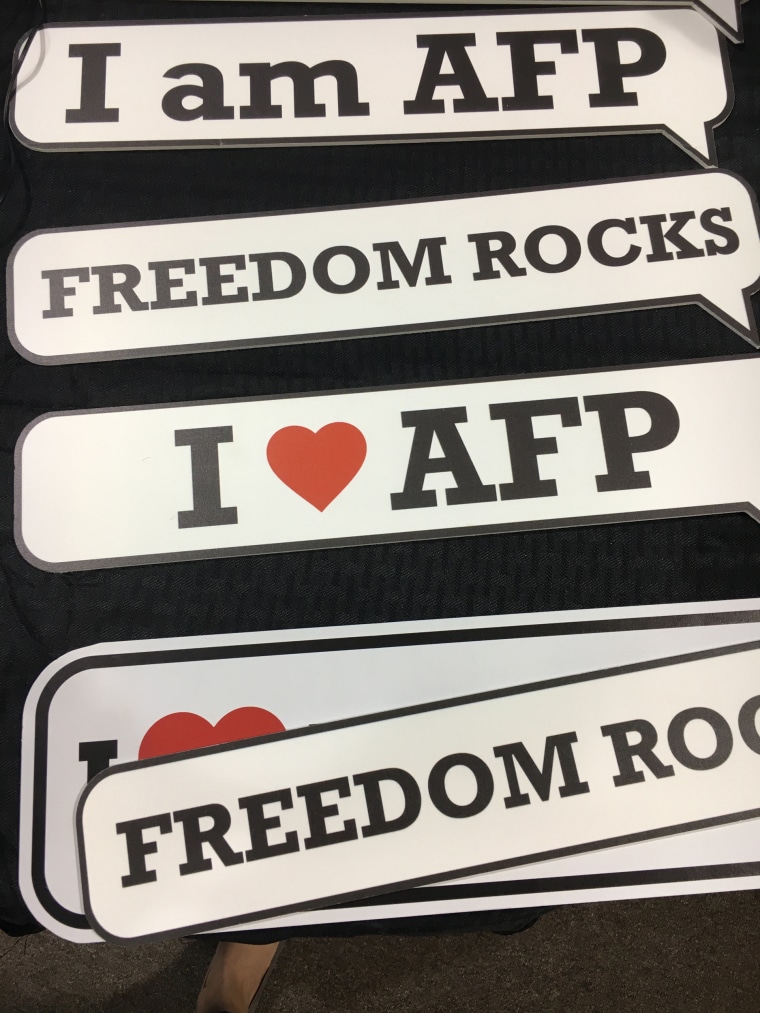 With three offices through out the state and 21 paid staff, the paid and volunteer workers have made 1.2 million attempts to connect with voters this year through door knocks and phone calls.
Related: Koch Group Drops $750K in Nevada Senate Race
But making their job more challenging this year is Republican presidential candidate Donald Trump. The Koch organization, which has spent hundreds of millions of dollars in the previous presidential election on politics and policy through all of its entities, has decided not to endorse Trump and instead to focus resources on the battle for control of the Senate. In addition to AFP, their other groups, LIBRE Initiative, Concerned Veterans of America and Generation Opportunity, are focusing their entire grassroots operation towards that end.
"I'm not a fan of anybody's right now. I know I have to vote but it's going to be a last minute decision."
The challenge was apparent when activists when door-to-door last Thursday. At their first door in a lower-middle class neighborhood, an older woman accompanied by her pets answered the door.
Because AFP organizes first around issues and second, around a candidate, paid canvasser Daniel Bulgatz asks her what she feels about Obamacare. After she says she's on Medicare and Medicaid so doesn't know much about Obamacare, Bulgatz asks her if Cortez Masto's support of Obamacare makes her less or more likely to vote for her, the woman demurs and turns to the current political environment.
"This election, I'm not happy with Hillary at all. And Trump I just don't know," she said. "I'm not a fan of anybody's right now. I know I have to vote but it's going to be a last minute decision."
Bulgatz says he understands, ending the conversation with his pitch: "Catherine Cortez Masto's supporting Obamacare -- we see her putting politics ahead of people so I encourage you to vote against her come November."
The mood is not much different at Rafael Lopez's door. A member of the Culinary Workers Union, he also doesn't have much of an opinion of Obamacare because he has insurance provided by the union. He doesn't know much about the Nevada Senate race but he says he's not going to vote this year.
"There's really nobody to vote for," he said. "Not really great choices."
Walking away from the door, Bulgatz said that Lopez is one of the many people he talks to who don't know anything about the Senate race - or that it's even taking place.
AFP spokesperson Christofer Neefus notes that's why it's critical for the group to focus on the issues first when advocating for or against a candidate. "That to me is why it's important to remind people there's a choice between issues here," Neefus said, "if you got somebody who voted for Obamacare versus someone who wants to get relief for Nevada."
As for the liberal groups across town, For Our Future, they deny that they are copying the Koch model of outreach, but similarities exist. They too say they are leading their grassroots campaign with issues instead of candidates. And organizers say that while they are less than four months into their efforts here, they plan to use this as the start of long-term engagement in communities, like the Koch groups.
For Our Future is a coalition of unions, including the AFL-CIO , AFSCME, the American Federation of Teachers and the National Education Association, and Democratic donor Tom Steyer's group NextGen Climate Change. (Unions have long canvassed for political campaigns, but this is a team effort in coordination.) An infusion of cash by the groups and outside campaign contributions have brought in more than $30 million in the past three months, giving it a significant start.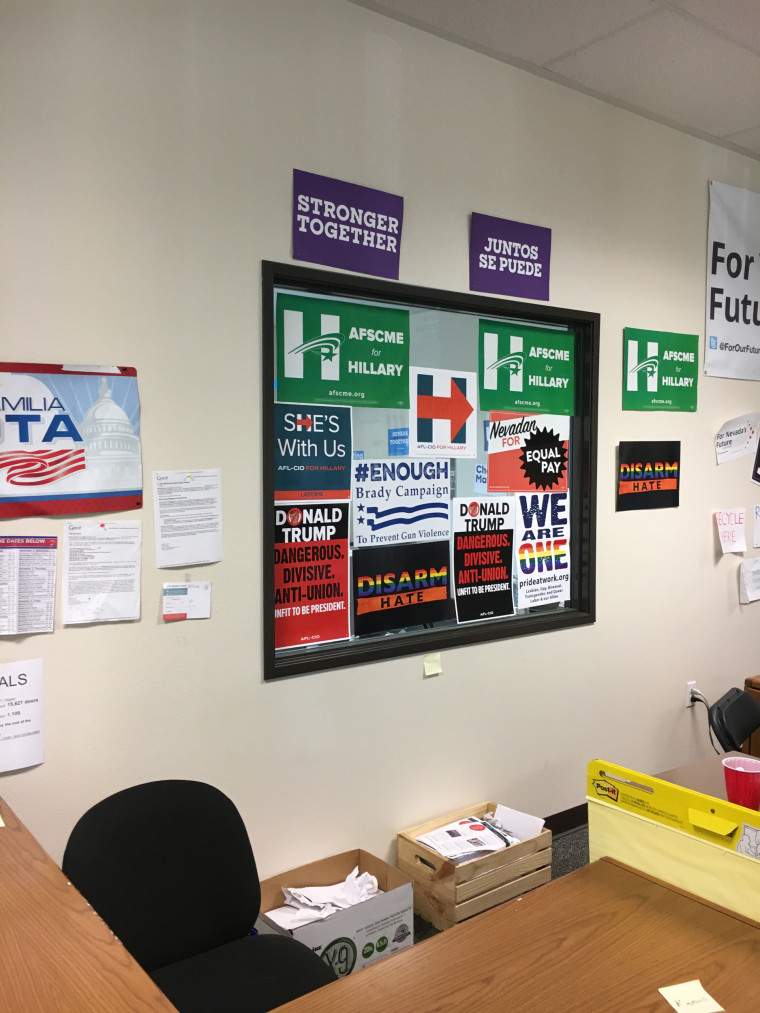 Counted among the 564,000 doors For Our Future has knocked on in the past four months in Nevada is one in an apartment complex near Summerlin on the western part of Las Vegas. One of their 151 paid staff in the Silver State is Kevin Hayes, 57. Tuesday carried his iPad here, filled with addresses of Democratic voters For Our Future wants to turn out to vote.
Jorge, a 25 year-old, answers the door having been wakened from a nap. Hayes asks which issues are important to him: jobs, health care, education, environmental or social issues.
"I have big issues with the presidential candidates. Those are the issues I have," Jorge says.
Jorge indicates that he isn't going to vote for president but what keeps him interested is when Hayes tells him that the coalition wants to hold presidential candidates accountable.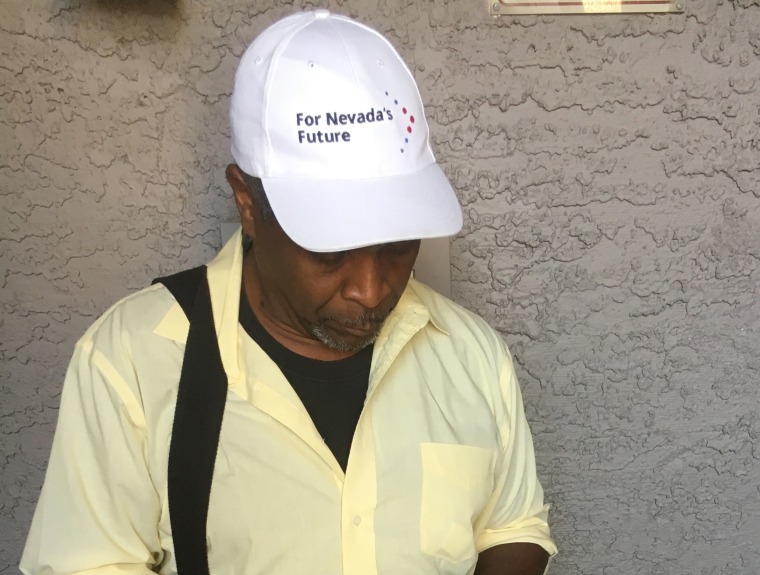 "We feel that the best candidate to move us forward – the poor, working class, middle class people – would be Catherine Cortez Masto," Hayes said. "Why I'm here today is to humbly ask if we can count on your strong support for Catherine Cortez Masto."
Jorge says he's not sure and has to do his own research.
At the next door, Hayes has better luck. A woman who opens the door slightly, saying she's in a rush because she has to leave for the late shift at work, hurriedly says she is voting for Clinton because she can't stand Trump.
"I'd vote for anyone to keep Trump out of office," the woman said. Because she's promised to vote for Clinton, this woman is sure to get an email, text or phone call to remind her to vote and where her polling place is.
It's just another day on the ground in the well organized and highly resourced battle for control of the U.S. Senate, one that will be repeated right up to Election Day this November -- and for election years to come.