Summer Zervos is fighting back against the Trump campaign's attacks on her credibility, which began after she accused the Republican presidential nominee of unwanted kissing and groping.
Zervos' lawyer, women's rights activist Gloria Allred, produced a witness who she says corroborates the former "Apprentice" contestant's claims in a press conference Sunday. Ann Russo, a social worker and friend of Zervos, said she recalls the contestant talking about her encounters with Trump more than five years ago — long before the candidate decided to run for office.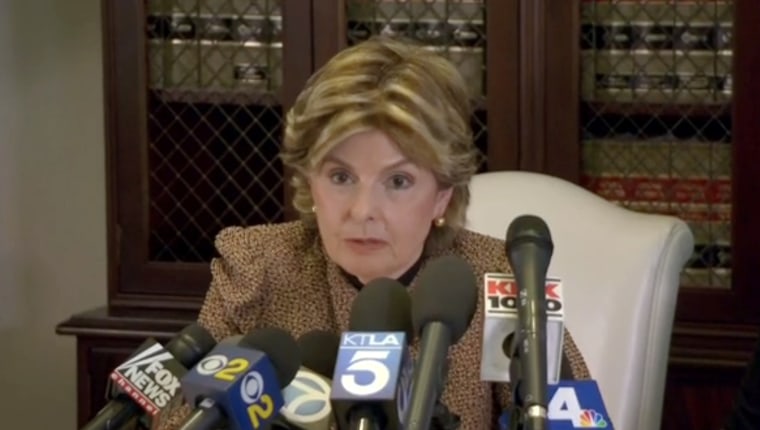 Russo said she felt compelled to speak up on behalf of Zervos because as a therapist she could see similarities in her case and with the sexual assault survivors she's treated over the years.
"It is very common for people who have experienced assault to blame themselves and excuse away what the predator has done," Russo said. "But sexual assault is not about sex, as much as it is about power and control."
"I think it's very evident that we see in his personality that Trump is all about power and control," she said.
Allred also addressed a claim from Zervos' cousin, John Barry, that she only publicized her sexual assault allegations against Trump because she "wishes she could still be on reality TV."
In a statement released by the Trump campaign last week, Barry said he is an avid Trump supporter and credits his cousin for converting "her friends and our family" to supporting the Republican nominee by praising him over the years.
Related: The Allegations Women Have Made Against Donald Trump
But Allred said Barry's allegations stem from a family dispute and that Zervos' previous support of Trump does not negate her claim. Barry denies this and told MSNBC Sunday that he and his family simply had a "management dispute."
Allred stressed that this is not about money and that her client does not intend to press charges against Trump at this time.
"I would suggest to Mr. Trump that he rein himself in and stop attacking women and stop attacking accusers," she said.
Zervos was a contestant on the fifth season of "The Apprentice" and has said she always wanted to work for Trump. But that was before a series of encounters in which she alleges Trump sexually harassed and assaulted her, kissing her on the lips and groping her breasts and body.
"This made me feel very nervous and embarrassed," Zervos said during a press conference last week. "This is not what I wanted or expected."
Related: Ex-'Apprentice' Contestant Describes Trump Advances
Over the last week Trump and his surrogates have continued to forcefully denounce allegations of any sexual misconduct, even as eight other women have come forward with claims that the Republican nominee has made unwanted physical advances.
Trump surrogate Rudy Giuliani suggested Sunday that Zervos was speaking out "to get money" during an appearance on NBC's "Weekend Today."
"I am saying one thing: I have been a trial lawyer for of life and an investigator. I don't believe in coincidences," Giuliani said.