Donald Trump campaign chair Paul Manafort resigned from the campaign Friday morning. The move comes days after a campaign shake-up that brought two new members to the top of the organization, including new campaign manager Kellyanne Conway and Breitbart chairman Steve Bannon.
In a statement Trump said: "This morning Paul Manafort offered, and I accepted, his resignation from the campaign. I am very appreciative for his great work in helping to get us where we are today, and in particular his work guiding us through the delegate and convention process. Paul is a true professional and I wish him the greatest success."
Manafort has also been plagued with media coverage surrounding questions about his ties to the pro-Russian government in Ukraine, where he helped to run the political campaign of Viktor Yanukovych's election in 2010. Manafort also helped to aide multi-million dollar business proposals between Russian and Ukrainian oligarchs.
Related: Trump Aide Paul Manafort Scrutinized for Russian Business Ties
Manafort's deputy, Rick Gates, will stay on with the campaign but has transitioned to be liaison with the Republican National Committee, Manafort's former official role, Trump Communications Director Jason Miller confirmed on Twitter.
This is the latest major shake-up to the Trump campaign. In June, just weeks before the Republican National Convention, Trump fired his first campaign manager Corey Lewandowski at the urging of his family who thought that the candidate needed to be more disciplined and stay on message. Lewandowski and Manafort were in constant struggle and disagreed on Lewandowski's belief in his motto, "Let Trump be Trump."
After Lewandowski was let go, the reins were given to Manafort who ran the Trump campaign until two days ago even though he was never given the title campaign manager. When Trump elevated Conway and Bannon, the campaign insisted that it was not a shake-up but a natural expansion in the final stretch of the election.
In an internal memo sent to the campaign obtained by NBC News, Manafort wrote to the staff Wednesday that those moves signals "an exciting day for Team Trump."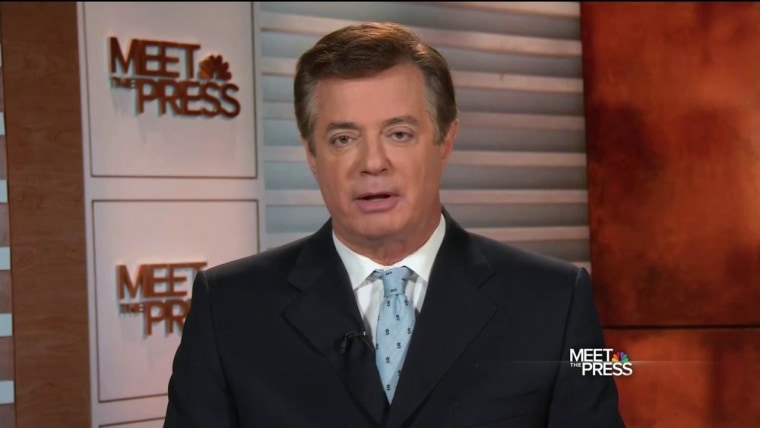 "I am pleased to announce two new additions to leadership positions on the campaign: CEO Steve Bannon and Campaign Manager Kellyanne Conway. I remain the Campaign Chairman and Chief Strategist, providing the big-picture, long-range campaign vision and working with all of you to implement our strategy that will guide us to victory in November," Manafort wrote at the time.
Related: After Campaign Shake-Up, It's Trump Versus the World
But Trump was reportedly unhappy under Manafort's control. Manafort, who has decades of campaign experience, had been trying to tone Trump down, to stick to message, and to avoid getting bogged down in personal attacks. But Trump felt stifled and struggled under Manafort.
In the month after the Republican convention, Trump could not steer clear of controversy. He publicly and repeatedly criticized Khazr and Ghazala Khan, a gold star family, after they gave a critical speech of Trump at the Democratic National Convention. Trump also prolonged an endorsement of House Speaker Paul Ryan and praised his primary challenger.
Trump's tough month has also been reflected in the polls. After being within the margin of error against Democratic challenger Hillary Clinton, both national polls and critical battleground state polls show him sliding.
David Bossie, who is running a pro-Trump super PAC who has known both Bannon and Conway for many years, said after Wednesday's changes that even though Manafort was supposed to clean up Trump's gaffe's, they multiplied during Manafort's era.
The mistakes "have really grown, not decreased," Bossie said.
Republican critics of Trump say the latest week of campaign staff changes only reinforce Trump's weakness as a candidate.
"The worst presidential campaign in modern history continues its embarrassing stumble towards Election Day. Trump and his disastrous campaign threaten not only Republican control of Congress, but the very GOP as we knew it," John Stubbs, co-founder of the group Republicans for Clinton 2016, or R4C16.
Trump marked a decidedly different tone Thursday during a speech focused on "law and order" in North Carolina. For the first time in his campaign, after insulting Republicans, women, Hispanics and more, Trump said he "regrets" inappropriate comments. "particularly where it may have caused personal pain."