Donald Trump will try to set the record straight on his immigration policy in Arizona on Wednesday night after weeks of confusion over whether he still supports deporting all of the estimated 11 million undocumented immigrants in the United States.
Immigration experts across the political and ideological spectrum are eagerly awaiting any clarity they can get after parsing through a blizzard of inscrutable quotes from Trump and his campaign. The speech will come hours after the Republican presidential nominee meets with Mexican president Enrique Peña Nieto, a move campaign manager Kellyanne Conway called "decisive" on the "TODAY Show" Wednesday.
In a town hall with Fox News' Sean Hannity last week, Trump polled members of the audience on whether longtime undocumented immigrants without criminal records should be permitted to stay. Top supporters from running mate Mike Pence to RNC chair Reince Priebus sound unsure how to describe his position, sending speculation into overdrive with each new interview.
"I think the biggest question to answer, and I don't mean to sound impertinent, is really what is he talking about?" Doris Meissner, a former Immigration and Naturalization Services commissioner and current fellow at the Migration Policy Institute, told NBC News.
Since Trump's public waffling last week, though, the campaign has broadly tamped down expectations of a major shift on immigration enforcement while reaffirming its support for a physical border wall. At best, their comments seem to suggest he might move away rhetorically from past pledges to physically remove the entire undocumented population within two years, including family members of American citizens, using a "deportation force."
"His policy has been the same for the last 6, 7, 8, months," Donald Trump Jr., the candidate's son, told CNN on Tuesday.
A senior Trump aide who asked for anonymity to speak freely, told NBC News that the candidate was likely to deliver a "contrast speech" on Wednesday in which he compared his plan to confront illegal immigration to Hillary Clinton's position.
The contrasts are certainly stark based on their statements so far. Clinton has called on Congress to create an earned path to citizenship for undocumented immigrants and, failing that, has pledged to take executive action to shield otherwise law-abiding immigrants from deportation. The Trump aide characterized Clinton's proposal as "a promise to reduce enforcement" that would be "unprecedented in American history."
Trump also plans to link Clinton's policies to what the aide termed President Obama's "executive amnesty." Obama has ordered immigration authorities to prioritize deporting criminals, granted work permits to young undocumented immigrants, and -- until it was blocked by the courts -- created a program to protect several million more immigrants from removal.
The Trump enforcement regime, by contrast would be more sweeping. According to the aide, Trump will likely call for stricter worksite enforcement, more extensive tracking of visa overstays, and mandatory use of e-verify by employers to weed out illegal workers. He would also endorse cracking down on "sanctuary cities," where local authorities are ordered not to involve themselves in federal immigration matters. Clinton has supported sanctuary cities, arguing they improve law enforcement in cities.
Trump has name-checked several of these items in recent days. He also put out a white paper earlier in the race pledging to triple the number of interior enforcement agents. This beefed-up ICE would serve as the "deportation force" Trump referenced earlier in the race, per the aide, although Trump himself has never made that distinction clear. He's also expected to propose an expansion of immigration judges to rapidly adjudicate their cases and tougher requirements to detain suspected immigration violators until they can be removed.
Trump has sounded uncomfortable with the idea of stricter detention requirement in recent weeks, so clarifying his position could help alleviate concerns from supporters. "I'm not going to put them in a detention center," Trump told Fox News host bill O'Reilly earlier this month.
Advocates for a harder line on immigration typically favor enforcement through attrition (i.e "self-deportation) over rapidly deporting all 11 million undocumented immigrants. That could give Trump some room politically to step back from his prior position.
"Mr. Trump got to where he is today by championing immigration policies that are good for the American worker," said Roy Beck, executive director of NumbersUSA, a group which favors lower immigration levels. "Pulling away from talk last year of deportation policy, mass round-ups, will not hurt him with those wage-earning voters, as long as his other talk about his positions holds tight to keeping American workers central."
What Trump has not definitively said, however, is whether these changes would be pursued in tandem with other steps to legalize undocumented immigrants or at least overlook them when it comes to deportation.
"The point that Mr. Trump has made again and again is you don't get amnesty, you don't get legalization if you broke the law to be here in the first place, but then he also respects it's a complex issue," campaign manager Kellyanne Conway told MSNBC on Tuesday.
Trump has indicated he would deport "criminal illegal immigrants" as one of his top priorities. But this is already the case now: President Obama has presided over record deportations and especially removals of recent border crossers, a fact that Trump himself has brought up in recent interviews. The total undocumented population has remained stable since he took office and is down from its 2007 peak, per the Pew Research Center's widely-cited annual estimates.
A key policy issue, though, is that Obama formalized the process with a series of orders to ICE instructing them to focus on immigration violators with criminal records. Clinton has pledged to go even further, saying in a Democratic debate she would not deport children or break up families at all. Would Trump maintain clear distinctions between criminal and noncriminal immigrants or would he subject everyone to similar enforcement, as some border hawks have called for, to encourage the existing undocumented population to leave?
Then there's the more sweeping issue: Would he support any new procedure to legalize the existing undocumented population?
Trump has promised "no citizenship" and Conway repeated a promise of "no legalization" on Tuesday. But some observers have noted that Trump's repeated insistence that all undocumented leave the country first before "good ones" apply to come back bears resemblance to "touchback" proposals -- including one by Pence in 2006 -- that would require eligible immigrants to briefly leave then return through a new guest worker program. Conway has said "no touchback," but definitions can be slippery in the immigration reform world.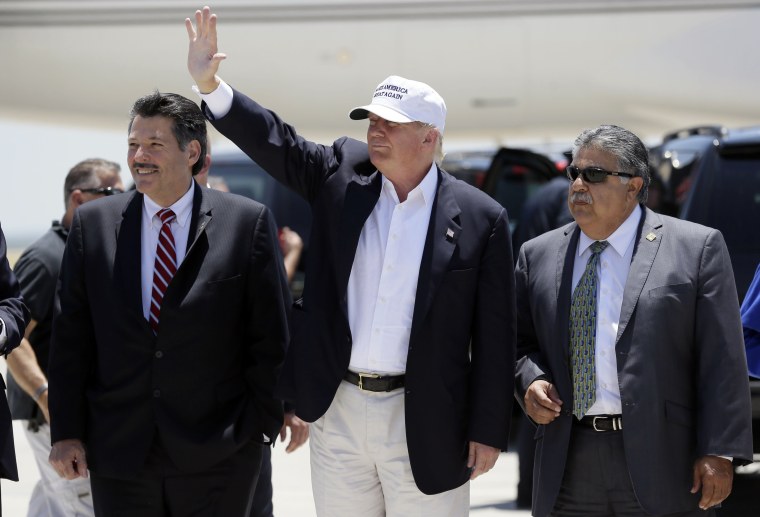 "What I hope and think he will come up with is people that have been here for an extremely long time - who have kept their noses clean, have jobs, have families - that there will be a process by which they can stay," Steve Cortes, a member of Trump's National Hispanic Advisory Council, said. "Where they can stay, not become citizens ... that will involve background checks and perhaps a touchback process. To me, that is a humane and sensible but still tough policy on this issue of immigration."
The order to these policies is nearly as important as the policies themselves. Democrats and some Republicans favor cutting a bipartisan deal to put immigrants on a path to legal status while also requiring new enforcement mechanisms, with a final transition to permanent residents contingent on completing the new security measures. The "Gang of Eight" bill, for example, included a requirement to double the border patrol, implement a mandatory e-verify program, and build 700 miles of fencing.
Conway called the bill "amnesty" on MSNBC and denied that it included anything similar to Trump's proposed border wall, which remains his signature campaign promise.
But there are some subtler ways Trump could move closer to the GOP mainstream. He could, as many Republicans have done before, promise to immediately implement new enforcement measures while teasing a vague and distant "conversation" about the remaining undocumented immigrants once they're in place. This would not be far off from Senator Marco Rubio's current position, although Rubio has said explicitly the eventual process should include a path to citizenship.
Immigration matters far more to GOP voters than the general electorate. 12 percent of Republicans rank it as their most important issue, compared to just 7 percent of all voters, according to data from June's NBC News/Wall Street Journal poll. Overall, it consistently rates among the least of voters' concerns in a general election - roughly even with climate change, and well behind issues of national security and economic growth. Exit polls from the GOP primaries also found majorities of Republican voters in nearly every state surveyed favored a path to legal status for immigrants. Trump won thanks to overwhelming margins with Republicans who wanted to deport them instead.
For Trump, it's a fine line to walk as he works to both broaden his appeal - and keep his base intact.
"Donald Trump based his campaign on a hardline immigration stance, and in the past week he muddled what was a cornerstone of his campaign," said Republican strategist Reed Galen. "On Wednesday, he must try and keep his supporters happy, and reach across the aisle and get to independent voters. It is a very difficult task."