Donald Trump's campaign is pushing back against a new report that says Trump has all but stopped raising money for the joint fundraising effort with the Republican National Committee, insisting that the campaign is continuing to support the Republican Party.
Trump finance chairman Steven Mnuchin told NBC News that the report by The Washington Post was "completely misleading" and that "we continue to do fundraising for Trump Victory."
The Post reported Tuesday evening that the Trump campaign has "wound down" its joint fundraising effort, holding its last major fundraiser Oct. 19 in Las Vegas, and that it would still raise money online. The Post has since changed its headline but kept the contents of the story.
The report caused a stir because most of the money raised through Trump Victory goes to help the Republican Party implement an effective ground game and a get-out-the-vote effort and to help candidates down the ballot.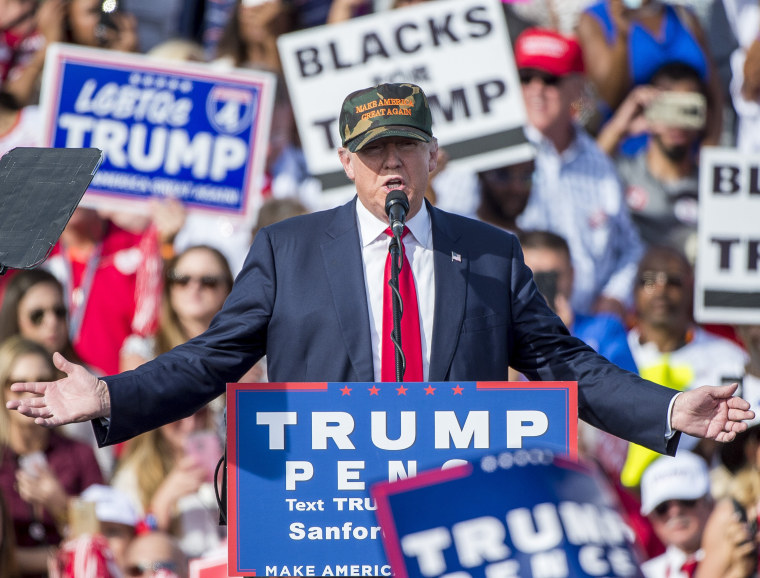 Trump Victory fundraisers can realize up to $449,000 per person. Online fundraising, in contrast, usually comes as small donations; almost all of it goes directly to the Trump campaign and doesn't have to be shared with the party.
A second official familiar with fundraising efforts also pushed back, saying that while Trump won't be doing anymore "fly-in" fundraisers, there hasn't been a halt to the overall effort — a characterization that suggested more of a slowdown.
Trump Victory hosted a fundraiser Tuesday at Trump's Mar-a-Lago resort in Florida, where one of the event's co-chairmen also denied that Trump Victory is no longer raising money.
"If someone calls me tomorrow and says, 'Hey, I want to help,' I'm going to work on things until the money can't be efficiently used," said Brian Ballard, a Florida Republican donor. "No one has said to me, 'Stop raising.'"
The campaign of Democratic nominee Hillary Clinton has many more fundraisers scheduled through Election Day.
Trump has lagged Clinton in fundraising throughout the campaign, in part because of his late start at actively raising money and in part because Clinton has out-raised Trump in every fundraising month, as many Republican donors have opted not to back their presidential candidate.
Matt Borges, chairman of the Ohio Republican Party, said he hasn't heard of any freeze in fundraising that would affect his operation in a state that Trump must win.
Borges added that if there, in fact, was a freeze, almost everything has been paid for, including direct mail literature. The only thing left on the books, he said, is one more payroll for staff working in the states.