A judge has refused to issue an order to seize ballots in a lawsuit filed by Donald Trump's campaign that accuses a Nevada county of keeping polls open beyond closing time Friday, the final night of early voting.
The order would have impounded ballots at early voting sites to determine whether they were cast by voters who didn't make it into line by the scheduled closing time. But Clark County Judge Gloria Sturman sided with the county.
"I am not going to expose people doing their civic duty to help people vote ... to public attention, ridicule, and harassment," Sturman said Tuesday during an emergency hearing. "I'm not going to do it."
The lawsuit — filed Monday night in state court — alleged poll workers at four different polling places in Clark County, Nevada, did not follow protocol. One of the polling sites is in a primarily Hispanic neighborhood in Las Vegas.
According to the Trump campaign, the poll workers decided earlier in the day that they would keep polls open until 10 p.m. PT, well beyond their appointed 7 p.m. closing time.
Under Nevada law — as in most if not all states — voters may vote as long as they were in line at the time that the poll was scheduled to close.
But both Trump and Nevada GOP chairman Michael McDonald complained Friday night that the polling location in Las Vegas' heavily Hispanic neighborhood was kept open improperly.
Related: Analysis: As Election Day Arrives, Plenty of Blame to Go Around
Trump called it evidence of a "rigged system," a claim he has made about the 2016 election multiple times before.
Dan Kulin, a spokesman for Clark County, told NBC News on Sunday that nothing improper happened.
At 7 p.m. local time, there was still a long line, Kulin said. He said the last vote at the site was cast shortly before 10 p.m. PT by voters who had already gotten in line by 7 p.m.
"Nothing happened that wasn't supposed to happen," Kulin said. "Voters who were in line by the scheduled closing time were allowed to vote."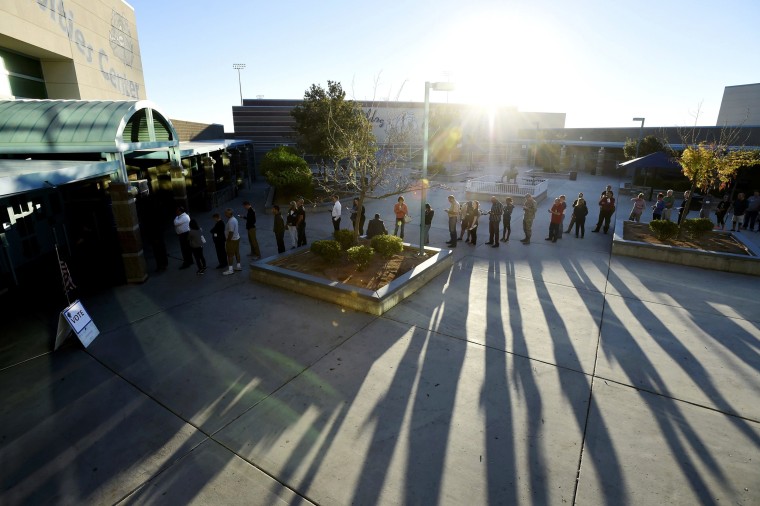 The legal filing from the Trump campaign was about 100 pages long and includes affidavits from people who claim they witnessed voting irregularities.
The lawsuit asked officials to set aside any affected ballots and ballot machines, and verify they don't get mixed in with the other votes.
"We're pleased the judge swiftly denied what was a frivolous attempt to disenfranchise voters in Clark County and a desperate response to the record turnout we're seeing in Nevada and across the country," said Glen Caplin, Clinton campaign spokesman. "Every voice needs to be heard in this election and both campaigns should be working to ensure that every American will have easy access to the ballot box."
A Clark County volunteer said the mood during early voting was celebratory and that everyone followed the law.
Jose Macias, 27, said people waited for up to 3 hours to vote, and he talked to them as they waited "so they stayed in line."
When the last people voted at 10 p.m., there was a group of "people cheering outside, like 50 people chanting," Macias told NBC News, adding that he was "so excited to see all these people there to vote."
Trump, speaking to FOX News, defiantly stood by the lawsuit earlier on Election Day.
"I have great representatives in Nevada, and a lot of other places, and they felt it was a pretty bad situation out there," he said. "We have to keep the system honest. We have a very, very serious situation with the whole process and I've been talking about the rigged system for a long time."