AKRON, Ohio — Donald Trump on Monday called for a special prosecutor to investigate Hillary Clinton's tenure as secretary of state, as questions emerge over whether foreign donations to the non-profit Clinton Foundation influenced her decision-making while in office.
The GOP nominee demanded an "expedited investigation by a special prosecutor" into Clinton's ties to the Clinton Foundation during her time at the State Department. "The Clintons made the State Department into the same kind of pay-to-play operation as the Arkansas government was," Trump said.
The comment was Trump's first explicit call for direct legal action against his Democratic rival beyond his common stump-speech claim that Clinton should be jailed for her use of a private email server while secretary of state. The Justice Department declined to bring charges against Clinton over her email server.
Related: Trump Calls for Complete Shutdown of Clinton Foundation
Clinton's campaign would not directly address Trump's comments, instead pointing NBC News to a statement from campaign chairman John Podesta made earlier Monday. Podesta defended the Clinton Foundation's plans to stop accepting foreign donations and for former President Bill Clinton to step down if Clinton is elected.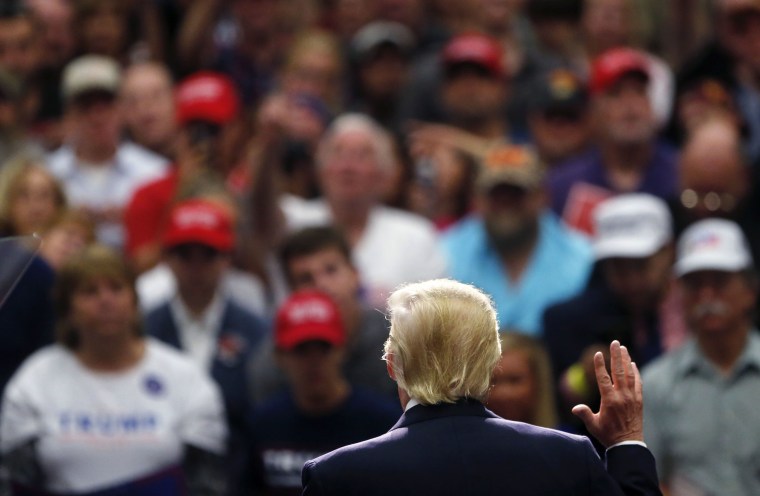 "The Foundation has already laid out the unprecedented steps the charity will take if Hillary Clinton becomes president," Podesta said. "Donald Trump needs to come clean with voters about his complex network of for-profit businesses that are hundreds of millions of dollars in debt to big banks, including the state-owned Bank of China, and other business groups with ties to the Kremlin."
Podesta again called on Trump to release his tax returns and to divest himself of potential conflicts of interest "to ensure that he is not letting his own financial interests affect decisions made by his potential administration."
Trump also attacked the Department of Justice as "a political arm of the White House," insinuating, as he often does, that the department's lawyers are shielding Clinton from charges stemming from her use of a private email server and her dealings with the Clinton Foundation. For that reason, Trump said, "The Justice Department is required to appoint an independent special prosecutor."
Related: The Mystery of Trump's Missing Immigration Policy
Amid continuing speculation about major changes to his cornerstone immigration policy, Trump largely stuck to his script during a rally in Ohio Monday night. He failed to clarify recent reports that he might be softening his notoriously hardline stances on immigration.
The business mogul emphasized "immigration security" during his speech as a top priority and reiterated his plan to build a wall on the U.S.-Mexico border if elected president. He made no mention of his support of "deportation forces" or mass deportation for undocumented immigrants, hallmarks of Trump's immigration policy for months.
The campaign's new campaign manager Kellyanne Conway said Sunday that it was "to be determined" if a Trump administration would create a "deportation force," an idea the candidate had proposed during the primaries.
In an interview with Fox News Monday, however, Trump insisted he was not "flip-flopping" on immigration. "We want to come up with a really fair, but firm answer. It has to be very firm, but we want something fair," Trump said.
"Poor Hispanic and African-American citizens are the first to lose a job or see a pay cut when we don't control our borders. So true," Trump told his predominantly white audience in the majority white city of Akron.
Trump read from a prompter again Monday evening, extending his streak of prepared remarks into its second week. But he didn't completely stick to the script. He repeated a message to black voters Trump has used in recent days. "What do you have to lose [voting for me]?" Trump asked, adding that he would "straighten" out the problems facing minority voters.
"I'll bring jobs back," Trump said. "We'll bring spirit back. We'll get rid of the crime, you'll be able to walk down the street without getting shot. Right now you walk down the street, you get shot."