President Donald Trump was on diplomatic desk duty Saturday, fielding a flurry of prearranged phone calls from foreign leaders as his executive order creating an immigration crackdown in the United States caused a ripple of confusion at airports around the world.
After a hectic first week in the White House, Trump took calls privately from the Oval Office. The day of diplomacy included cordial congratulations given to the new leader of the free world, as well as serious discussions about some of the world's most pressing issues.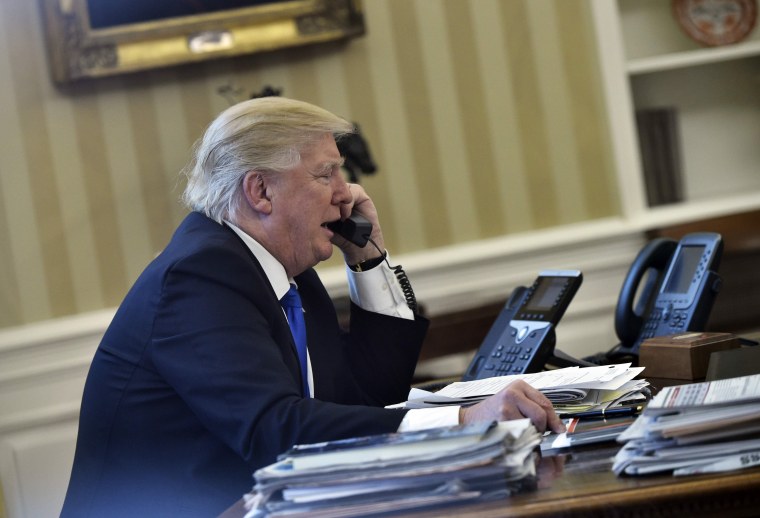 While Trump took the calls, he began getting push back from Democrats and human rights groups angered over his executive order closing the nation's borders to U.S. legal permanent residents and visa-holders from certain Muslim-majority countries. His day also included the introduction of more executive orders.
Trump has been juggling discussions with foreign leaders this week, just nine days into his unorthodox presidency. He hosted British Prime Minister Theresa May at the White House on Friday and earlier tried to smooth over tensions with another U.S. ally, Mexico, whose president bristled at Trump's rhetoric surrounding the building of a border wall.
The phone calls with foreign leaders Saturday included:
Russian President Vladimir Putin
Trump's most anticipated conversation was with Putin, whose country is accused of engaging in cyberattacks to influence the recent U.S. election.
The approximately hour-long call was described as "positive" and "a significant start to improving the relationship between the United States and Russia that is in need of repair," The White House said in a statement.
The White House said the pair discussed a number of international issues from fighting terrorism to the conflict in Syria. They also discussed the crisis in the Ukraine, the Kremlin said on its website.
"Both President Trump and President Putin are hopeful that after today's call the two sides can move quickly to tackle terrorism and other important issues of mutual concern," the White House said.
Putin and Trump agreed to work on stabilizing U.S.-Russian relations, which became strained under the Obama administration, the Kremlin said.
Putin congratulated Trump and wished him success, the White House said.
The leaders also said they would "maintain regular personal contacts," the Kremlin added, and would work out a date to meet face-to-face.
According to White House press secretary Sean Spicer, Trump took the call while he was with some of his top advisers, including Vice President Mike Pence, White House chief strategist Steve Bannon and chief of staff Reince Priebus.
Trump, who has repeatedly praised the Russian president, told reporters on Friday that it's "very early" to talk about lifting any sanctions against Russia that were imposed by the Obama administration as punishment.
German Chancellor Angela Merkel
The call between Trump and Merkel lasted about 45 minutes, according to Spicer, and covered a slate of international affairs, including Russia and Ukraine, the Middle East and North Africa.
The conversation also centered around keeping NATO strong and having a stable transatlantic relationship, the White House said.
Trump last year called for NATO members to pay their fair financial burden as part of the alliance, and suggested the U.S. otherwise might not step in to defend members under attack in the Baltic — setting off concern among the international community.
Trump and Merkel discussed how NATO thrives with all allies "contributing their fair share to our collective security," the White House said.
The pair's discussion likely required more diplomatic savvy after Trump spent his presidential campaign both slamming Merkel for "ruining Germany" over her immigration stances and calling her as his favorite world leader at one point.
Trump on Saturday agreed to attend the G-20 Summit in Germany in July, and said he would invite the chancellor to Washington. Also in the room during the call were Bannon and Priebus.
French President Francois Hollande
Hollande was more pointed in his first official phone conversation with Trump. He warned the real estate mogul-turned-politician against taking a protectionist approach in the U.S., which could have economic and political consequences, a statement from the French president's office said.
"In an unstable and uncertain world, turning inward would be a dead-end," Hollande told Trump, according to the statement.
Hollande announced last month he will not run for re-election this year after a first-term undermined by high unemployment and the rise of French nationalism.
Japanese Prime Minister Shinzo Abe
Trump spoke with Abe about maintaining the U.S.-Japanese alliance and affirmed America's "ironclad" commitment to ensuring the security of Japan, the White House said in a statement.
Among the other topics discussed were newly sworn-in Defense Secretary James Mattis' upcoming trip to Asia, including Japan, as well as continued cooperation on handling North Korea and deepening bilateral trade.
The White House did not detail whether Trump and Abe discussed the auto industry, which has been regularly admonished by the president. Japanese officials in recent weeks have expressed frustration over the attacks, including Trump's rebuke of U.S. automakers that build cars in lower-cost foreign factories.
Trump and Abe agreed to meet at the White House on Feb. 10, Spicer said.