PANAMA CITY, Fla. — Donald Trump stuck to the script Tuesday night, using a new batch of hacked emails to launch repeated attacks on Hillary Clinton.
Trump used the latest batch of Clinton campaign emails published by Wikileaks to bolster an opinion already held by many of his supporters here — that Clinton is a "vessel" for corruption who doesn't have Americans' interests at heart.
"Wikileaks has given us a window into the secret corridors of government power," Trump said.
He cited email exchanges purportedly between a member of the Clinton campaign and the Department of Justice during litigation involving Clinton emails, dealings in Haiti that favored "friends of Bill" Clinton, and back-and-forths between CNN and then-commentator, now-interim DNC Chair Donna Brazile regarding early notice of town hall questions.
"The media's rigged, let me tell you," Trump said.
Trump defended himself against attacks that he stood too close to Clinton during Sunday night's town hall style debate. "I'm standing and she walks in front of me," Trump said. Multiple camera angles showed Trump standing closely behind Clinton, and at other times looming over her shoulder as she answered questions.
He reminded the audience that some Republicans who once ran against him didn't honor a pledge to support the eventual nominee of their party.
Notably free from Trump's string of attacks during the rally was the Republican establishment leaders who've rescinded their support for Trump and whom he spent the early hours of Tuesday roasting on Twitter.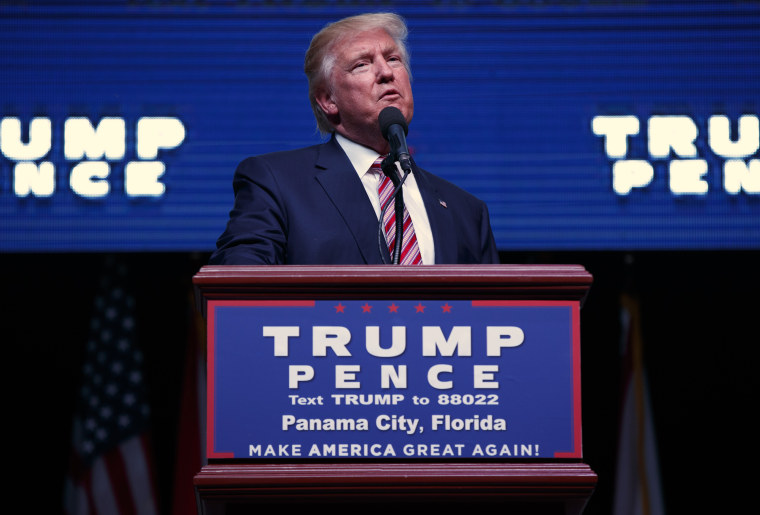 Still, Trump was bullish on his chances in Florida, noting neck-and-neck poll numbers in the Sunshine State. But he also pressed Floridians to get out the vote on both November 8th and on November 28th, an apparent misstatement by the nominee.
"If you guys don't vote me as a victor, I'm gonna be very angry at you," Trump said.
Later he added, "You better make sure we win or there will be no more Trump rallies. The hell with that. The hell with the rallies."