LAS VEGAS — In a twist that could happen only in 2016, Donald Trump is giving thanks to disgraced former Democratic congressman Anthony Weiner.
Weiner is earning kudos from Trump, the Republican presidential nominee — who has called him a "pervert" and a "major sleaze" in the past — because the federal investigation into his alleged explicit messaging with a minor, which yielded a second FBI review of emails potentially related to Democratic nominee Hillary Clinton's private server.
"We never thought we were going to say 'thank you' to Anthony Weiner," Trump joked with his audience at one of conservative casino magnate Sheldon Adelson's Venetian Hotel ballrooms.
A lone voice in the crowd started a short-lived "Weiner" chant, but few added their voices to his cause.
Trump continued to allege that some of Clinton's 33,000 deleted emails might be among those related to the FBI investigation's of Weiner, whose estranged wife, Huma Abedin, is a close aide to Clinton.
Related: Pence Demands Huma Abedin Release Her Emails
"I have a feeling they just found a lot of them," he said.
But there is no indication one way or another as to whether any of the deleted emails are in the newly revealed discovery. Law-enforcement officials have said it is possible that the Weiner-connected emails are duplicates of what they've already seen, or something unrelated entirely.
Investigators said they found the emails while looking into sexually explicit texts that Weiner allegedly exchanged with an underage girl. Weiner's political career had already been destroyed by previous disclosures that he had repeatedly sent sexual messages to women other than his wife, but now he could face criminal charges.
Related: FBI Seeking Warrant for Newly Discovered Emails
Trump also reserved harsh words for U.S. Attorney General Loretta Lynch and the Justice Department, painting them — as he has at other times in recent days — as crooked and biased in favor of Clinton.
Wondering aloud about Lynch, Trump asked, "Why is she allowed to fight so hard to get someone who is so obviously guilty on so many different fronts off the hook?"
Trump has repeatedly lambasted media organizations for using anonymous sources in their Trump-related reporting, but he cited "sources close to Clinton" to bolster his argument that she promised to reappoint Lynch as attorney general. Beyond one article in The New York Times — a paper Trump has repeatedly called "dishonest" and "failing" — the reports were never substantiated.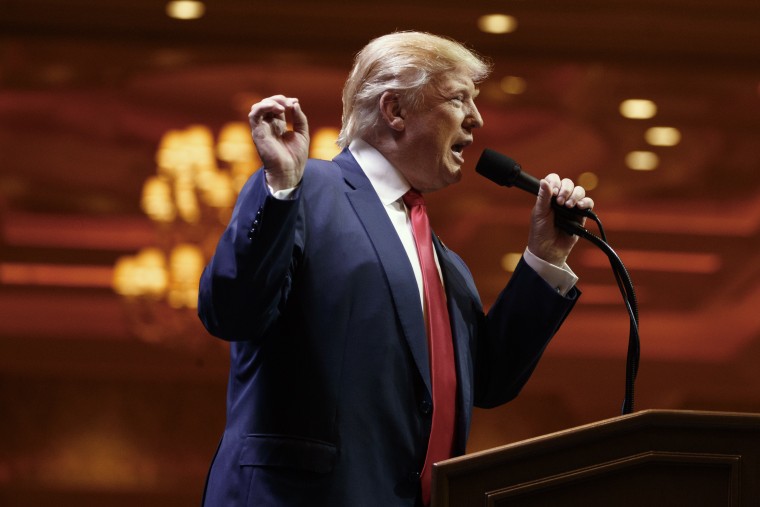 Trump, the owner of another Vegas strip hotel himself, thanked Adelson for being "so supportive" of his campaign but ribbed him Adelson for providing a ballroom that was maybe not big enough for Trump's taste.
"Great hotel," he said, but "we could've made this ballroom a little larger, maybe."
The room held thousands of supporters, but it was not full. Trump's praise for Adelson comes months after a primary season in which Trump targeted the Nevada magnate on Twitter for supporting one of his primary opponents, Sen. Marco Rubio of Florida.
Trump has disputed reports suggesting he is a tough sell for Latino voters, promising that he will do well with the crucial voting bloc in November. And he took the opportunity to repeat the promise Sunday.
Trump plucked a "Latinas For Trump" sign and the woman carrying it up on stage. The woman spoke in favor of Trump's "law and order" message while Trump waved the sign behind her.
"I love this sign," Trump said, beaming.