The tense election season has spawned violence and vandalism across the country — with law enforcement and political groups fearing the pranks are growing aggressive and increasingly malicious.
While there isn't comprehensive nationwide data on politically motivated vandalism, officials point to the recent torching of a black church in Greenville, Mississippi, and the firebombing last month of GOP offices in Hillsborough, North Carolina, as alarming examples.
"There has been a lot of rhetoric in this election that is causing all kinds of trouble across the country," said Greenville Mayor Errick Simmons in response to the burning of Hopewell Missionary Baptist Church, which he's called a hate crime.
Perhaps fueled by the swings in Donald Trump's campaign bombast — often on display at his rallies — vandalism in opposition and in favor of the candidate has been a constant since he launched his presidential bid in June 2015, observers say.
The cases are highlighted locally by incidents as petty as a man in a Gumby costume destroying a Trump lawn sign outside Boston on Halloween to attacks on the Mississippi church and the North Carolina GOP headquarters that have caught national attention.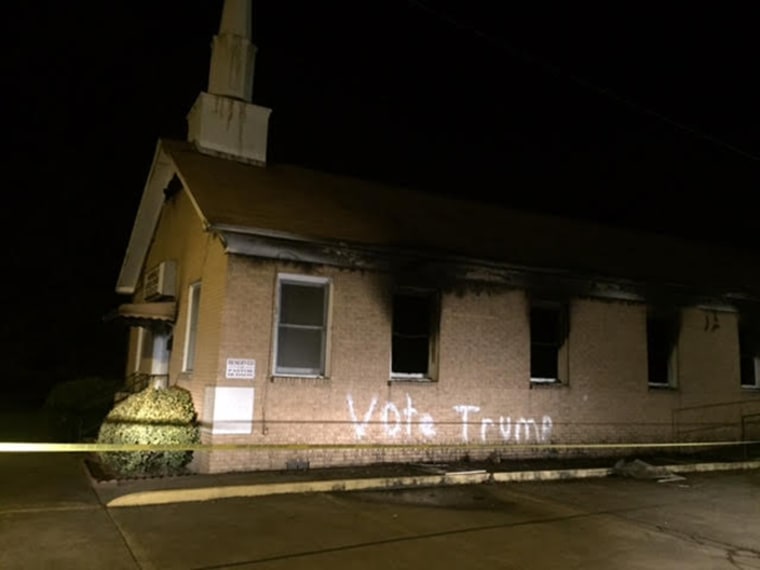 Although police classified the North Carolina firebombing as vandalism and arson, local Republican leaders said it felt like much worse.
"This was not vandalism," Evelyn Poole-Kober, vice chairwoman of the Orange County Republican Party, told NBC News. "Vandalism is when you tear down signs, which they're doing all over the county, or when they tear up our elephant out front, which they've done."
She described crying with hands covered in ash while clearing the devastation wrought by a Molotov cocktail. A nearby building was also scrawled with graffiti warning "Nazi Republicans" to "leave town or else."
"It is crime when they deliberately throw a firebomb through a plate glass window with the intention to burn and destroy," Poole-Kober said.
The firebombing is only one extreme example. While signs were often stolen or spray-painted in past elections, local law enforcement in several swing states told NBC News the vitriol has never been this tangible.
In Nevada, Reno police Officer Tim Broadway said campaign-based vandalism has been more prevalent this season than during any election in his 12-year career.
"A lot of it is the nature of the two candidates who are running," Broadway told NBC News, adding that Trump supporters have had their property damaged the most in northern Nevada. Still, supporters can be "extreme on both sides of the platform."
Trump-branded properties and iconography have been especially targeted. His new hotel in Washington, D.C., was defaced last month with the spray-painted slogans "Black Lives Matter" and "No Justice No Peace."
Even Trump's star on the Hollywood Walk of Fame has been marred this past year with spray-painted swastikas and a mute symbol, written on with permanent marker, peed on by individuals and purposefully defecated on by pet owners' dogs.
The Los Angeles-based street artist Plastic Jesus made headlines when he constructed a tiny-sized wall around Trump's Walk of Fame star, aiming to use the highly foot-trafficked spot to criticize the Republican nominee's immigration policies.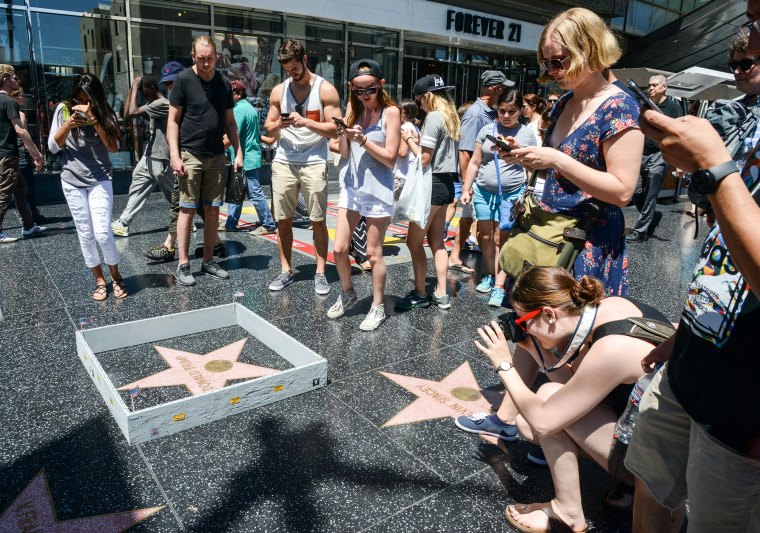 But the treatment of Trump's star took a nastier turn a week ago when an heir to an elevator fortune used a pick-ax to demolish it. Some believe this act of dissent went too far.
"I think the act of protest that leads to the damage or destruction of the star certainly crosses the line," said Plastic Jesus, who does not go by his real name because he uses methods to create his art that some would consider vandalism. "I don't think it adds anything to the conversation about why people are so opposed to Trump and his policies. That's really just an act of vandalism."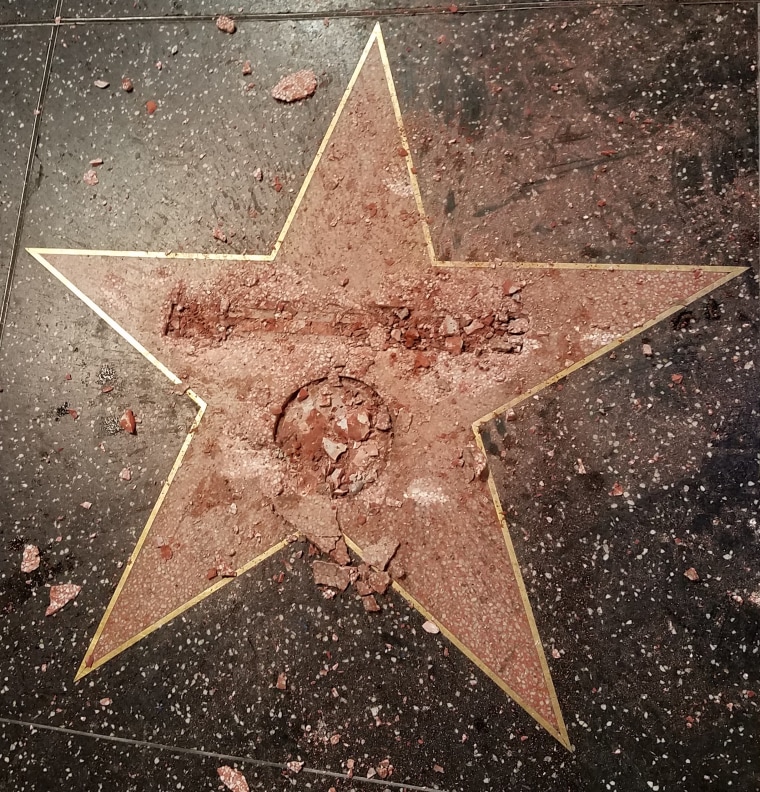 But even hackneyed election high jinks has been taken to another level this year.
David Jones, chairman of the Making Maine Great Again political action committee, said he purchased 5,000 signs and distributed them across Maine's 1st Congressional District. But he estimates losing about 1,000 of them to thieves.
"We were finding that we would put them up one day and they'd be gone the next, if they lasted a day," Jones told NBC News. "They would be destroyed, stolen, painted, cut. It's unbelievable how people reacted to it."
"There has been a lot of rhetoric in this election that is causing all kinds of trouble across the country."
The disappearance of signs across District 1 grabbed attention last week after one of the thieves, Betta Stothart, admitted to her crime in a Washington Post op-ed.
"Reflecting back, I realize that I momentarily snapped," the 52-year-old mother wrote after she was caught stealing Trump placards. "But there was a deeper reason for my anger than just the signs. Over the past several weeks, grasping the depth of Trump's predatory behavior toward women throughout his adult life (and even worse, his denial of it) has simply become unbearable. I became unhinged."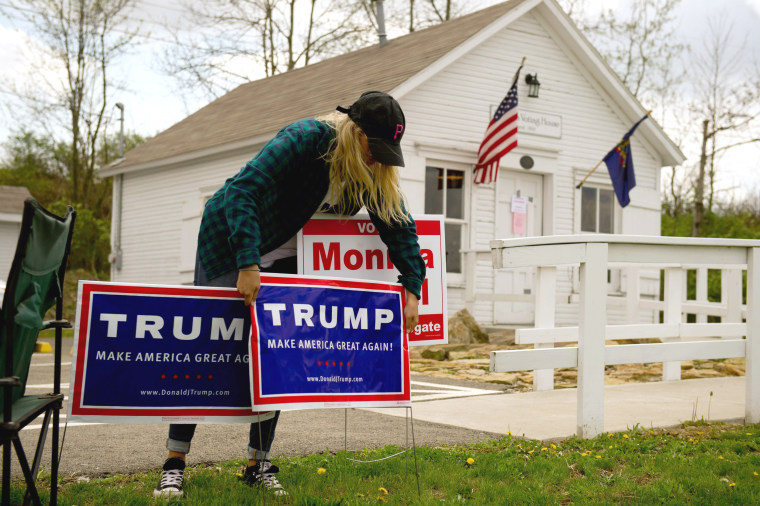 Stothart declined to comment further. Her family has received a number of threats since the publication of her essay.
"She called me, and we had a conversation," Jones said. "She was apologetic for what she did. I think she realized how stupid it was and that there was no excuse for what she did."
Maine law calls for a $250 fine per stolen or tampered sign.
Although Jones continues to pursue charges against those who stole his signs, he said he doesn't want to escalate the situation with any other tactics.
"There's no reason to," Jones said. "This is an election. We're just citizens of the United States who have the right to vote. Let us vote. Let whoever wins win. Let's have a peaceful transition of power and be done with it. Period."