Though Donald Trump had a very strong night on March 15, his national support remained virtually unchanged this week. Despite maintaining a plurality of support in the Republican primary contest for the past few months, Trump has failed to reach a majority of support among Republicans and Republican-leaning voters as the field continues to winnow.
These results are according to the latest data from the NBC News|SurveyMonkey Weekly Election Tracking Poll conducted online from March 14 through March 20 among a national sample of 13,389 adults aged 18 and over.
Ohio Gov. John Kasich had the best week — gaining 4 points nationally — perhaps benefiting from a victory in his home state last week and Marco Rubio's exit from the race. Ted Cruz's support remained unchanged from last week with a quarter of Republican and Republican-leaning voters favoring him as their candidate of choice.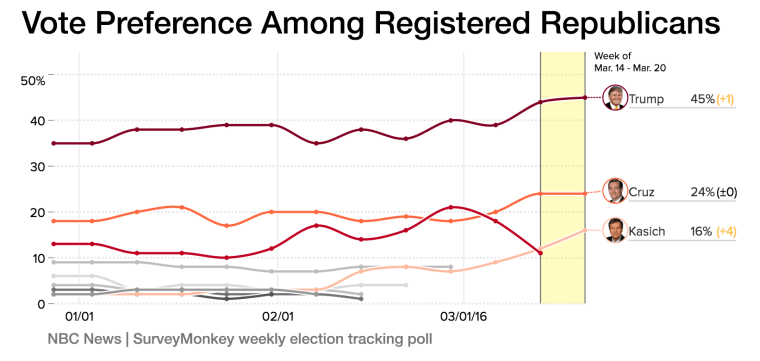 One of the biggest surprises in the Republican primary so far has been the strong support Trump has received from white evangelical Christians. In this week's poll, Trump leads Cruz among overall white evangelicals by 7 points — 41 percent to 34 percent. This number, however, masks the fact that there are big differences among evangelical voters. If we divided white evangelicals into two groups — those who attend church more than once a week and those who do not — we find that Cruz is the favorite over Trump by a 15-point margin among those who attend church the most.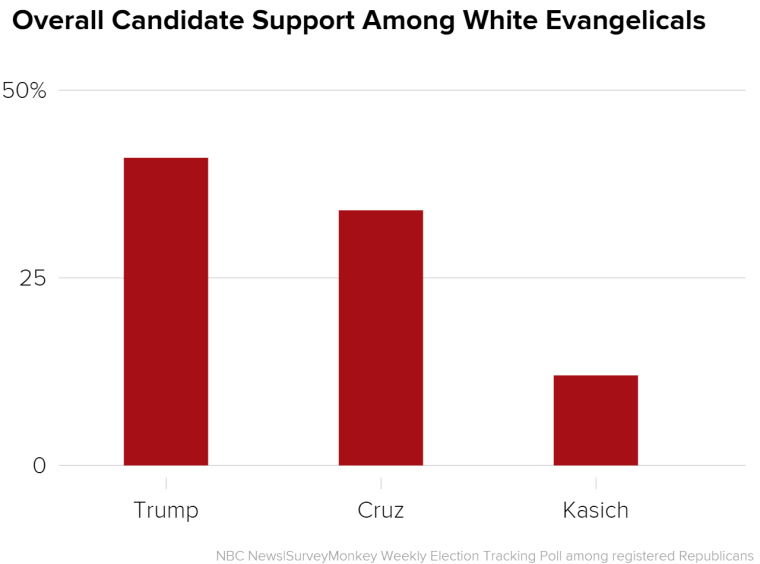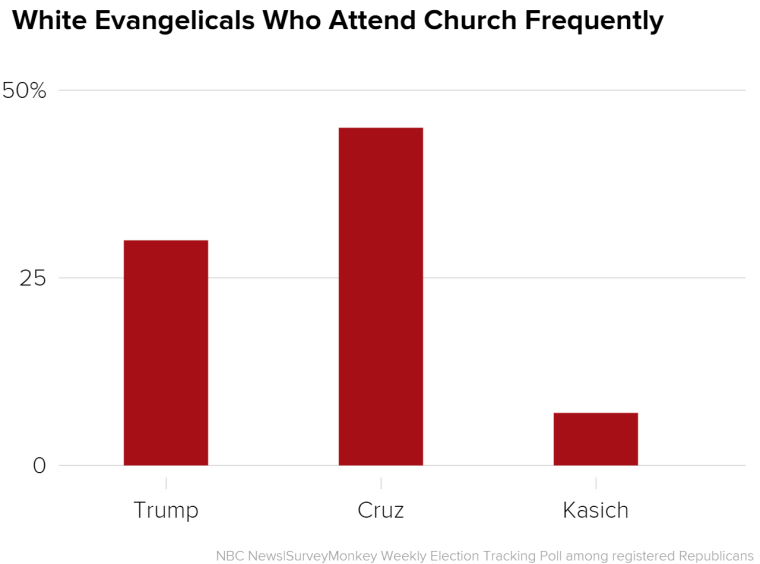 This finding is going to be critical going forward as the Republican primary season moves away from the South and the Midwest, and more to the East and West Coasts where church attendance patterns differ substantially. This potentially bodes well for Trump.
The NBC News|SurveyMonkey Weekly Election Tracking poll was conducted online March 14 through March 20, 2016 among a national sample of 13,389 adults aged 18 and over, including 11,600 who say they are registered to vote. Respondents for this non-probability survey were selected from the nearly three million people who take surveys on the SurveyMonkey platform each day. Results have an error estimate of plus or minus 1.4 percentage points. For full results and methodology for this weekly tracking poll, please click here.