WILKES-BARRE TOWNSHIP, Penn. — Over the weekend, dozens of Republican leaders publicly renounced Trump over a 2005 tape of him boasting about groping women, with many openly demanding the party replace him.
Angie Stroud, 52, knows every single one of their names.
Waiting for a Trump rally here, Stroud said she keeps an updated list on Facebook for her fellow Trump supporters to reference.
"I won't vote for any of them," she said. "The only thing worse than a Democrat is a Republican who acts like a Democrat."
Related: Reince Priebus Says RNC Will Stand by Trump
The recent defections from Trump amount to an unprecedented rejection of a nominee by their own party, but it was only the first volley in the GOP's civil war. Trump and his supporters are now returning fire themselves by lashing out at defectors, promising political retribution, and finding new targets for his base's rage as election day nears.
With polls showing a Trump collapse, the infighting could push Republican losses to new heights if the party can't get it under control before election day.
Trump horrified Republican critics at Sunday's debate by holding a press conference with women accusing Bill Clinton of sexual misconduct and pledging to jail Hillary Clinton. But it was music to his fans' ears in Pennsylvania, who universally praised his debate performance. Some wore Bill Clinton "rapist" t-shirts sold by conspiracy theorist and Trump supporter Alex Jones.
His supporters on Monday sounded bewildered by the reaction to the video, blaming it alternately on nervous Republicans and a hostile press.
"Nobody has the guts to take the gloves off on the Clintons until Trump, and they jump ship over a tape?" Jim Dodson, who wore a "Hillary for Prison" button, said of the GOP dissenters.
Some said they were offended by the footage of Trump, some said they weren't, but all of them dismissed it as a minor distraction compared to the issues that they say drew them to his campaign: closing borders, blocking refugees, protecting gun rights, and retaking control of the Supreme Court.
Above all, they were terrified of a Clinton presidency. Thousands of Trump supporters led fist-pumping chants of "Lock her up!" more than four hours before his scheduled rally began.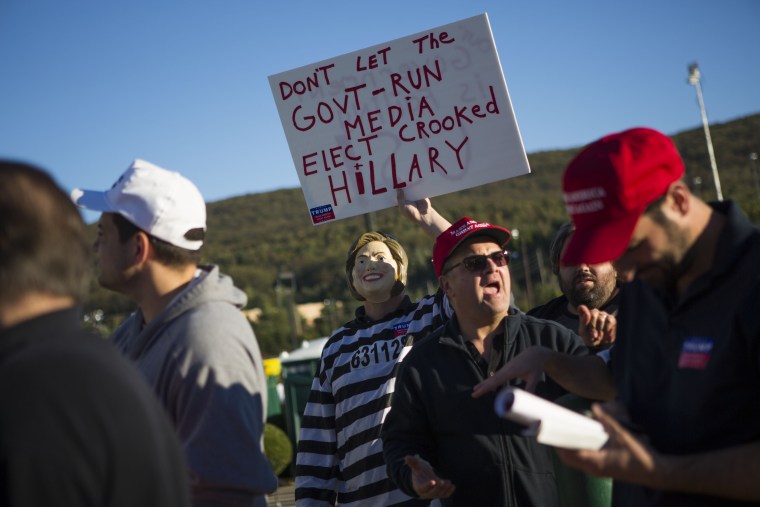 "Lock her up is right," Trump said when he took the stage.
Crowds screamed and chanted obscenities at the press pen with Trump's encouragement. He paused repeatedly to allow thousands of fans to turn around and directly confront reporters for long periods.
"That's why we have to win this election," he said. "We have to take it away from these dishonest characters."
Trump alternated between assuring the room all was well in the campaign while directing their unbridled fury at anyone undermining his campaign, from the media to surveys.
"Even the polls are crooked," he said. "Look, we're in a rigged system folks."
Full Coverage of the 2016 Presidential Race
Trump decided, for now, to keep Republicans off his list of targets for the crowd — from the stage at least.
Earlier Monday, House Speaker Paul Ryan told Republican House members to "do what's best for you in your district" and said he would no longer defend the nominee. Trump shot back on Twitter that Ryan "should spend more time on balancing the budget, jobs and illegal immigration and not waste his time on fighting Republican nominee." And on Tuesday morning, Trump tweeted:
His voters were ready to join him in the fray.
"People will not be happy with Paul Ryan," Carol Stofflet of Pen Argyl, Pennsylvania, said. "They'll remember it when he wants to run again for any public office."
Stofflet, like Trump and many rally-goers, dismissed the recent tape of Trump as unimportant. But she saw it had an impact: One of her friends who was undecided ruled out Trump.
"She doesn't want Hillary, but with the video she doesn't want to support him," she said. "I told her actions speak louder than words."
Others said they couldn't believe surveys showing Trump losing Pennsylvania by wide margins, saying they had seen only Trump signs around their hometown.
"They say she's up 11 in Pennsylvania," one woman said. "How? Is every person in Philadelphia for her?"
Related: After Trump Video, Clinton Lead Jumps to Double Digits
Susan Tolendini drove all the way from Staten Island, where Trump racked up one of his highest margins in the primaries, to cheer him on through a tough week.
"The only Hillary sign I've ever seen is Hillary for Prison," Tolendini said.
By her count, she has 92 friends who "like" Trump on Facebook versus only 4 who "like" Clinton. Across the river from her is Manhattan, one of the most Democratic areas in the country and the only county Trump lost in his home state's primary.
"I hear all this talk about how he's not a good role model for children, but I feel quite the opposite way," she said. "I use him as a role model for our daughters to tell them to stick to your convictions, no matter what anyone tells you, and to never give up."
Kay Sunday, 76, and Carol Klemish, 69, expressed their support for Trump via guerrilla theater. Klemish dressed as Hillary Clinton in a red pantsuit while Sunday dressed as Trump and dragged her friend around on an oversized chain attached to her neck. She periodically stopped to have mock coughing fits, much to the delight of the crowds waiting in line.
"We can't look at the past," Klemish said. "We have to look at the future and our future is with Trump."
As for the Republicans abandoning the nominee she had a one-word response.
"Traitors."