JANESVILLE, Wis. — Donald Trump has tersely declared "you're fired" countless times, but when it comes to his embattled campaign manager, he's giving a full-throated endorsement.
On the campaign trail Tuesday, Trump praised Corey Lewandowski after he was charged earlier in the day for misdemeanor battery of a female reporter during an incident this month at a Florida rally.
Related: Who Is Donald Trump's Controversial Top Aide Corey Lewandowski?
The Republican front-runner told the Wisconsin audience that the easiest thing for him would be to break out his classic "Apprentice" catch phrase after the mounting criticism against Lewandowski. But Trump said he "can't do that."
"I can't destroy a man. I can't destroy him. He's got a beautiful wife and children, and I'm not gonna destroy a man for that," said the former reality TV host. "And you know, when I saw the tape, at first I said, 'Oh, this is terrible.'"
Then Trump claimed that his own tape of the March 8 incident — "I'm rich so I have tapes all over" — actually vindicates Lewandowski during his brush with Michelle Fields, a then-reporter for Breitbart.
Trump said his campaign manager was simply intervening as she came toward the presidential candidate.
"All of a sudden she bolts into the picture ... she grabs me or hits me on the arm, in fact, I'm like this with my arm up," Trump said. "And then he (Lewandowski) goes by and I'm, I mean, maybe he touched her a little bit but I didn't — it was almost like he was trying to keep her off me, right?"
Rallygoers who saw the video footage mostly had the same reaction — it was just another attempt to tear Trump down.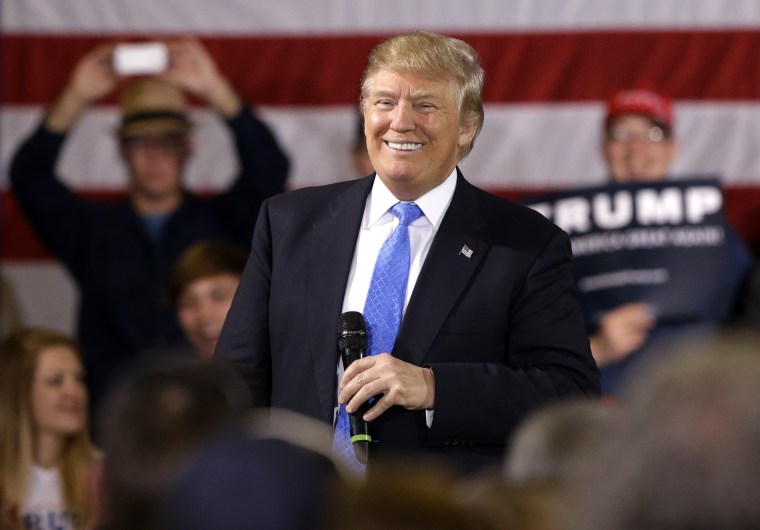 Judy Friel told NBC News that Lewandowski "didn't do anything" and this is an instance of "continual nonstop attack" against the mogul or those who work for him.
Another audience member, Mary Roberson, also blamed the media for running with the story.
But not everyone was sold. Bryan Brickner said Lewandowski should be fired, although he understood that Trump said he was also trying to keep him safe. "It's terrible," Brickner, 20, told NBC News in response to the charges.
Related: Breitbart's Michelle Fields and Three Others Resign Over Trump Incident
While on stage, the unorthodox candidate sought to bolster Lewandowski and discredit Fields — but he also had his mind on Wisconsin governor and former rival Scott Walker, who endorsed Texas Sen. Ted Cruz for the party's nomination earlier Tuesday.
"I wouldn't have done this," Trump said, admitting the motive behind his attacks, "but when (Walker) endorsed Cruz, what am I gonna do, am I gonna say he's doing a great job? He's not doing a great job."
Trump never expected to get Walker's endorsement, especially not after the way the two fought during Walker's short time vying for the Republican nomination.
Nonetheless, Trump used the opportunity to attack Walker for Wisconsin's budget deficit and state debt. Noting that he was reading his statistics from "books," Trump said, they "may be wrong" but they're "very high" numbers.
Walker, in real time, tried to fact check the New York real estate mogul via Twitter, touting Wisconsin's unemployment rate last year compared with other states.
"WI was 1 of just 10 with better rate," the Wisconsin governor tweeted in response.