ATLANTA, GA. — Donald Trump in a speech that went on for over an hour Wednesday insisted that in the future, people will acknowledge "Trump was right" to propose a ban on Muslim immigrants, reiterating this theme over and over again in his continued response to the deadly Orlando shooting.
Trump's focus on monitoring Muslims within the U.S. and barring Muslim immigrants from the U.S. was heightened following the horrific attack at the Pulse nightclub last weekend. Trump again criticized Muslim Americans for a lack of assimilation and said that the Orlando shooter's "parents and ideas weren't born here — his ideas were born from someplace else."
"In a year or two or three from now," Trump continued, people will say "Trump was right" to propose the ban on Muslim immigrants. He also called for U.S. government surveillance of mosques.
"We have to check respectfully the mosques and we have to check other places because this is a problem that if we don't solve, it's going to eat our country alive," Trump said.
He also warned of impending doom for the United States if the "horrible things" happening to the U.S. continue they way they are now.
Related: Trump Is a Man on an Island — and He's Sinking
"We're having horrible things happen where we're allowing people into our country that don't deserve to be in our country and bad things are gonna be happening.
It's amazing that our country can be abused so badly and not survive, it's just amazing, and continue to survive. But it's not going to continue to survive like this, it can't," he said.
His comments flew in the face of frustration from Republican leaders following his Monday speech responding to the Orlando attack, where he sounded many of the same themes. Critics said his focus on Muslim-Americans was inappropriate, with Sen. Bob Corker, R-Tenn., calling the speech "disappointing."
But Trump refused to back down, and indeed called on Republicans to either get behind him or leave him alone.
"We have to have republicans either stick together or let me just do it by myself, I'll do very well," he said.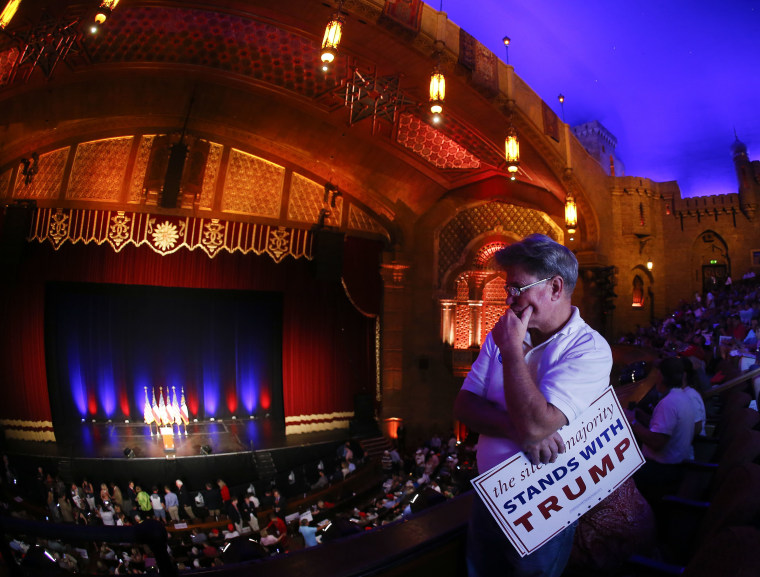 Trump on Wednesday also reiterated his belief that if the clubgoers at the Pulse nightclub were armed, there wouldn't have been the same "carnage" that was seen early Sunday morning, when the shooter killed nearly 50 people.
"If some of those great people that were in that club that night had guns strapped to their waists ... or there were bullets going in the other direction ... we would've had a situation that would've always been horrible but nothing like the carnage that we saw," he said.
Trump also repeatedly promised to protect gun rights, and warned — erroneously — that Democrat Hillary Clinton wanted to abolish the 2nd Amendment, even as he expressed a willingness Wednesday to back some curbs on gun access, tweeting his support for barring those on the terrorist watch list or no-fly list to buy guns.
Related: Theft Claims Weren't About US Troops: Trump Camp
His comments come as lawmakers on Capitol hill consider new gun control measures in response to the Orlando attack, which left nearly 50 dead and many more wounded.
During his speech, he also restated many of his more unorthodox foreign policy proposals, including his offer to accept a visit from North Korean Dictator Kim Jong Un, and assertion he could talk him out of acquiring nuclear weapons; his suggestion is the U.S. withdraw its defense of Japan to gain leverage on the nation in negotiations; and feeding diplomats hamburgers rather than steaks at State Dinners.
The 70-minute speech — one of Trump's longest in weeks — was repeatedly interrupted by groups of protesters, some swearing at the candidate before being booted from the event by Trump staffers.
The crowd was largely favorable, however, with some in the audience singing the candidate Happy Birthday just after he started his remarks.