DALLAS — Donald Trump on Thursday night proposed putting a major Republican donor backing a super PAC supporting his campaign "in charge of China."
"We just a had a meeting and we had some fantastic folks, I mean like Andy Beal ... one of the great business people," Trump told a crowd in Dallas, Texas.
"You take somebody like Andy Beal, you put him in charge of China: 'Okay, Andy, do me a favor, renegotiate our trade deal.' You know what, we can all go home, relax, have dinner."
Beal, the founder of Dallas-based Beal Bank, endorsed Trump in February and is reportedly backing one of the pro-Trump spending groups, Great America PAC. According to the Dallas Morning News, Beal may have attended a briefing for potential donors in Dallas last weekend.
NBCDFW: Protesters March After Trump Rally at Gilley's in Dallas
It's unclear whether Trump is referring to a meeting he personally had with Beal, or the Great America PAC gathering. Federal election law bars any communication or coordination between super PACs and the campaigns they support, but it's not unusual for major super PAC donors to rub elbows with their favored candidates.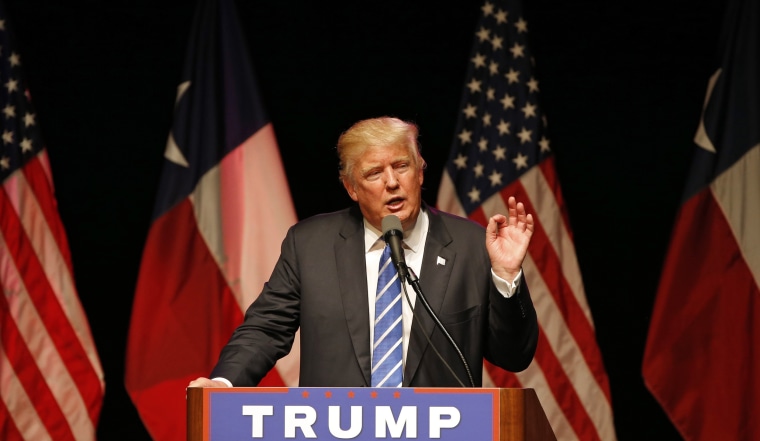 Regardless, Trump's comments were unusual remarks for a candidate who's made pay-for-play allegations a central tenet of his case against Democrat Hillary Clinton, who he's dubbed "Crooked Hillary" because, he says, she gave favorable treatment to donors to her family foundation.
Just last week, in Washington, Trump highlighted a report that Clinton appointed a donor with little relevant experience to a government intelligence advisory board.
He went on to add that "Bill and Hillary made $153 million giving speeches to special interest groups since 2001."
"That's a lot of money. These donors own Hillary Clinton," Trump said last week.
It was an otherwise notably tame speech from the presumptive GOP nominee, who's spent the past week unleashing an array of attacks on the Muslim community as he's advocated for tighter immigration laws in the wake of the Orlando terror attack last weekend.
The attack only took up a small portion of the presumptive GOP nominee's speech, where he decried the "one sleazebag" who murdered 49 people at the Orlando nightclub last weekend — a notable shift from his comments Wednesday that the attacker's "parents and ideas weren't born here" in a speech where he called for government surveillance of Mosques.
And rather than emphasizing his temporary ban on all Muslim immigrants, Trump said only "we have to stop the wrong people, we have to stop people with hate in their heart, from coming here."
Related: Bernie Sanders Offers No Concession in Address to Supporters
Instead of decrying "radical Islam," Trump returned to his more typical critiques of the Obama Administration's foreign policy and trade policy, and outlined his own unorthodox proposals.
And in contrast to his typical charges that Clinton is "weak," "Crooked" and that other nations don't "respect" her, Trump attacked her on policy, noting her husband signed NAFTA — a trade deal he routinely lambastes on the trail — charging she wants to abolish the 2nd Amendment (but adding she'd like to do it in a "nuanced" way), and telling the crowd he'd be better for the LGBT community, women and Latinos than Clinton.
Trump seemed to be enjoying Dallas overall — inspired by a protester wearing a cowboy hat, he said he'd brand some with his "Make America Great Again" slogan, and even floated riding the mechanical bull at the concert venue where he appeared (although he mistook it for another animal).
"Where's that horse? I want to go on that horse!" Trump said, to cheers.