Republican presidential front-runner Donald Trump questioned the faith of former Republican presidential nominee Mitt Romney at a Utah rally Friday night, while protesters demonstrated outside the doors to the venue.
"I have many friends that live in Salt Lake, I have a lot of friends," Trump told the audience. "By the way, Mitt Romney is not one of them. Did he choke? Did this guy choke? He's a choke artist, I can't believe. Are you sure he's a Mormon, are we sure?"
Trump made numerous Mormon references in the capital of Utah — a state with a much higher population of people of that faith.
"Do I love the Mormons, okay?" he said. "Do I love the Mormons?"
Trump was on the defensive last month about his own faith when Pope Francis questioned how he could call himself a Christian while insisting a wall be built at the U.S.-Mexico border to keep immigrants out.
"No leader, especially a religious leader, has the right to question another man's religion or faith," Trump said at the time.
RELATED: Mitt Romney Says He Will Vote for Ted Cruz
Romney has been telling conservatives to reject the real estate mogul, calling him a "phony" and a "fraud" in a major speech earlier this month and continuously challenging Trump's conservative credentials.
Romney lives and votes in Utah now, and while he campaigned with Republican presidential contender John Kasich in Ohio, he posted a Facebook note earlier Friday indicating that he will support rival Ted Cruz in next week's caucus here, although he said it's not an official endorsement.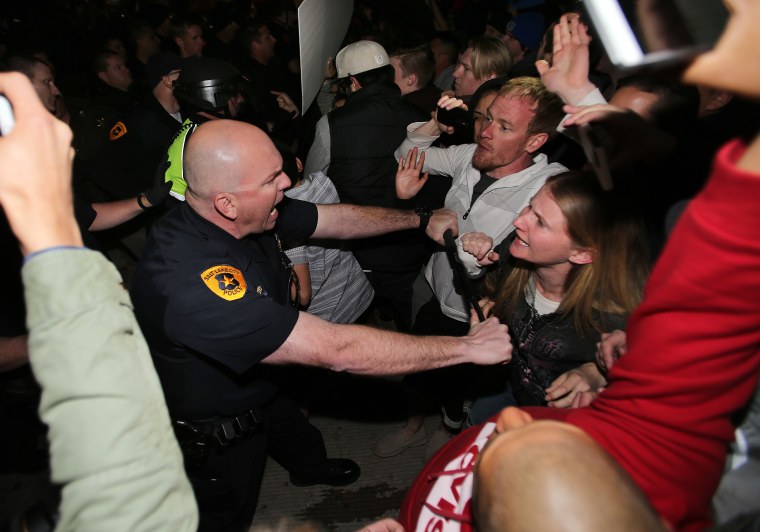 Trump mocked Romney's support of both Cruz and Kasich Friday night, claiming the former Massachusetts governor "let us down" when he "choked like a dog" by losing to President Barack Obama in the 2012 election.
"He's just like, it's just crazy. He's out, he's out campaigning with Kasich, and then he endorses Cruz. Nobody, you know, people are saying, 'Are you sure you know what you're doing?' It turned out to be a good thing — my numbers went way up. I don't know what's going on."
As Trump regaled the charged crowd inside, protesters outside were shouting: "Shut it down!"
Police lined up in riot gear at the doors to the venue while protesters held signs such as, "Let's build a wall around Trump — And make him pay for it!" and "No Racism, No Fascism."
At one point, Black Lives Matter activists started chanting, "Black Lives Matter!" while a few Trump supporters held their candidate's sign and chanted, "Everybody's life matters!"
The protest was organized by the University of Utah chapter of Students for a Democratic Society. Other chapters of the organization have protested in Chicago and St Louis.
Before the rally started, protesters hung up a Trump pinata, and about a dozen people took turns smashing it.
RELATED: Cruz Feeling 'Pretty Darn Good' About Romney's Backing
While the former reality TV host spoke, protesters crowded the door to the venue, many saying they wanted to heckle supporters as they left.
Police told the protesters to back up; when some didn't obey, officers pushed them back using batons. A few protesters threw punches at officers.
As tension between officers and protesters rose, dozens of officers closed in, replacing their batons with shields. The crowd eventually dispersed.
While the tension was high outside, the mood inside was rowdy but peaceful. This was one of his relatively smaller events, held inside a local concert venue that holds around 1,000 people, as opposed to some of his more raucous rallies that have filled packed stadiums.