MIAMI — Donald Trump mixed policy with intimations of violence in Miami on Friday, reversing his position on re-engaging with Cuba and pushing for Hillary Clinton's security to disarm because of her proposed firearm reforms.
Trump represented Clinton's position on gun rights as wanting to "destroy your Second Amendment" and said that her bodyguards should no longer carry firearms in light of her policy stance, which includes expanded background checks for gun sales.
"She doesn't want guns, take their — let's see what happens to her," Trump said. "Take their guns away, okay? It'll be very dangerous."
Related: Trump's Lengthy History of Conspiracy Theories and Rumors
Trump's comments were slammed by Clinton's campaign on Friday night:
"Donald Trump, the Republican nominee for President, has a pattern of inciting people to violence. Whether this is done to provoke protesters at a rally or casually or even as a joke, it is an unacceptable quality in anyone seeking the job of Commander in Chief," Clinton's campaign manager, Robby Mook, wrote in a release.
"This kind of talk should be out of bounds for a presidential candidate, just like it should be out of bounds for a presidential candidate to peddle a conspiracy theory about the President of the United States for five years," Mook added.
"But we've seen again and again that no amount of failed resets can change who Donald Trump is. He is unfit to be President and it is time Republican leaders stand up to denounce this disturbing behavior in their nominee."
Former U.S. Rep. Gabrielle Giffords, who was wounded in a 2011 shooting attack that left six people dead, also denounced Trump's comments, and called Trump "reckless, irresponsible and unworthy of the office he seeks."
"We call on him to renounce these comments, apologize to Hillary Clinton, and acknowledge that once again he has gone dangerously too far," Giffords and her husband, Mark Kelly, said in a statement.
The Trump campaign hasn't yet respond to a request for comment.
Related: Trump Second Amendment Comment Seen As Veiled Threat
The GOP nominee has espoused this sentiment before. In May, at a National Rifle Association conference, Trump called Clinton a "heartless, hypocrite" who wanted to take guns away from Americans when her own body guards used them for her protection.
"So I think that, in addition to calling for them to name judges, we'll also call them and let their body guards immediately disarm. OK, no they should immediately disarm and let's see how good they do. Let's see how they feel walking around without their guns on their bodyguards."
Trump has intimated violence against Clinton in the past, joking at a rally in Fayetteville, North Carolina last month that if Clinton wins and gets to pick Supreme Court justices there's nothing that can be done for proponents of the right to bear arms. "Although, the Second Amendment people, maybe there is, I don't know."
The comment raised eyebrows, prompting a response from the Clinton campaign that officially accused Trump of inciting violence against the Democratic nominee and calling Trump's words "dangerous."
The Trump campaign at the time responded with their own statement, saying Trump was referring to "the power of unification" and calling upon the voting power of "Second Amendment people," according to senior communications adviser Jason Miller.
Clinton has stated in the past that she has no intention of abolishing the Second Amendment. She has called for "commonsense approaches" to reduce gun violence, which on top of expanded background checks includes closing gun show and internet sales loopholes.
Trump's About-Face on Cuba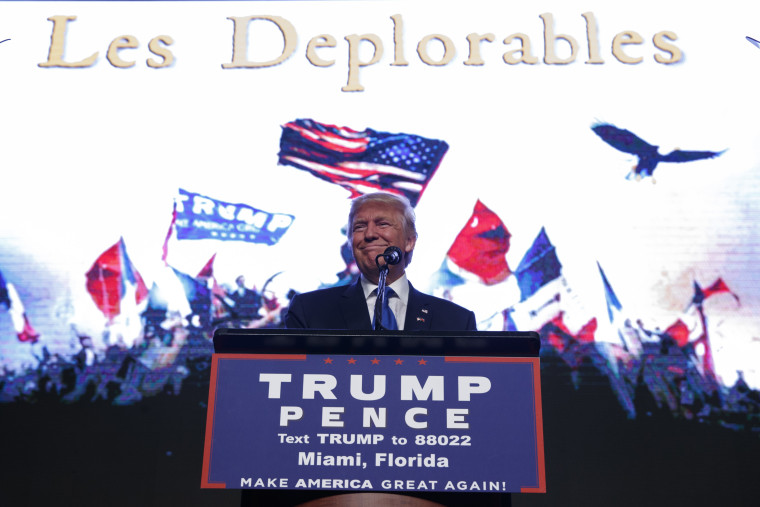 The Republican nominee also shifted his policy on Cuba Friday, telling the Miami crowd that cheered when he asked how many of them were Cuban that he would reverse Obama's orders on Cuba "unless the Castro regime meets our demands."
"Those demands will include religious and political freedom for the Cuban people and the freeing of political prisoners, the freeing of political prisoners," Trump outlined. Then, polling the crowd on his just laid out policy, Trump asked, "Right? Am I — is that right?" The crowd cheered.
Trump, who has been known to add spontaneous riffs into his prepared remarks, took it upon himself to add the caveat of freeing political prisoners to his list of demands from Cuba in order to keep diplomatic relations open.
The GOP nominee previously said he was "fine" with the Obama administration's decision to reopen diplomatic relations with Cuba, though he was critical of the deal that was made and stressed the need for a better one. "I think it's fine," he said in September of last year. "I think it's fine, but we should have made a better deal. The concept of opening with Cuba is fine."
Just this July, Trump told a CBS affiliate in Miami that "at the right time Cuba would be a good opportunity for investment" but "probably the time's not right" for Trump to invest in the country.
Trump and his team sought to capitalize off comments from Secretary Clinton calling his supporters "deplorables" with a dramatic and theatrical entrance to Les Miserables' "Do You Hear the People Sing?" On the screen behind Trump, an appropriated image from the show that read "Les Deplorables." The song speaks of revolution and — for Broadway buffs — is a forceful cry to mobilize in the name of revolution and change. The band of revolutionaries who perform the song in the show, however, are defeated during the main battle of the revolution.
"Welcome to all of you deplorables," Trump said.