Donald Trump was rushed off stage by the Secret Service while delivering a speech in Reno, Nevada, Saturday night after someone in the crowd yelled "gun," the federal agency said. No weapon was found.
"Immediately in front of the stage, an unidentified individual shouted "gun". Secret Service agents and Reno Police Officers immediately apprehended the subject," the Secret Service said in a statement.
"Upon a thorough search of the subject and the surrounding area, no weapon was found," the statement said.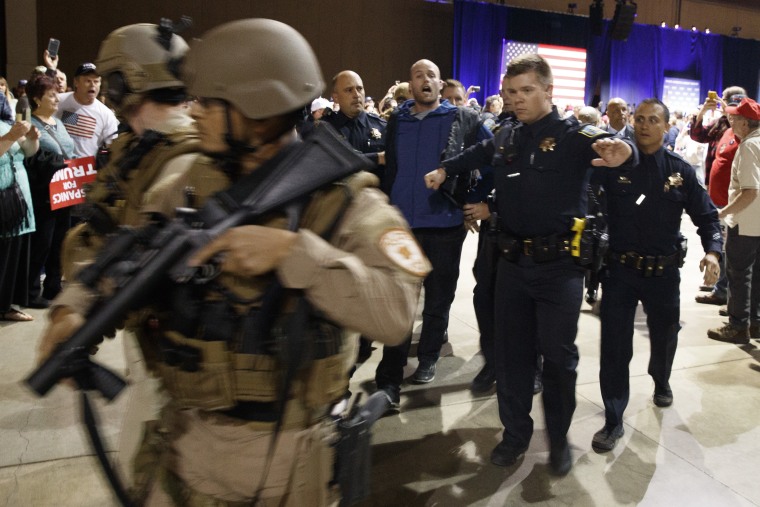 Trump was removed from the stage mid-speech at around 9:05 p.m. ET. The Republican nominee returned to the stage minutes later and was defiant.
"Nobody said it was gonna be easy for us, but we will never be stopped," Trump said. He thanked the Secret Service, and continued his speech.
A man was removed who appeared to be handcuffed.
It's unclear who shouted "gun," but the man who was detained and later released told reporters that he is a lifelong Republican and only tried to hold up a sign that said "Republicans Against Trump."
That man, who identified himself as Austyn Crites, told NBC affiliate KRNV in Reno that when he pulled out the sign people began booing and trying to grab it.
"All of a sudden, because they couldn't grab the sign, or whatever happened, bam, I get tackled by all these people," Crites said.
"And somebody yells something about a gun, and so that's when things really got out of hand," he told the station. Crites added he was glad that law enforcement arrived swiftly because he was being beaten up.
Trump thanked law enforcement in a statement later: "I would like to thank the United States Secret Service and the law enforcement resources in Reno and the state of Nevada for their fast and professional response."
"Nothing will stop us — we will make America great again!" Trump said in the statement.
While no weapon was found, some of those in the crowd were told there was a man with a gun. Others said they saw someone with a dark object, but it was obvious it was not a weapon.
"I heard, 'He has a gun' and several of us went over to the side wall because we were frightened," Darla Webb said.
Webb said she felt better seeing heavily armed law enforcement officers taking a man away, and said she was impressed with Trump's composure in continuing the speech.
In Las Vegas in June, a British man was arrested after allegedly trying to grab a gun from a police officer at a Trump rally and he later told investigators he wanted to kill Trump, authorities said. He never got the weapon.
Suspect Michael Sandford, then 19, told investigators he tried to grab the gun "to shoot and kill Trump," and that he thought he would be killed by police in the attempt, a Secret Service agent wrote in an affidavit.
Prosecutors said Sandford went to a gun range a day before and practiced shooting a Glock handgun. Sandford's mother said her son had "a lifetime of mental health problems."
In March, security rushed on stage and surrounded Trump at a campaign event in Dayton, Ohio, after a disturbance broke out behind the candidate. A 32-year-old man was arrested and charged with misdemeanor counts of disorderly conduct and inducing panic in that case, authorities said at the time.
Trump is crisscrossing the country to hit several key battleground states in the final sprint to the Nov. 8 election.