Republican presidential nominee Donald Trump has begun directly reaching out to African-American voters for support over the past week and, as a rash of recent polling data demonstrates, he has no place to go but up.
According to the latest NBC News|SurveyMonkey Weekly Election Tracking poll, Trump is receiving the support of just 8 percent of black voters — a number that has fluctuated between 6 and 10 percent in the poll since May.
And the most recent NBC News/WSJ/Marist polls in Ohio and Pennsylvania had Trump with just one percent of black support in each of the battleground states.
His own running mate, Indiana Gov. Mike Pence, laughed out loud at Trump's contention that he would win 95 percent of the black vote in a theoretical re-election bid in 2020. That "optimistic" view is "pure Donald Trump," Pence said when asked why he was laughing.
While black voters have disproportionately voted Democratic for decades, Trump faces unprecedented deficits with the population. One shock poll from the University of New Orleans' Survey Research Center showed Trump getting outperformed by white nationalist and U.S. Senate candidate David Duke with black voters.
Allegations of racism have dogged Trump's campaign from the beginning, when he said undocumented Mexican immigrants were "rapists" during his announcement speech last June. And while Trump has offended Asian-Americans, Latino-Americans, Arab-Americans and Native Americans in the past, his transgressions as far as the black community is concerned could be even more costly come November.
With the black vote potentially playing a crucial role in putting traditionally red states like Georgia in play, while pushing potentially winnable blue states like Pennsylvania further out of reach, it perhaps makes sense that Trump would attempt some damage control, even if his message is aimed more at reassuring his own base of moderate white voters — as the Hillary Clinton campaign has suggested.
Here are several reasons why, as the New York Times' Charles Blow put it, black voters appear to "loathe Trump" personally:
Housing
Trump made a fortune before his career as a reality TV star predominately in the world of real estate, where he took the reins of his father's burgeoning housing empire in the early 1970s and expanded it to become the global juggernaut it purportedly is today. But in 1973, he was introduced on the national stage for less auspicious reasons: his battles with the U.S. Justice Department over charges of violating the Fair Housing Act. The Trumps were accused of systematically discriminating against black tenants seeking rentals in their buildings, even using a code letter "C" to represent "colored" applicants.
They pushed back and counter-sued the government (claiming they were being forced "to rent to welfare recipients"), but according to the New York Times, two years later, in 1975, "Trump Management was required to furnish the New York Urban League with a list of all apartment vacancies, every week, for two years. It was also to allow the league to present qualified applicants for every fifth vacancy in Trump buildings where fewer than 10 percent of the tenants were black."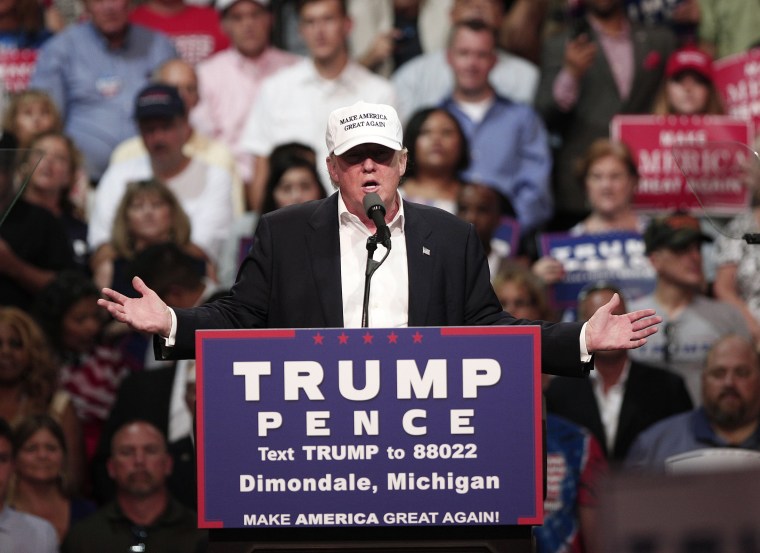 The Trumps were emphatic that the agreement was not an admission of guilt; however, three years later they were still on the defensive. In 1978, the government filed another motion against Trump, this time alleging that he was not complying with the 1975 compromise. And by 1983, the situation had not improved dramatically, with the Times reporting that at least 95 percent of two Trump properties were populated by whites only.
Crime
Long before he pledged to be the "law and order" candidate and portrayed a particularly grim vision of America's inner-city crime problem during the Republican National Convention, Trump offered up himself as a voice for concerned citizens troubled by lawlessness.
In 1989, he infamously took out four full-page ads in local New York City newspapers calling for the restoration of the death penalty in the state, particularly so it could be enforced on the so-called Central Park Five, a group of black and Latino teens accused of beating and raping a white female woman who had been jogging in the city's iconic park that April.
Years later, when the real perpetrator confessed, and the Central Park Five were exonerated (it was determined that their initial confessions were coerced), Trump refused to back down. When the city of New York agreed in 2014 to pay the young men $41 million in damages for spending years in prisons for a crime they didn't commit, Trump called it the "heist of the century" and a "disgrace" in an unrepentant op-ed for the New York Daily News.
"He poisoned the minds of many people who lived in New York and who, rightfully, had a natural affinity for the victim," Michael Warren, a defense attorney who eventually represented the Central Park Five, told The Guardian in February. "Notwithstanding the jurors' assertions that they could be fair and impartial, some of them or their families, who naturally have influence, had to be affected by the inflammatory rhetoric in the ads."
For his part, Trump has never reversed his Central Park Five stance, although he no longer thinks the accused assailants deserve the death penalty because the victim of the attack didn't die.
As a candidate for president, Trump retweeted an image of a gun toting, unidentified African-American next to bogus crime statistics, including one that said 81 percent of white homicides are committed by blacks. When confronted over the fallacy of the data by Fox New's Bill O'Reilly, Trump insisted he'd "retweeted somebody that was supposedly an expert and it was also a radio show." The original tweet was traced back to a neo-Nazi.
White Supremacists
Speaking of retweeting, Trump has a curious habit of reiterating the thoughts of white supremacists on social media, particularly when they are being complimentary toward him. When these presumed supporters are revealed to be racists, Trump has not removed his retweets (in some cases from the same user) or apologized for the presumed oversight.
Meanwhile, white supremacists have shown a startling degree of unsolicited devotion to his campaign. They've recorded robocalls on his behalf, formally endorsed his campaign, and showed up at his rallies. The campaign even had to un-invite one of their California delegates from the RNC when it was revealed that he was the chair of a white nationalist group.
And while Trump has said repeatedly that they disavow these supporters, he hasn't always been emphatic about his desire to distance himself from the racist fringe.
For instance, in February, after David Duke made a series of positive statements about Trump (while stopping short of a full endorsement) and suggested to his followers that not voting for him was an act of "treason" against their white heritage, the GOP nominee was asked about it. Trump seemed to stumble through his answer, saying he "didn't know" Duke, despite having a long record of referencing him publicly. Later, Trump would blame the gaffe on a malfunctioning earpiece and would eventually say unequivocally that he doesn't want Duke's support, but he has also not ruled out supporting the former KKK leader in a hypothetical election depending on the Democrat he faces.
Snubs
Even though they had virtually no chance of upending the Democrats' advantage with black voters, past Republican presidential nominees like Sen. John McCain and Mitt Romney still went out of their way to address and reach out to historically African-American organizations. Trump, on the other hand, has stonewalled organizations like the NAACP and National Association of Black Journalists by either ignoring or turning down invitations from predominately black groups, earning the cheers of hate groups in the process.
Last November, following uproar over the beating of a Black Lives Matter protester at one of his events, Trump promoted a closed-door meeting with 100 African-American pastors from around the country, implying that they intended to endorse him.
However, a planned press conference featuring the black clergymen was scrapped when it was revealed that many of them sought to persuade Trump to soften his stances on hot-button issues. Despite at least one of the attendees calling him an "insult and an embarrassment" afterwards, Trump would later insist that there was a lot of "love in that room."
Trump has since recruited his former "Apprentice" co-star Omarosa Manigault to lead African-American outreach for his campaign, and Katrina Pierson, who is also African-American, is one of his most prominent surrogates on cable news. But, in the upper echelons of his campaign, there is very little diversity and few, if any, of Trump's top advisors are African-American.
Still, he does have viral video stars "Diamond and Silk".
Birtherism
For better or worse, Trump's decision to hop on the "birther" conspiracy theory bandwagon throughout much of 2011 (and until as recently as last year) helped turn him from a late night show punchline into a political figure with real cache in conservative circles.
To many African-Americans, Trump's insistence that President Obama was not an American citizen was an racist appeal, as was his unsubstantiated claims that the president had such a poor academic record that he should never have received the Ivy League degrees he earned at Columbia and Harvard, respectively. And even after Obama released his longform birth certificate, confirming his U.S. birth, and endlessly mocked Trump for seeking it — the real estate mogul would return to the theme of the president's supposed illegitimacy time and time again.
Contrary to popular belief, black support for President Obama does not come without caveats or complaints, but he has remained popular with African-Americans throughout his 12 years on the national stage for more than one reason. That popularity extends beyond policy or racial loyalty and speaks to admiration for what Obama has achieved from a historic and cultural perspective.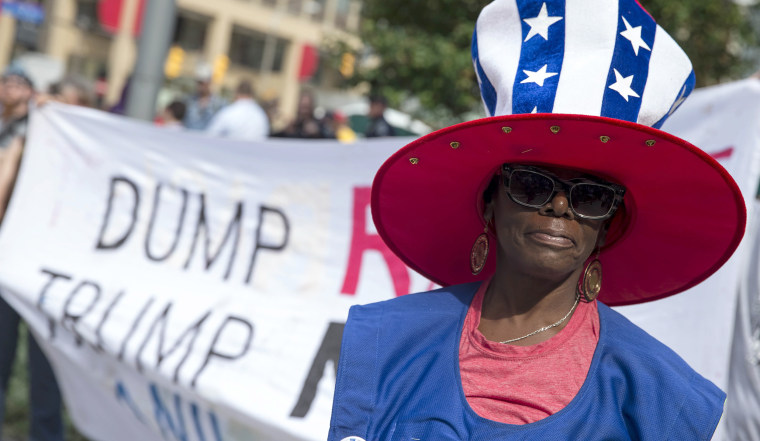 Language
This past week, Trump painted a bleak picture of the life of an average black citizen in America today. "You're living in poverty. Your schools are no good. You have no jobs. Fifty-eight percent of your youth is unemployed. What the hell do you have to lose?" he said recently of African-Americans to a predominately white crowd.
While unemployment and poverty figures in the black community are much worse than the national average, according to the Bureau of Labor Statistics roughly 92 percent are active participants in the workforce and the Economic Policy Institute reports that 72 percent of African-Americans live above the poverty line. And Politifact has concluded that black teen unemployment is nowhere near the 58-59 percent Trump has been claiming.
Of course, it's not just the sentiment Trump expressed, it's the way he expressed it. Trump's tone, to some, has smacked of condescension whenever he discussed the black community. In remarks last week he boasted that his theoretical 2020 re-election campaign would capture 95 percent of the black vote — something Democrats have accomplished just once, when Obama won 96 percent in 2008 — despite consistently polling under 5 percent with that population throughout this election cycle.
His tone echoed remarks he made back in 2011, during the height of his crusade to prove that President Obama was not an American citizen. When pressed about whether his position would alienate the millions of black voters who overwhelmingly supported the president, Trump argued that he has a "great relationship with the blacks." Besides referring to African-Americans as if they were an inhuman monolith, he seemed to imply at the time that the only reason they had embraced Obama's candidacy was their shared heritage.
This was not a case of just one malapropism gone awry. A 1991 book by John O'Donnell, who once served as president of Trump's hotel and casino in Atlantic City, alleged that Trump once vented that he hated "black guys counting my money" and argued that "laziness is a trait in blacks." Instead of disputing these quotes, Trump reportedly said in a 1997 Playboy interview that "the stuff O'Donnell wrote about me is probably true." Although he did also refer to O'Donnell as a "loser" and someone he barely knew.
Meanwhile, during his current campaign, Trump raised eyebrows by pointing out "my African-American over here" from the stage at a rally, routinely referred to black protesters as "thugs" who deserve to be "roughed up," and antagonizing the Black Lives Matter movement, suggesting that they are "looking for trouble."
Like most Americans, words matter to black voters, and Trump surrogate Jack Kingston's sarcastic assertion that perhaps had the candidate made his outreach to blacks in front of a "burning car" it would achieve more authenticity, isn't helping heal the divisions either.