The path for Democrats to win control of the House of Representatives is steep and complicated, but plausible, particularly if Donald Trump emerges as the GOP presidential nominee.
It's long been clear that either party could win the White House or the Senate this year. Republicans have a 54-seat majority in the Senate, but are defending six seats in states where Democrats are strong (Florida, Illinois, New Hampshire, Ohio, Pennsylvania and Wisconsin.) Democrats are trying to win the presidency for the third straight time, which both parties have failed to do since George H.W. Bush succeeded Ronald Reagan in 1992.
But the House has long been assumed safe for the GOP, until polling showed the depths of Trump's current unpopularity with the general election electorate. He is by some measures the most unpopular presidential candidate in modern times.
Republicans currently hold 246 of the House's 435 seats, compared to 188 for Democrats. In June, voters in Ohio will decide the replacement for former House Speaker John Boehner, who resigned last fall. The Republican candidate is heavily favored to win that special election, giving Republicans 247 seats.
Democrats will then need to gain 30 seats in this fall's elections to get a majority.
Such a radical shift in the makeup of the House is entirely possible in theory, since Democrats gained 30 seats in 2006, while the GOP won control of 63 in 2010.
In reality, Democrats winning the House is still highly unlikely this fall. If Trump becomes the Republicans' nominee, he is likely to gain support among GOP leaning-voters who have reservations about the real estate mogul right now but view Hillary Clinton or Bernie Sanders as too liberal.
In addition, Democratic voters tend to be clustered into major cities, so their votes are in some ways wasted in House races, where liberal lawmakers often run up huge margins. Republicans, in control of most state legislatures, often pack a few districts in each state with Democratic voters, leaving the remaining districts with GOP majorities.
Because of the way House districts are drawn, Mitt Romney himself finished ahead of Obama in 226 of the 435 House districts in 2012, according to a compilation from the Cook Political Report, even as the former Massachusetts governor lost by about 5 million votes nationwide. This was on Election Day in 2012, when young, minority, liberal-leaning voters who often don't cast ballots in midterms were out in full force.
Those dynamics mean that everything has to bounce the Democrats way for them to win the House.
Here's a closer look at that path:
1. Democrats need to win most of the 28 districts that backed Obama in 2012 but have a Republican member of Congress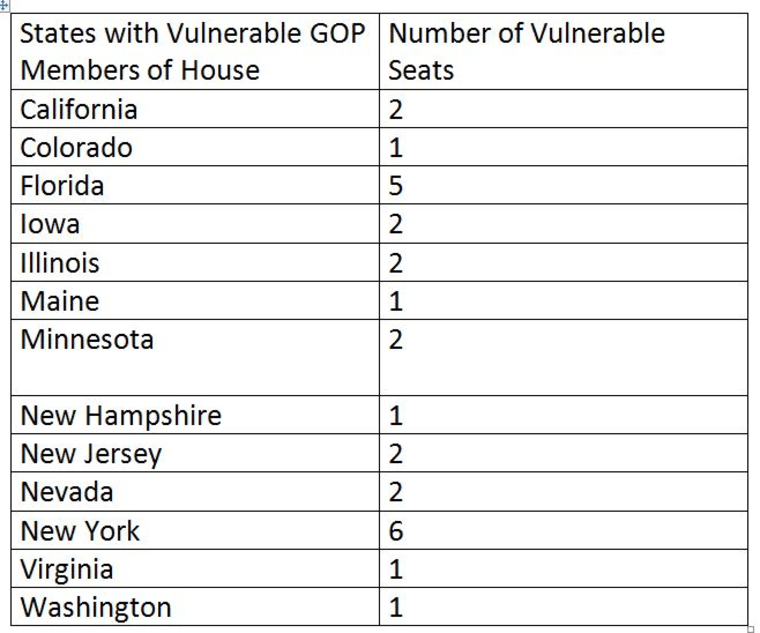 The Democrats' simplest path to victory in the House is a strong turnout among the people who voted for Obama in 2008 and 2012. If Hillary Clinton or Bernie Sanders wins an area, it is very likely that those same voters will back the Democratic congressional candidate.
Ticket-splitting dropped to its lowest rate in decades in 2012, when only 6 percent of districts backed one party for president but the other for the House.
For example, Frank Guinta, a House Republican who represents the area around Manchester, New, Hampshire, won his seat in 2010, a strong year for Republicans, lost in 2012, then won again in 2014. He ran against the same opponent, Democrat Carol Shea-Porter, in all three races.
In this district, it seems clear that the national political conditions are affecting the race more than the individual candidates. Shea-Porter will be a favorite if Clinton or Sanders beat Trump or Texas Sen. Ted Cruz in New Hampshire.
Twelve of these 28 House Republicans were elected in 2014. That means they don't have the advantages of long-term incumbency, to build up a huge following in their districts. If the Democratic presidential candidate wins their districts, they are likely to be defeated as well.