Republican Donald Trump and Democrat Bernie Sanders swept to convincing victories in the New Hampshire primaries on Tuesday night, providing them momentum for future contests and sending shock waves through the anxious political establishments of both parties.
New Hampshire voters sent a clear message by delivering decisive wins to two political outsiders, throwing the nominating contests for both parties into a direction that few would have expected six months ago.
Sanders' victory Tuesday, coupled with a close second-place finish in Iowa, has elevated him as a serious challenger into a race that Hillary Clinton was expected to dominate. Even after his disappointing second place finish in Iowa, Trump's dominance in the Granite State has taken a sensational story into a legitimate candidacy.
The Republicans
On the Republican side, Ohio Governor John Kasich is projected to finish second but the rest of the field was too close to call as of 11:30 p.m. ET. Kasich's second place finish was critical for the future of his singularly-focused campaign. He placed all stock in the Granite state, spending more time there than any other Republican candidate.
Iowa winner Ted Cruz is in a close race with Florida Sen. Marco Rubio and former Florida Jeb Bush, ensuring that they all will head to the next nominating states of South Carolina and Nevada.
As for the winners, Trump began to dominate the race after his entry last summer. He has bewildered party regulars with his bombastic style and his appeal to GOP voters disaffected with more traditional candidates.
Speaking to supporters, Trump tells them: "I'm not going to forget you. You started it."
Follow live: The Latest from New Hampshire
Establishment-minded Republicans had hoped that the state's notoriously choosy voters would coalesce around one of their preferred candidates rather than affirming Trump, but no single challenger has emerged at the head of the pack.
Kasich pulled out a strong finish, getting emotional at the results.
"We plugged away and plugged away," he told NBC News. "We labored in obscurity for months. ...I always felt like we were going to finish second."
He told supporters to "go get (a seat belt)" because "we're going to shape this country from top to bottom."
Rubio, who was riding high after his better-than-expected third place finish in Iowa one week ago, sounded defeated Tuesday night. His campaign mapped out a path to the nomination that included a second place finish in New Hampshire.
But his momentum was blunted after an unforgiving debate performance that showed that he rarely veers from his scripted talking points. Since then he was trailed on the campaign trail with Rubiobots, Democratic activists dressed as robots.
"I want you to understand something our disappointment tonight is not on you it's on me, it's on me. I did not, I did not do well on Saturday night so, listen to this, that will never happen again. That will never happen again," Rubio told his supporters.
Of the 23 delegates awarded to Republicans Tuesday night, NBC news is allocating Donald Trump seven delegates, John Kasich four, Ted Cruz two, and Jeb Bush two.
The Democrats
Sanders, a self-described democratic socialist who hails from neighboring Vermont, had battled fiercely with consensus front-runner Hillary Clinton this week, after losing by a razor-thin margin last week in Iowa. Clinton cast Sanders as an unrealistic zealot for progressive purity without adequate experience to govern a divided country, and former President Bill Clinton suggested that some of Sanders' supporters used sexist language in opposing his wife's presidential bid.
Speaking to enthusiastic supporters, Sanders congratulated Clinton but predicted that the ferocity of the fight is only going to get worse.
"They've thrown everything but the kitchen sink at me, and I have the feeling that kitchen sink is coming pretty soon as well," Sanders said.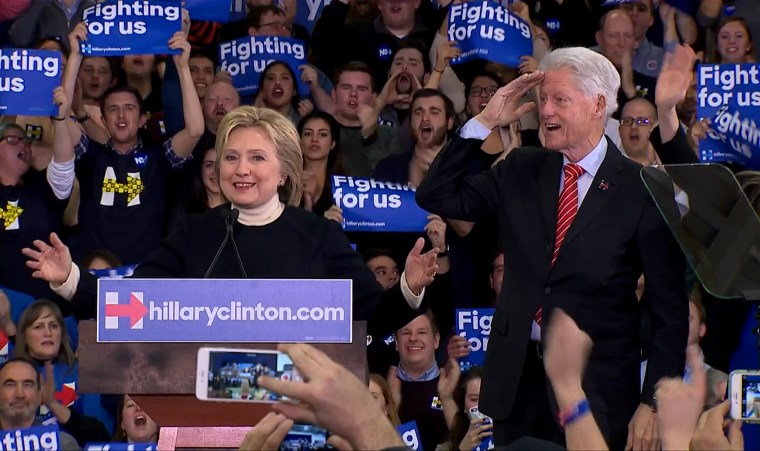 Clinton called Sanders to concede shortly after the polls closed at 8 p.m. While the win was expected based on weeks of polls showing Sanders ahead, the defeat is stinging for the two-time presidential candidate whose White House ambitions were revived in New Hampshire in 2008. That year, Clinton's surprise victory over then-Sen. Barack Obama earned her the label of "comeback kid" — the same moniker used for her husband after his come-from-behind performance here in 1992.
Related: Up-to-the-Minute Results
Clinton took the stage to a supportive crowd around 9:15 p.m. ET where she was mostly optimistic about the future of her campaign but also realistic about her deficits.
"I know I have some work to do especially with young people but like I said earlier this week even though they're not supporting me, I am supporting them," she said to cheers. "I know what its like to stumble and fall."
The primary is really a race for delegates. Based on tonight's results, NBC News has allocated 15 delegates to Sanders and eight delegates to Clinton. With Clinton's support of six of the eight delegates in New Hampshire, the total delegate count for the Granite State is Sanders: 15 and Clinton: 14.