Republican presidential nominee Donald Trump capped off his two-country whirlwind tour Wednesday night by advocating for mass deportation, extreme vetting, and a wall that Mexico would pay for — even if they didn't know it yet.
There was nothing "soft" about it.
Any thoughts that Trump might moderate his blunt rhetoric on immigration disappeared at a rally in Phoenix just hours after he met with Mexican President Enrique Peña Nieto, who has slammed Trump for his harsh language.
Trump promised the crowd a "serious policy address on one of the greatest issues of our time, illegal immigration" — which he then proceeded to call "worse than anybody ever realized."
Trump recited a long list of cases in which he said illegal immigrants brutally attacked U.S. citizens but were never punished or deported.
But he claimed Americans didn't know about them because the news media, special interests and unnamed politicians had imposed a blackout on discussion of the issue.
"In many cases," he said, illegal immigrants are "treated better than our veterans."
Related: Trump Visit to Mexico a Result of Subtle Groundwork: Sources
"Not going to happen anymore, folks," he promised. "November 8 — not going to happen anymore."
Trump made a nod to Peña Nieto, calling him a man who "loves his country, as I love my country, the United States."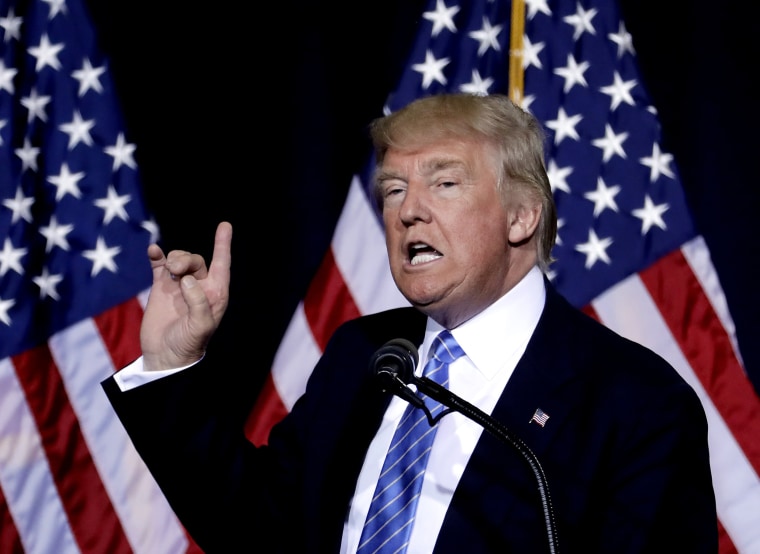 "It was a thoughtful and substantive conversation, and it's going to go on for a while, and in the end, we're all going to win," he said, promising that in a Trump presidency, he'd pursue "a new relationship between our two countries."
Related: Trump Meets With Mexican President But Dispute Emerges Over Wall
But the overall tone of the speech appeared to clash with the conciliatory comments Trump made at a news conference with Peña Nieto after their meeting.
To make sure everyone knew he'd changed nothing about his position, he declared: "We are going to build a great wall along the southern wall, and Mexico is going to pay for the wall. One hundred percent. They don't know it yet."
Construction on the wall, he said, will begin on "Day One." It will be "physical, impenetrable, beautiful (and) tall," he promised, and it will be monitored by sensors above and below ground.
Trump stood by many of the other policy prescriptions he's made in previous speeches: reform of the immigration system to eliminate "amnesty," increasing the immigration control workforce and imposition of a test to ensure "ideological certification" for applicants for immigration.
Included in that test, which Trump has promised before, would be questions about "barbaric" honor killings, respect for women, gays, and minorities, attitudes on Radical Islam, and "many other topics." The point of these tests, Trump assured, was to ensure that "those we are admitting to our country share our values and love our people."
"Our message is this: You cannot obtain legal status or become a citizen of the United States by illegally entering our country," he said.
Trump also pushed for a 5,000 person increase in border patrol officers, and said he would "triple" the number of Immigration and Customs Enforcement deportation officers, creating a "new special Deportation Task Force."
And he advocated for restoring, for example, section 287-g of the Immigration and Nationality Act, which allows local law enforcement to enforce federal immigration law.
"Law enforcement will be allowed to clear up this dangerous and threatening mess," Trump said.
Trump fell short of committing to deport all estimated 11 million undocumented immigrants in the US, but he made clear there would be no path to legal status for those people.
"People will know that you can't just smuggle in, hunker down and wait to be legalized," the Republican presidential hopeful swore. "Those days are over."
Even before Wednesday night's rally, signs were already emerging that Trump's meeting with Peña Nieto hadn't been as friendly as Trump had tried to portray it.
At a joint news briefing Wednesday afternoon in Mexico City, Trump said that he had "tremendous respect" for Peña Nieto and that "it's been a tremendous honor, and I call you a friend."
Not only that, he said, but their bitter dispute over Trump's vow to force Mexico to pay for the border wall didn't even come up.
But Peña Nieto tweeted later that payment for the proposed wall was actually the first topic of discussion. Specifically, he said, "I made it clear that Mexico will not pay for the wall."
Foreign Affairs Secretary Claudia Ruiz Massieu soon followed up, tweeting: "In meeting, the President @EPN was strong in that Mexico does not pay by the wall. Position not negotiable."