COLUMBUS, OHIO — Donald Trump addressed a group of millennial voters Thursday, defending himself against allegations of sexual assault, pushing the latest hits against Hillary Clinton from the Wikileaks hack, and above all telling them not to do drugs.
"Stay away from drugs, stay away from alcohol, stay away from cigarettes," he advised in a paternal way to the room of about 800 millennials.
The Republican nominee spent most of his time focusing on student loan debt and cost of higher education, but mostly lamenting the current regulations currently plaguing institutions and the way financial aid programs were structured.
Related: Poll: Clinton Ahead in North Carolina; Virtual Tie in Ohio
Trump said he would institute an income based payment program for paying off student debt and promised "jobs for you when you get out of college."
Of course, he also reminded them to get their absentee ballots so they could vote come November.
But the PG-advice ended there, as Trump defended himself against multiple accusations from women who allege he sexually assaulted them. The way Trump sees it, the reports are a signal that he's being "very unfairly battered by people — I don't know who these people are!"
The GOP nominee said the outlets who reported on the accusations are "inventing false claims without any evidence" from people who Trump claims he "never met." He again called the reports "made up stories" and relished the fact that he foresaw the New York Times on the brink of failure.
The young crowd was very interactive — lots of shouts and cheers with Trump as he trot out stump standard insults like "Crooked Hillary" and "the failing New York Times."
One attendee shouted a request for him to say "big league" — which seemingly went unheard by Trump, but when he said it a few moments later, whoops filled the audience.
Related: Fact Checking Donald Trump's Defiant Speech
Amid a riff about student loan debt, one voice randomly shouted out "China!" — a signature feature of Trump's speeches.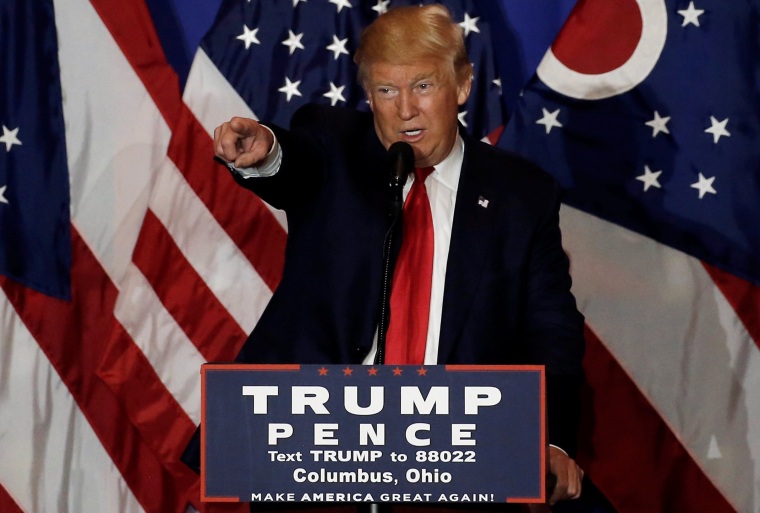 While the crowd was clearly there for the Trump classics, they also picked up his mantle as he railed against journalists.
"They're scum," one young man shouted into the press pen, while straightening a "Make America Great Again" cap on his head. "Talk about Wikileaks. Go on, talk about Wikileaks," he said.
Trump, who went on about a minute after the press arrived after landing from an earlier event in Florida, blamed the press corps for causing him to be late to the stage. Of course, that was not completely true since the candidate's schedule was already upended after he was late to his first event of the day in West Palm Beach, Florida.
"The reason I was late to the podium is because they weren't ready," Trump said of the reporters covering the event. He explained that he told his staff "let's go up with out 'em — who cares?" but he was told that he should wait.
Trump has performed without his press corps present before. In Laconia, New Hampshire, last month the traveling press arrived with only three minutes left in Trump's remarks and Trump made fun of the press for not being there.
In a moment that earned this event the award for frattiest Trump event yet, one kid stood on a chair when Trump told them to cheer for the press — who he said wouldn't cover it anyway. Wearing a Hillary for Prison t-shirt he raised his arms and played maestro to a "USA!" chant that reverberated off the walls of the Renaissance Columbus Downtown Hotel ballroom.