President-elect Donald Trump will nominate Andy Puzder, the outspoken CEO of the fast-food company that owns burger chains Carl's Jr. and Hardee's, as his secretary of labor, a transition team source told NBC News on Thursday.
Puzder, who heads the California-based CKE Restaurants, has been a strong proponent of rolling back regulations within the restaurant industry. He has also argued against the Affordable Care Act and raising the federal minimum wage, insisting that doing so would diminish job opportunities.
Trump, in a statement, applauded Puzder as someone whose "extensive record fighting for workers makes him the ideal candidate to lead the Department of Labor."
Puzder said, in a statement, that he believes "the right government policies can result in more jobs and better wages for the American worker."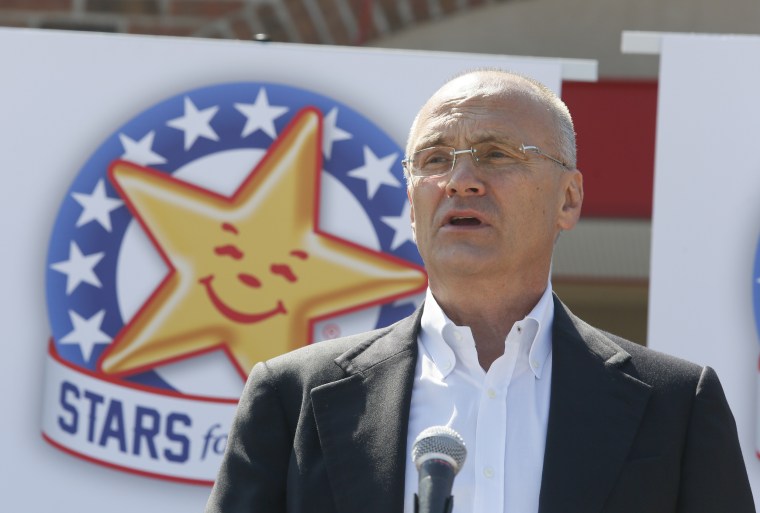 Puzder, 66, has served as a senior policy adviser to the Trump campaign. And like his fellow businessman, Puzder hasn't been afraid to offend or take on controversial positions.
He has flirted with the idea of replacing some fast-food employees with robots to combat rising minimum wages.
Related: Trump's Cabinet Picks Have a Combined Wealth of $14.5B
In March, he told Business Insider: "They're always polite, they always upsell, they never take a vacation, they never show up late, there's never a slip-and-fall, or an age, sex, or race discrimination case."
He has also fiercely defended controversial ads for Carl's Jr. that have featured women in bikinis eating burgers in a suggestive manner.
"I like our ads. I like beautiful women eating burgers in bikinis. I think it's very American," Puzder told Entrepreneur last year. "I used to hear, brands take on the personality of the CEO. And I rarely thought that was true, but I think this one, in this case, it kind of did take on my personality."
Puzder frequently praised Trump during the campaign, calling him a "pragmatic centrist."
Democrats, progressive groups and labor organizations quickly condemned Puzder as anti-worker's rights.
"The Labor Secretary should be someone who wakes up every day thinking about how they can raise American wages and fight for American workers," Sen. Chuck Schumer, D-New York, said in a statement. "Mr. Puzder's career has shown exactly the opposite. Turning the Labor Department over to someone who opposes an increase in the minimum wage, opposes the overtime rule that would raise middle class wages, and whose businesses have repeatedly violated labor laws might be the surest sign yet that the next cabinet will be looking out for the billionaires and special interests, instead of America's working class."
Americans United for Change president Brad Woodhouse called Puzder a "total nightmare" for workers "hoping to climb into middle class," while The Leadership Conference on Civil and Human Rights issued a statement saying that Puzder "wants nothing more than to cut jobs, wages, and benefits."
"You can be pro-business without being anti-worker. With this nomination, President-elect Trump is making clear that he doesn't understand that difference," Wade Henderson, the group's CEO, wrote.
The National Federation of Independent Business applauded Trump's choice.
"Small business owners are pleased that someone who knows what it takes to manage a successful company has been nominated to oversee the Department of Labor," Juanita Duggan, NFIB president and CEO, said in a statement.