President-elect Donald Trump will nominate "tough" former Republican primary rival Ben Carson as Secretary of the Department of Housing and Urban Development, the transition team announced Monday.
A statement described Carson as a "distinguished national leader who overcame his troubled youth in the inner city of Detroit to become a renowned neurosurgeon."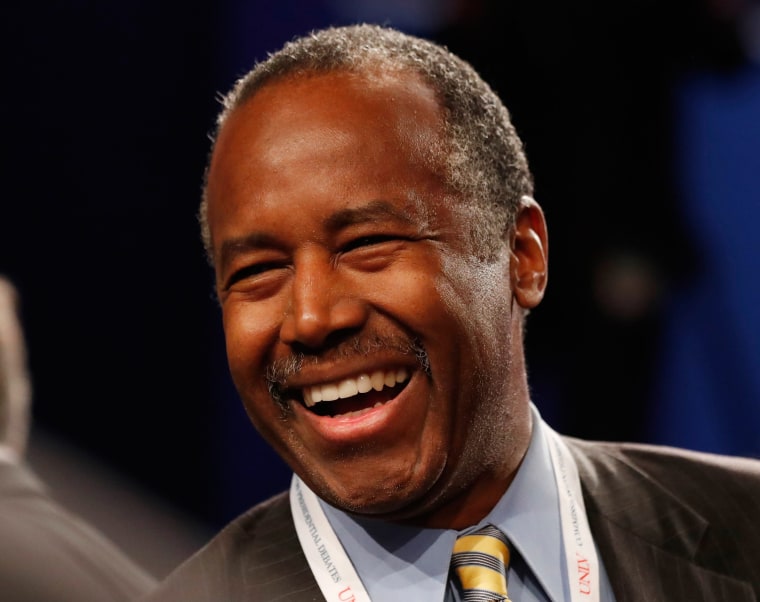 In the announcement, Trump said he was "thrilled" to nominate Carson, who dropped out of the campaign race in March after a string of disappointing primary finishes on Super Tuesday.
"Ben Carson has a brilliant mind and is passionate about strengthening communities and families within those communities," Trump said.
"We have talked at length about my urban renewal agenda and our message of economic revival, very much including our inner cities. Ben shares my optimism about the future of our country and is part of ensuring that this is a Presidency representing all Americans. He is a tough competitor and never gives up."
Carson and Trump had a contentious relationship during the heated Republican primary as the two battled at the top of the polls in the fall of 2015.
Trump leveled some of his harshest critiques of the campaign against Carson, calling him "pathological" in the same way as a child molester. Trump also used Carson's self-described anger management problems in his youth as a knock against him on the campaign trail.
"Think about what Carson is saying: he hit his mother over the head with a hammer, he hit a friend in the face with a lock, he tried to kill somebody with a knife," Trump said in Fox News interview in November 2015.
Carson mostly ignored Trump's offensive and, after ending his campaign, endorsed him.
"There are two different Donald Trumps," Carson said at the March press conference. "There's the one you see on the stage, and there's the one who's very cerebral, sits there and considers things very carefully."
The former neurosurgeon became one of Trump's most prominent surrogates at a time when few other Republicans were publicly backing him and became a vice chairman of Trump's transition team.
Carson's background in medicine led to speculation he could be tapped as the secretary of health and human services, though aides close to the retired pediatric neurosurgeon knocked down the rumors by claiming he doesn't have the experience to run a federal bureaucracy -- despite running for president.
Carson had a change of heart, though, and said last month that he had been offered and was considering the HUD job. It him well over a week, though, before his nomination was officially announced.
Related: China Chases Silicon Valley With Trump Fears
Last week, Trump announced that he planned to nominate former Goldman Sachs executive Steven Mnuchin as his Treasury secretary and billionaire investor Wilbur Ross to lead the Commerce Department. He chose Betsy DeVos to be secretary of education and Elaine Chao, the wife of Senate Republican Leader Mitch McConnell, to be transportation secretary. Trump also has turned to retired general James "Mad Dog" Mattis to be secretary of defense.