Donald Trump is now doing what many doubted — investing his own funds in an increasingly organized national campaign.
Trump released new financial data about his campaign late Sunday night, as required by federal election law, and the numbers suggest an operation built for the long haul.
Over the past three months, Trump funded his campaign with $10.8 million in loans and a $100,000 donation, his largest personal investment to date. Supporters also donated $2.6 million, with the most money coming from Florida and California.
The new numbers reveal a major shift in who is powering Trump's campaign.
While the billionaire candidate often boasts about self-funding, in the previous quarter, small donors actually provided more money to the campaign than he did. The new data shows Trump is willing to invest more of his own wealth, even as he succeeds in the polls.
That doesn't mean, however, that he's throwing money around.
Trump spent far less than most of his rivals last quarter. Clinton and Sanders both topped $30 million, Marco Rubio and Ted Cruz each spent about $15 million, while Trump spent just $6.9 million.
The numbers reinforce Trump's sales pitch about his cost-effective style, which he pledges to bring to Washington.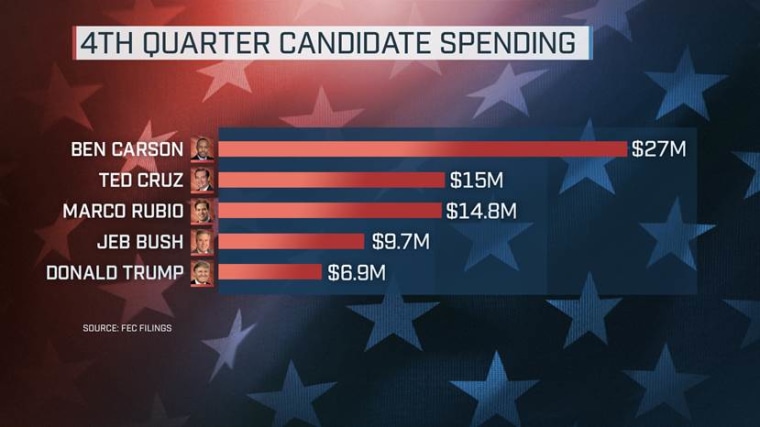 "I have spent almost nothing on my run for president and am in 1st place," he wrote on Twitter in late December. "Jeb Bush has spent $59 million & done. Run country my way!"
Bradley Crate, who worked as Chief Financial Officer for the Mitt Romney Campaign, says Trump's approach shows that just raising and spending lots of money does not equal success.
"The Trump campaign has changed the traditional campaign model," he told NBC News Sunday night. Crate has not endorsed a candidate, but his firm works for several Republicans, including Trump.
Trump's campaign budgeting priorities will be tested by turnout in the early states, where both parties have generally agreed on the importance of field organizing and voter targeting.
Cruz, who has posed Trump's biggest threat in Iowa, is applying a traditional emphasis on field organizing. Jeff Roe, Cruz's campaign manager, told reporters his targeting is so precise that he determined 9,131 Iowans are still deciding between Cruz and Trump, while 2,807 are torn between Cruz and Rubio.
In his new filing Sunday, Cruz listed a $3 million payment to Cambridge Analytica, a data and behavioral consulting firm, and another $400,000 to the Wilson Perkins Allen polling company.
Trump does spend some money on staff. He devoted $306,000 to payroll, and funneled $60,000 to a firm run by his campaign manager Corey Lewandowski, Green Monster Consulting. He also listed $550,000 for field consulting and $82,500 for "policy consulting."
Still, Trump's organizational chart is dwarfed by rivals in both parties. Cruz spent about double that on payroll, $731,000, while Bernie Sanders spent about ten times Trump's payroll bill.
The budget is clearly less strict, however, when it comes to merchandise.
No Trump rally is complete without red "Make America Great" hats dotting the crowd, and his staff have been rolling out more apparel on the trail. The campaign spent over $393,000 on yard signs and clothing and paid about $890,000 to two hat companies, Ace Specialties and Cali Headwear.
Trump also invested in some fairly typical costs for a presidential campaign, from local political insiders to the minutia of following a maze of ballot rules in different states.
He funneled $76,000 into a South Carolina firm, Geechee Communications, tied to Republican state representative Jim Merrill, and paid $22,000 to Chuck Laudner, a veteran Iowa strategist running his caucus operation. Trump spent over half a million dollars on ballot access consulting and fees, a fairly unavoidable cost for a serious national campaign. He also spent $102,000 on security services and consulting, a cost that likely fell since he received a Secret Service detail in November.
While federal election filings usually lack personality, a visit to the "T" section of Trump's spending form crackles with the candidate's penchant for his own name brand.
There are minor payments to favorites like the Trump SoHo ($100), Trump Grill ($607), Trump Restaurants ($3,000) and Trump café ($94), where the hamburger retails for a reasonable $10. Then there are some hefty payments to the Trump Plaza ($27,000), Trump Payroll Corp ($20,201), Trump CPS LLC ($18,000) and a whopping $119,451 in rent for Trump's headquarters at — where else — Trump Tower on 5th Avenue.
The Trump-branded properties also serve as a counterpoint to his claim of credit for spending significantly less than his rivals. The highest cost most candidates face who begin races unknown to voters is buying air time to introduce themselves. Sanders spent $10 million last quarter, for example, on ad buys. As a famous business titan and reality show star, Trump entered the race with almost universal name ID.
They say you need money to make money, and in politics, Trump may also be proving you need attention to get attention.