Donald Trump forcefully defended his hair and attacked the New York Times for a front-page report on his adversarial relationship with Spanish-language media during a rally in South Carolina on Thursday.
The GOP presidential frontrunner took umbrage to the opening paragraph of the Times story that details how Hispanic radio host Ricardo Sánchez has nicknamed Trump "El hombre del peluquín," or "the man of the toupee."
"I don't wear a toupee. It's my hair. I swear," he said before inviting a woman in attendance to inspect his head.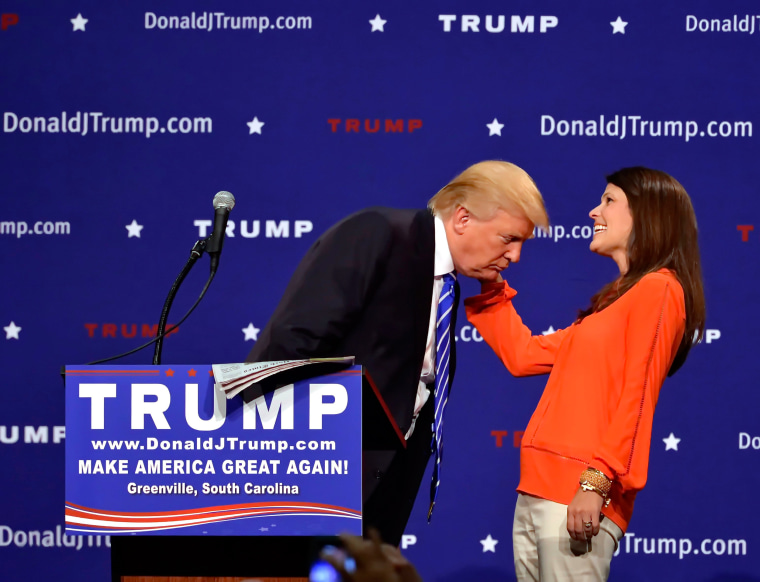 Trump's relationship with Hispanics again dominated media coverage of his campaign this week after his showdown with Univision's Jorge Ramos in Iowa on Tuesday. Ramos was forced from Trump's news conference while asking how the Republican would institute his immigration plan, which calls for deporting the estimated 11 million undocumented immigrants currently in the U.S. Trump maintained that Ramos was being disorderly for not waiting to be called on and the reporter was eventually allowed back to ask his question.
"They didn't cover this speech, it was the best speech I ever made. That's my opinion. It's true," Trump said. "They kept covering the maniac in Iowa."
Some of Sánchez's listeners have come to simply refer to Trump as "Hitler" for calling undocumented immigrants "rapists" and "drug dealers," the Times reports.
"The Hitler one I've never heard of until this morning when I woke up," Trump said Thursday in the early primary voting state. "I'm not a fan of Hitler."
Trump continues to hold a sizeable lead in Republican presidential primary polls, including in the Palmetto State. In his speech, Trump again blasted rival Republican Jeb Bush, as well as homegrown South Carolina Sen. Lindsey Graham, who has recently focused his campaign on attacking Trump.
"The people of South Carolina are watching this farce, and I think they're very upset about it," Trump told reporters after his speech.